Top 3 signings for each current Premier League club – QPR to Sunderland
1.12K //
05 Apr 2013, 15:48 IST
There are many things to take in to account when appraising the success of a club's signings. I've had to look at both their on and off-field record, and balance the two in choosing a top three for each club during the Premier League years. On the field, I took in to account number of appearances and achievements, and off the field it was things like purchase price, profit and dressing room impact. So, here we go:
---
QPR
QPR started life in the Premier League as a top 6 side before plunging out of the league and beyond, before a recent heavily backed comeback.
Trevor Sinclair
Sinclair arrived for £750,000 in 1993 and enjoyed 4 excellent years in the QPR first team. His sheer pace and dribbling skill as well as goal scoring made him a man to be accounted for at all times. He had a penchant for the spectacular.
Andy Sinton
Sinton was brought to QPR for £300,000 in 1992 and his pace and crossing helped QPR to 6th in the inaugural Premier League season. His partnership with Les Ferdinand was lethal. His spot in this list is sealed because he was sold in 1993 for £2.75m, which represented a 900% profit in a year. Incredible.
Adel Taarabt
Taarabt has struggled in the Premier League, but he is the reason that QPR are there at all. He was always a talent at Spurs, but it wasn't until he became the main man at QPR that he flourished. He cost £1m, and in their Championship promotion season he scored 19 and set up a further 16, which meant he was involved in 50% of the club's goals.
---
Reading
Reading have had a couple of stabs at Premier League football, but their signing record in the top flight is mixed, so it's the moves that have got them there which highlight this.
Steve Sidwell
Sidwell was the key man in the Reading team which blitzed the Championship in 2005/06. He was picked up for peanuts from Arsenal as a 21-year old and took on the mantle of the midfield dynamo immediately. His all action, powerful game was gradually complimented by goals and he was also the key man in Reading's charge to 8th in their first year in the Premier League.

James Harper
If Sidwell was considered the main man in the 2005/06 season, Harper was his second in command. Like Sidwell, Harper was plucked from the Arsenal reserves to become a top class midfielder for the club. Harper went on to play over 300 games for Reading and his attitude summed up Reading's attack on the Premier League.
Kevin Doyle
Doyle was an absolute steal at an incredible £80,000 from Cork City. He arrived red raw but left having shown that he could score goals in the Premier League. His 19 goals in 2005/06 helped fire Reading in to the top flight. He was then sold for £6.5m to represent a huge profit.
---
Southampton
The Saints have tended to get value from their signings. They kept themselves in the top flight for many years despite a shoestring budget.
James Beattie
Beattie was the catalyst for Southampton's strong period under Gordon Strachan. He was a lob in as part of the deal which saw Blackburn sign Kevin Davies. But Beattie turned out to be anything but an afterthought. Beattie went on to play 200 games and grabed 68 goals, 23 of which in the 2002/03 season in which Southampton got to the FA Cup final. He was sold on for a £6m profit.
Claus Lundekvam
Lundekvam was an inspired signing by Graeme Souness. He cost only £400,000 when picked out of Norwegian football in 1996. It says everything about him that he was first choice until 2008 thereafter. During that time, he racked up nearly 400 appearances for the club to demonstrate exceptional value for money. He played more Premier League games than any other Saint.
Ken Monkou Monkou was signed from Chelsea for £750,000 in 1992 just two years after being Chelsea player of the year. Monkou was a big physical presence in the heart of the Southampton defence and even popped up wit critical goals to help Southampton survive year after year on a tiny budget in the 90s.
---
Stoke's Premier League history is all very recent, and some of their best signings were the ones that got them to the top division.
Ryan Shawcross
Stoke's captain has thrived in the Premier League but made his name during Stoke's promotion campaign of 2007/08. He was signed from Manchester United for £2m in January 2008, and has played near enough every game thereafter. He is the organiser of Stoke's excellent defence and is now worth more like £15m.
Ricardo Fuller
Fuller added a touch a genial flair and unpredictability to Stoke's organisation and solidity. He'd bounced around the Championship with various teams but found his niche at Stoke after a £500,000 move from Southampton in 2006. Fuller scored 15 times in Stoke's successful promotion campaign and went on to score some important goals as Stoke survived and established themselves.
Robert Huth
Huth was the first signing that signified Stoke's 'arrival' as a Premier League team. No longer were they scrapping around, and they went out and spent £5m to acquire Huth in 2009 from Middlesbrough. Since then, he has formed one of the better central defensive partnerships in the league with Shawcross, barely missing a game along the way.
---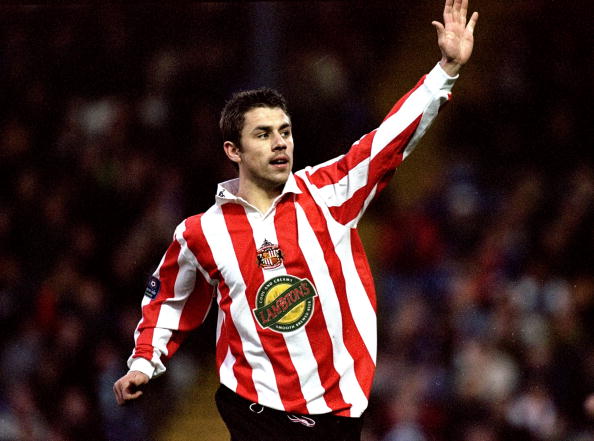 Sunderland have bounced in and out of the league, but their turn of the millennium side was a top 7 regular.
Kevin Phillips
Phillips was brought to Sunderland from Division Two side Watford for £600,000 in 1997, and went on a goal scoring binge unmatched by any Sunderland player in history. In his first season in Division One, he scored 35 goals. In 1999/2000, his first season in the Premier League, he scored a sensational 30 goals as Sunderland comfortably survived. He won the European Golden Boot for his goalscoring feats that season.
Niall Quinn
Quinn moved to Sunderland in 1996 for then club record £1.3m after losing his way at Man City due to injury. However, the best football of his career came at Sunderland. His 'little and large' partnership with Phillips was ruthlessly efficient in it's simplicity. He brought a level of professionalism and savvy with him to the club and helped transform the culture of the club.
Thomas Sorensen
Sorensen was brought over from Denmark as an unknown 22-year old for £500,000, but quickly established himself as one of the better keepers in the country. He kept an incredible 29 clean sheets in the 1998/99 title wining campaign and was just as good in the Premier League. He was a stabilising presence behind the defence as the team forged back-to-back 7th place finishes. His importance to the club became starkly evident when due to injury he missed most of the campaign that saw them relegated.