Top 5 matches Of The Year: Manchester United
1.21K //
18 Dec 2012, 23:14 IST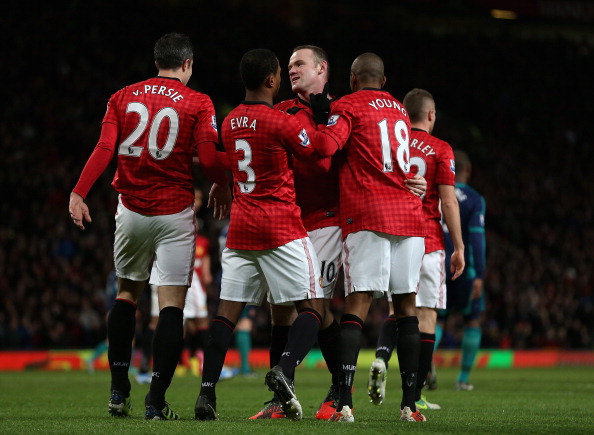 At the end of a very eventful 2012, many will look back at the year and credit Manchester United for their success rate. But what they will also likely agree upon will be the fact that almost every match that United have played has been nothing short of entertaining, with a high percentage of the games being nail-biting thrillers. And even though most of these nail-biters have come this season, the few that came last season were responsible for turning the tables and helping Manchester City win their first Barclays Premier League title.
This season, Manchester United have made the early running, performing rescue acts in almost all matches, with the main difference being their strikers. Robin Van Persie and Javier Hernandez have been the headliners for United, with Wayne Rooney making the plays for them. After Van Persie's big money move to Old Trafford, United have only won three games without him getting on the score sheet - against Wigan, Aston Villa and Newcastle United. Javier Hernandez, meanwhile, has been the 'Super Sub' of the season thus far. After the starting 10 games, Hernandez has made 8 substitute appearances in all competitions, scoring 9 goals thus far. In total, Van Persie, Hernandez and Rooney have got 32 goals together this season in all competitions, a statistic that has made up for the team's 'crime scene' of a defence. The fact that United now have won 21 points from losing positions has made them popular as ' The Comeback Kings'.
Although Manchester United have featured in dozens of matches that have gone down to the wire, here is a look at the top 5 matches that have been nothing short of entertaining:
5. Manchester United 4-4 Everton- Barclays Premier League
22nd April 2012, Old Trafford
United-Rooney (41, 69), Welbeck (57), Nani (60)
Everton- Jelavic (33, 83), Fellaini (67), Pienaar(85)
A stunned 75,000 odd watched as Manchester United threw away 3 points in an unforgivable manner, as Manchester City took the opportunity to move to 1st position in the table. United went into the game with their sights set on the league title and in the driver's seat, only for their efforts to be torn apart by an Everton side that has performed exceedingly well against Manchester United over the years.
Everton drew first blood as the visitors went one up in the 33rd minute with a superb header courtesy of a Tony Hibbert cross. However, Rooney brought United back on level terms with a header of his own coming off a Nani cross.
United came back in the second half on fire, with Danny Welbeck curling one in the 57th minute, with Tim Howard probably getting the slightest of touches as the ball went in. The visitors found themselves two down in the 60th minute, with some magnificent passing play, and with Nani's pace too much for both the Everton defence and Tim Howard to handle.  Another play, similar to the first goal, saw Everton striker Marouane Fellaini volley the ball past an under fire David de Gea to pull one back. With the score at 3-2, United pulled off another classic counter attack hoping to ensure a 4-2 scorline, with a Rooney goal assisted by Welbeck.
What was to come later was totally unexpected and shocking. With the score at 4-2, and 7 minutes left on the clock, Jelavic cut United's joy short by slotting home a header from Fellaini who brought the ball under control. The final nail in the coffin was drilled in by Steven Pienaar, who made sure that United settled for a point after a play straight from the training grounds, and also giving Everton a well deserved point. This result made a huge dent in the title charge for United.
4. Chelsea 5-4 Manchester United- Capital One Cup
31st October 2012, Stamford Bridge
Chelsea- Luiz (31 pen), Cahill (52), Hazard (90 pen), Sturridge (97), Ramires(116)
United- Giggs(22,120), Hernandez(43), Nani(59)
With controversy in the air in the same fixture prior to this one, a lot was expected from referee Lee Mason in order to have a peaceful and non- controversial match. Chelsea went into the game in a bid to avenge their previous meeting that had controversially ended 3-2 in favor of United. That was exactly what they did, as manager Roberto Di Matteo's men ensured qualification onto further stages of the competition.
The Red Devils went ahead on 21 minutes when the alert and 'evergreen' Ryan Giggs slotted home the first goal of the encounter, courtesy some horrific defending from Oriol Romeu. His strike though was matched by David Luiz, when his penalty found the back of the net, beating Anders Lindegaard for power despite the Dane going the right way. Hernandez's pacy run at Luiz and Romeu ensured that United went back in front 2-1, only for Gary Cahill's header to cross the goal line from a Juan Mata cross to bring the hosts back on level terms despite the best efforts of Rafael. However, 6 minutes later, Chelsea contributed to their own downfall as Nani went all the way, catching David Luiz in possession once again to give United the lead for the third time in the match. Sir Alex Ferguson's men looked set for qualification, only to find themselves in trouble after United's new youth recruit Scott Wootton conceded a penalty courtesy of a foul on Ramires in the dying seconds of the fixture. A calm Eden Hazard scored the second penalty of the match to take the match into extra time.
Daniel Sturridge put the hosts in front for the first time in the encounter as Michael Keane failed to give his header back to Lindegaard any power and the Chelsea striker's pressure on the inexperienced defender paid off. Chelsea put daylight between themselves and the Red Devils  in the second period of extra time, when a brilliant run from Hazard set up the stage for a calm finish for Ramires in the 116th minute. Giggs scored the consolation and the final goal of the contest to see Chelsea's dramatic progress to the next stage of the cup.
3. Chelsea 3-3 Manchester United- Barclays Premier League
5th February 2012, Stamford Bridge
Chelsea- Evans (36 og), Mata (46), Luiz (51)
United- Rooney (58,70), Hernandez (84)
The circumstances engulfing this fixture could be compared to no other. After the sacking of Villas Boas, Chelsea had entered the knockout stages of the UEFA Champions League, and under Di Matteo, things were looking gloomy.
Chelsea went into the half time break with an undeserved 1-0 lead, after a Daniel Sturridge cross from a tight angle took a deflection off Jonny Evans. The home side went up by 2 goals in 5 minutes after the break courtesy of an amazing volley from Juan Mata and a header from David Luiz who was unmarked at the back post in the 51st minute to make the score line 3-0. A shell-shocked Alex Ferguson immediately introduced Paul Scholes and Javier Hernandez into the thick of things, as United pulled off one of the biggest rescue jobs in their history, when Rooney converted two penalties awarded in controversial circumstances by Howard Webb, and pulled back two goals. Finally, a confident United drew level in the 84th minute, with Ryan Giggs providing a cross for Hernandez, who once again proved to be the 'Super Sub', as United were awarded with a point for their resilient display.
2. Reading 3-4 Manchester United
1st December, Madejski Stadium
Reading- Robson-Kanu (8), Le Fondre (19), Morrison (23)
United- Anderson (13), Rooney (16, 30), Van Persie (34)
Manchester United do not have a good history against promoted teams – Burnley and Hull City are classic examples. This match was a case of an electrifying first half  followed by a fizzle in the second half. Reading capitalized on United's vulnerability in defence by scoring all their goals from set pieces, 2 of which came from corners, but United did what they do best and came from behind to win 4-3. Just like United, Reading too had defensive issues which had been the main reason for their position in the league table. Anderson scored a screamer before going off injured, and as usual Rooney, from the penalty spot and a set piece, and Van Persie found themselves on the score sheet.
1. Manchester City 2-3 Manchester United
9th December, Etihad Stadium
City- Toure (60), Zabaleta (85)
United- Rooney (15, 28), Van Persie (90+2)
The match that everyone had been waiting for and for a change, it was not a one sided fixture and was another entertaining encounter. Rectifying his mistakes from the 6-1 drubbing in the previous season, Sir Alex fielded his strongest possible XI. United hit the ground running, with some one-touch play from an outstanding Ashley Young and Van Persie, a play in which Wayne Rooney benefited twice as United were in fluent flow and went into half time at 2-0. However, the defending champions came back to score 2 more with Carlos Tevez's introduction bringing in the energy needed to get City back on level terms, but their efforts were undone as Robin Van Persie wrote his name in Manchester United history books and folk-lore as his free kick took a deflection off Samir Nasri and moved United 6 points above City.