Wesley Sneijder to Manchester United?
2.20K //
02 Dec 2012, 12:53 IST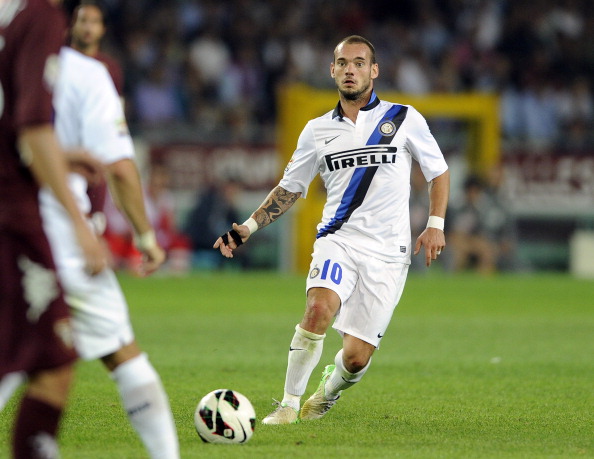 Manchester United
and Sir Alex Ferguson have been tracking Dutch playmaker Wesley Sneijder for over an year now, and after all the failed attempts and rumors, Sneijder could well be seen playing for the Red Devils this season. All the speculations surrounding the future of Wesley Sneijder at Inter Milan have fueled the interest of SAF once again, and it would not be a surprise if United bid for him again this winter. Ferguson has made some great winter signings in his United career (like Nemanja Vidic), but this signing could well prove to be better than any other.
The Inter Milan playmaker has not played for two months now, mainly because of his injury. But, recently, there have been problems with the contract that Inter Milan have offered to him. Sneijder was not available for selection until his contract negotiations were completed and all the terms were agreed.
It was alleged that Inter Milan wanted Sneijder to take a pay cut and extend his contract to 2018. Sneijder currently earns about €6 million yearly at Inter, and is unwilling to accept a wage cut and extend his contract. The Inter Milan president Massimo Moratti was quoted saying: "Sneijder isn't playing because the coach doesn't think he's at his best, above all psychologically."
If the current situation doesn't improve and the problem is not solved until the winter break, Inter Milan would be reluctant to pay €6 million yearly for a player and not play him. The only solution could then be the transfer market.
With the possibility of a transfer coming into play, there are not many clubs capable of meeting the demands of Sneijder when it comes to the pay structure. Big spending clubs like Chelsea, Manchester City and Anzhi Makhachkala have all reportedly denied any possibility of signing Sneijder.
The only club left is Manchester United, who have problems of their own in the central midfield position, with Paul Scholes most probably retiring at the end of the season. United have lacked creativity at the central part of midfield area and are in need of a player of Sneijder's caliber. Sneijder would perfectly fit the bill at Manchester United, with his vision, passing, awareness and experience. The ambidextrous playmaker can also take long range shots, much like Paul Scholes, and could be the perfect person to replace him.
Another positive for Sneijder would be that this move will prove to be a step up in his professional career, as Manchester United look much more likely to win the domestic as well as European competitions than Inter. There is no shortage of world class players at United, with Wayne Rooney, Robin van Persie, Nemaja Vidic and the likes of legends like Ryan Giggs and Paul Scholes.
United's wing play has become predictable with the likes of Antonio Valencia and Ashley Young, and with the arrival of Wesley, United will have an extra edge, and will be dangerous both at the center of the midfield as well as from the wide positions.
At 28, Sneijder will obviously not be a long term investment, but he could have an instant impact, just like his fellow Dutch teammate Van Persie. He could certainly perform at the highest level for another 3-4 years, and this would be ideal for United, because by then Cleverly, Powell and Anderson would be matured enough to take over the helm from the previous generation of players.