Why the Premier League is still the best
2.74K //
28 Mar 2012, 16:33 IST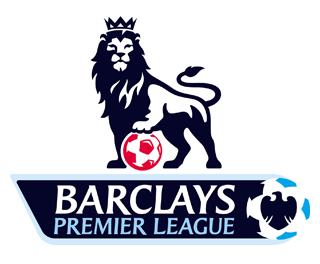 'The Premier League is no more what it used to be.
"The standard of the Premier League has dipped.
"The La Liga is better than the English Premier League."
We football fans, have been hearing all this a lot lately. Most La Liga enthusiasts argue that recent European results are enough proof to suggest that English teams and the league itself are in decline. Manchester United were dismal throughout the season and Manchester City were outclassed on away ties. Arsenal were knocked out at the round of 16 and only Chelsea have made it through to the quarters and will look to setup a  potential semifinal clash with reigning champions FC Barcelona.
The Premier League itself this season has been fantastic to watch, with some nail biting finishes, shocking results and thumping victories. The mere fact that at the start of the season, almost seven teams were challenging for four  Champions League spots, added more drama to an already frantic title chase. But the question arises : If the Premier League has gotten  more competitive, why have  English teams failed so miserably in Europe ? Intriguing indeed. I as a fan, would like to add my own insights to the debate.
1) TRANSITIONAL PHASE
It is a known fact that all the top teams in England are undergoing a transitional phase . Manchester United, Chelsea and Arsenal being on the spot light.  In some cases , players have been replaced, in others managers. But on the whole , change is on the horizon.
Manchester United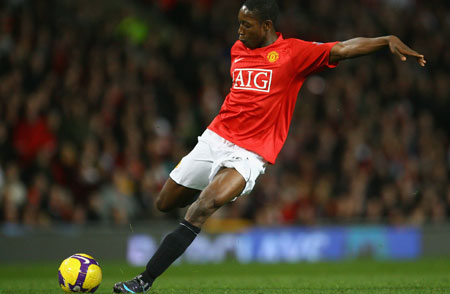 Sir Alex is at it again. The veteran Manchester United manager is on course of possibly building his fifth team. Experienced players like John O'Shea, Wesley Brown, Edwin Van Der Sar, Gary Neville have moved on from the club. Young blood has been reinforced with the likes of Phil Jones, David De Gea, Tom Cleverley, Chris Smalling, Rafel Da Silva, Fabio Da Silva etc . Rio Ferdinand is past his best . Patrice Evra may have another 1-2 years left in him. Danny Welbeck is beginning to find his feet and Dimitar Berbatov too looks to be on his way out of Old Trafford this summer. Ryan Giggs is still weaving his magic but his age is finally beginning to show.
Most of the youngsters are not experienced in European competitions, and with Sir Alex constantly changing his line up, stability has taken a hit. For example : Although Phil Jones was rampaging through Premier League opposition, he failed miserably in Europe. Adding to this Tom Cleverley and Anderson who were terrific together picked up injuries and sat out for long periods . The injury list of Man United at one point reached 11 players.
Although things started very well, United's season eventually fizzed out and now are left with only the Premiere League to challenge. Remember, it was the same United team that played some scintillating football at the start of the season, ripping apart opposition defenses.  Give them time. With summer signing Ashley Young fitting in and a fully fit Manchester United squad at the ready of next season, United should be back with a bang.
Arsenal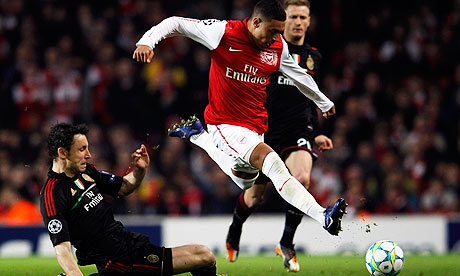 From looking like the best team in the world by beating Barcelona convincingly at the Emirates, to crashing out of every competition and finishing fourth last year, Arsenal FC have seen it all. Losing Fabregas, Nasri and Clichy didn't do them any good either.
A few failed bids didn't help Arsene Wenger in the transfer window. But on the winter deadline day, he reinforced Arsenal with some make shift signings in Mikel Arteta, Yossi Benayoun, Per Mertesacker, and Park Chu Young.
Arsenal's new signings took their time, but once Vermalen and Koscielny got their partnership going, Arsenal were back on track. With playmaker Rosicky hitting fine form, and the ever present Van Persie scoring at will, Arsenal have practically rescued their season and currently sit comfortably at 3rd position. They were unlucky to be knocked out of Europe after a heroic effort at the Emirates when they tried to overturn a 4-0 deficit with the match ending 3-0 to Arsenal.  Oxlade Chamberlain is finally getting a slice of the action and this new look Arsenal team has clicked very well. The young English left back Gibbs is also hitting a purple patch. With one more big signing and Lukas Podolski's signature in place, Arsenal too will take the world by storm. They currently sit comfortably at 3rd in the premier league table.
Chelsea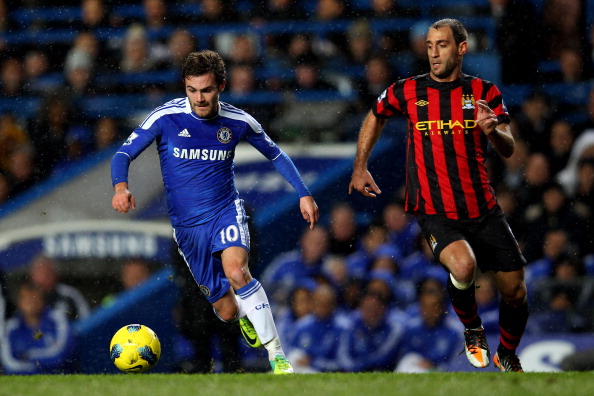 With veteran manager Carlo Ancelotti getting the boot, Chelsea owner Roman turned to Andre Villas Boas, the wonder worker from Porto FC. AVB brought in Juan Mata from Valencia and looked to change the way Chelsea plays. People thought of  him as the next Jose Mourinho. Ten months on, AVB loses his job and Chelsea languish in the fifth position struggling to book even a Champions League play off spot. Although Chelsea are the only English team to survive in Europe, their domestic form is pretty pathetic. Chelsea too are undergoing their first major rebuilding since the Mourinho days, with Anelka and Alex leaving, and Frank Lampard not the same midfielder he once. Romeu, Mata, Sturridge, Ramires and the talented yet erratic Daid Luiz have all impressed this season and look to be the crux of this new Chelsea side. With a lot of hopes pinned on teenage sensation Josh McEacharan who is on loan and a few more Chelsea youth prodigies on their way like the Brazilian play maker Lucas Piazon, expect Chelsea to challenge for glory in the upcoming seasons.
2) PAST EUROPEAN PERFORMANCES
Let us analyze the performances of English Clubs season by season from the 1998-1999 season onwards.
Manchester United : Winners in 1998-1999 , Quarter Finals in 1999-2000, Quarter Finals in 2000-2001, Semi finals in 2001-2002, Quarter Finals in 2002-2003, Quarter Finals in 2003-2004, Round of 16 in 2004-2005 , Group Stage in 2005-2006, Semi Finals in 2006-2007, Winners in 2007-2008 , Runners up in 2008-2009, Quarter Finals in 2009-2010 , Runners up in 2010-2011.
Chelsea : Semi Finals in 2003-2004 , Semi Finals in 2004-2005, Round of 16 in 2005-2006, Semi Finals in 2006-2007, Runners up in 2007-2008, Semi Finals in 2008-2009, Round of 16 in 2009-2010, Quarter Finals in 2010-2011.
Arsenal : Group Stage in 1998-1999 , Group Stage in 1999-2000 , Quarter Finals in 2000-2001 , 2nd Group Stage in 2001-2001 , 2nd Group Stage in 2002-2003 , Quarter Final in 2003-2004, Round of 16 in 2004-2005 , Runners up in 2005-2006 , Round of 16 in 2006-2007 , Quarter Final in 2007-2008 , Semi Final in 2008-2009 , Quarter Final in 2009-2010 , Round of 16 in 2010-2011.
 add to this, Liverpool have made it to two finals, winning one. They have also made it to two quarter finals and one semi final. Leeds United too made it to the semi final in 2000-2001. Tottenham made it to the quarter final in 2010-2011, knocking out defending champions Internazionale.
In a nut shell, since the past seven seasons, an English Club has been in a final on six occasions. Of these six, on four of them there has been at least another English semi finalist.
Since 1998-1999, there has been an English Club reaching at least till Quarter Finals.<taking into account semi finalists and winners>
Since 1998-1999 :
On ten occasions at least two clubs have made it to a quarter final .
On five occasions, at least three clubs have made it to a quarter final .
On two occasions, at least four clubs have made it to a quarter final .
 On two occasion, at least three clubs have made it a semi final .
On one occasion, both finalists have been English .
One poor season and you want to discount all these impressive statistics ?
3) EXTREMELY COMPETITIVE LEAGUE
Man united beat Arsenal 8-2, but lost to Blackburn 3-2. But Blackburn beat Arsenal. Chelsea beat Manchester City, the same team that trashed Man United 6-1,where as Man United beat Chelsea 3-1 and later drew 3-3. Liverpool dominated Man City in a 1-1 tie, drew with United 1-1 at Anfield, trashed Arsenal at the Emirates. Yet they lost at Anfield to Arsenal and got hammered at Old Trafford.
Swansea City lost to teams placed lower than them in the standings, yet beat the then leaders Manchester City! Newcastle United were recently hammered by Arsenal at the Emirates, but the same team trashed Man United at St. James' Park.
CONFUSING?
This is the premier league for you. I have only covered half of the shocking unexpected results in the league. The relegation battle posts an even more intriguing  picture that would leave you in awe.
The emergence of Tottenham and Manchester City only makes the league even more exciting.
Moreover, the English premier league does not have a winter break while most of the European leagues have this privilege.
4)  THE ILLUSION OF REAL MADRID AND BARCELONA
Real Madrid and Barcelona are the two top teams in the world. Very few would disagree. But the problem arises when La Liga enthusiasts use this reason to justify their claim that the La Liga is the best in the world. Two top teams and 18 below average teams do not make La Liga any better. In the history of the La Liga, it's always been a two horse race. When two top teams win about 35 league titles , it just goes to show how poor the competition is.
Manchester United have won 19 league titles and are top in England as compared to Real with 35 league titles and a host of domestic competitions is Spain.
Real Madrid's 9 European Cups stem from the fact that 6 of them were one by one great team in the 1950s when Di Stefano and Puskas plundered in goals. Pundits unanimously point out that if Manchester United's legendary Busby Babes had lived on Real Madrid's European count would be drastically reduced. 
Barcelona on the other hand achieved European success recently with their first Champions League title coming in 2006. No doubt the current Barcelona side is the best in the world by a proverbial mile. But what about the other clubs ?
Little can be done when Real Madrid and Barcelona have so much control over the league, finance and television rights. Only slowly, have clubs been developing, with the recent emergence of Malaga and Athletic Bilbao.
In the recent past, other than Real Madrid or Barcelona no other Spanish club has done consistently well in Europe.
5) INTRODUCTION OF THE ELITE PLAYER PERFORMANCE PLAN (EPPP)
The EPPP – the result of consultation between the Premier League and its clubs, representatives of the Football League, Football Association and other key football stakeholders – is a long-term strategy designed to create a youth development system in the professional game that will raise standards at every level.
Two years in the making, the EPPP is set to begin in time for the 2012-13 season, with the key idea to produce more and better home grown players and to be the "world's best" in youth development.
This only further certifies that youth development in the premier league will only improve in the years to come and that the queries put in by others that the premier league fails to produce top English talent will be put to rest .
To conclude, the above statistics clearly indicate that the Premier League is miles ahead of the Liga BBVA. It is the most viewed league in the world with exciting football concentrating on attacking flair rather than possession based football in Spain which quite frankly is dull, damp and boring.  On a lighter note, the theme song of the premier league  this year "Fire" by Kasabian is also quite catchy.
Yes, I agree that not only English Clubs but Liga BBVA clubs are also on the rise. All im saying is , one poor season in Europe does not kill the reputation of a league. 
Lets not make assumptions and kid ourselves about it. The Premier League is the best and will remain so for years to come.