Wigan Athletic vs Manchester City: Match preview
835 //
28 Nov 2012, 00:52 IST
Stadium: The DW Stadium
Referee: Mark Halsey
Kick-off: 1:15 AM (IST), Wednesday, 21st of November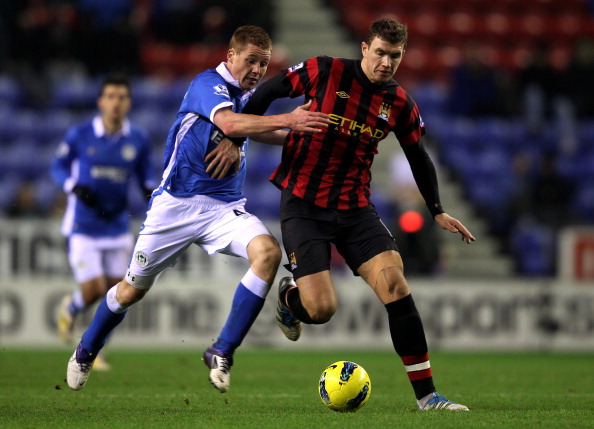 The visitors, Manchester City, sit just one point off the top of the table, and begin the match at the same time as league leaders, Manchester United, who are being visited by the Hammers. While it may be too early in the season to make a hue and cry of it, one would do well to keep an eye on the goal differences for both teams, with City ahead by one on that front, thanks to their miserly defence.
Wigan, on the other hand, have much more stark concerns, with a defensive crisis on hand. Injuries to Ramis and Caldwell have depleted their already meagre resources, and it may well lead to a battle to stay above the relegation dog fight. Currently though, they sit 4 points above the drop zone, with a crucial win against Reading last weekend; and while theoretically they could make it into 10th spot with a win, their huge negative goal difference should negate those chances.
Wigan: L W L L W
Wigan's season has been an absolute beach ball thus far, bouncing back and forth between impressive wins over teams like Tottenham to a loss against non top-flight club, Bradford. The departures of Rodallega and Moses have really hit Martinez hard, as his team struggle to finish off the few chances that fall their way. The philosophy, thankfully, has remained the same, but it seems like Martinez will need to do some recruiting over the winter transfer window. With three wins in their last five league games though, Wigan have pulled themselves out of the relegation zone, at least for now, and will give their all to get something from the game in front of their home fans.
Manchester City: D W W D D
Manchester City, by the standards expected of them, have looked lacklustre so far this season, with only a handful of convincing wins, and a lot more uncomfortable come-from-behind ones. What is irrefutable though, is that City have defended brilliantly, with just 10 goals let in, to extend their unbeaten league run to 19 games. Another fact, which may be thrown into the mix, is that both of City's previous away games have ended in 0 – 0 draws, though they came against West Ham, and Chelsea. Wigan haven't been nearly as tough to beat as either side, and City will be confident of breaking through their opponents' defence.
Injuries, Concerns & Suspensions
Wigan: Antolin Alcaraz, Albert Crusat, Ben Watson, Ryo Miyaichi, Ivan Ramis, Shaun Maloney, James McArthur, Gary Caldwell.
Manchester City: Jack Rodwell, Micah Richards, Gael Clichy.
Carlos Tevez vs Adrian Lopez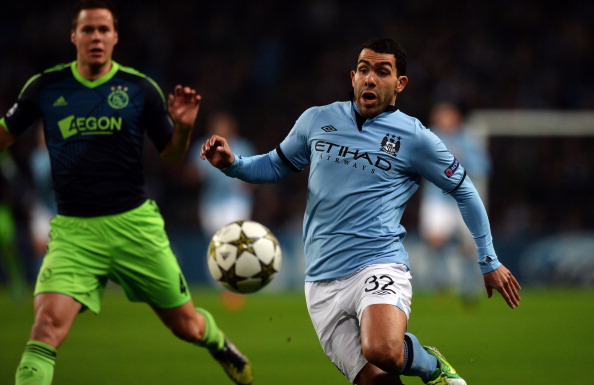 Dropped to the bench last weekend, with Mancini preferring to start with Edin Dzeko, Tevez was pressed into action in the second half after a flat showing by the Bosnian. That, along with a good 6 goals and 4 assists, should see Tevez find his way back into the starting eleven. The Argentinian's doggedness and work rate are a nightmare to deal with for any defender, and this time around, it will be Adrian Lopez, who is likely to start his first match this season, having replaced Ramis after the injury last weekend. A harsh awakening to the realities of the Premier League for the Spanish defender, it may be.
Jordi Gomez vs Vincent Kompany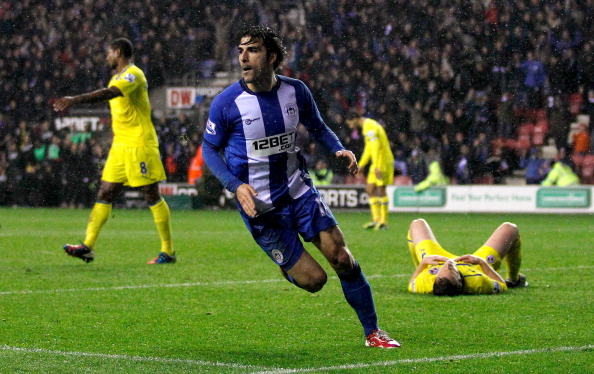 With a hat-trick against Reading last weekend making him only the second Spaniard, behind Fernando Torres, to do so in the Premier League, confidence is bound to be abundant for Gomez. The fact that it came in only his third league start this season speaks volumes, and should be sufficient for Martinez to start with a front three of Kone, Di Santo, and Gomez yet again. Whether he can get past the top class defending of Belgian Kompany, however, is a matter that encompasses much more than confidence, and will be a real test of Gomez's skills on the ball.
A reasonably comfortable outing for the visitors. Wigan have claimed zero points, and scored zero goals in the last five encounters between these two sides, and there seems no reason for that trend to change, from what we have witnessed so far this season. City have the best defensive record in the league thus far, with just 10 conceded, and thus it will probably come down to whether City manage to score or not. The return to form for Silva, an embarrassment of riches in the strike department, and the injury woes for Wigan suggest they will, multiple times.