Would Kompany's successful appeal set a future precedence for two footed challenges?
1.60K //
14 Jan 2013, 22:25 IST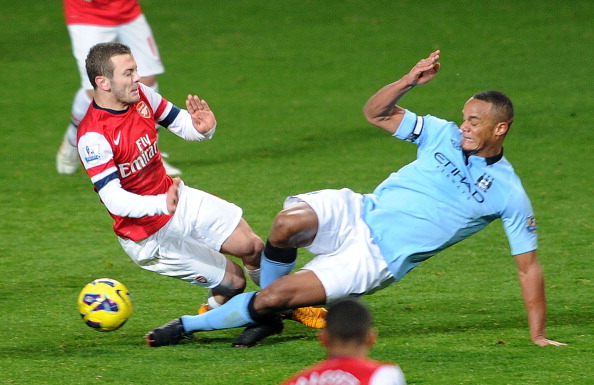 Vincent Kompany was sent off as a result of a two footed challenge yesterday against Arsenal, and opinion is split between whether or not the player should be sent off or not. FIFA regulations say this about the issue
"A two footed tackle made from a short distance away, does not always pose a danger to an opponent, because the ball itself acts as a natural cushion between the players but when the 'two footed' tackle is made from some distance in an uncontrolled manner when attempting to make contact with the ball (or not) – certainly entails a large element of danger to the opponent and that players who use excessive force to make two footed tackles should be sent-off"
However, while we do see Kompany make a two footed challenge, the ball is won. If a tackle which wins the ball is one footed, play goes on, so why should it not be different for two footed challenges?
There are numerous reason for this, as in the worst case scenario, the player gets badly hurt and is injured potentially for a long period of time. The FIFA regulations also hold precedence in this situation as while the pace of the game has changed dramatically from the past, the rules have to be changed accordingly in comparison to the present game.
Worst case scenario example: The following example is shown to be a two footed, high lunge tackle. and is definitely a sending off.
The argument against this is that the player leaves his team with a man disadvantage despite winning the ball. Two footed tackles should be dealt with accordingly as, if they're dangerous or reckless, could potentially harm a player. However, to dismiss a player for a clean despite two footed tackle can damage a team much more than in just those 90 minutes. Referees are human and are capable of making errors. They also have to make a judgement a split second after a challenge is committed. Granted, Kompany's tackle was two footed, in my opinion and was off the ground, but the chances of Wilshere being injured as a result of the tackle were slim to nil.
Kompany's is no stranger to being sent off as a result of two footed tackles as he was sent off for a red card two footed tackle during Nani's last season FA cup tie where City ended up ultimately being defeated 2-3. Yesterday against Arsenal, it happened again as he was sent off for a two footed tackle where he has clearly won the ball.
Another incident which has sparked debate on the color of the card issued was in a game in 2012 where Fulham played Sunderland this season. Brede Hangeland goes in for a tackle against Lee Cattermole, the two footed tackle results in Hangeland winning the ball, but as a result of the two foot, gets sent off. Granted, that was a two footed challenge and according to FIFA he should've gone for it, but if we look in the past, we see that tackles like this have been regarded as legitimate and players would not be heading straight down the tunnel for it.
In Football, what's done is done and there is no way there can be 'replaying' of games and etc. The best that their respective teams can hope for is not a player being banned for the three games.
Hangeland, and Kompany (x2) show one thing in terms of their challenges, they are all two footed, although yesterday's may have been very slightly two footed but if a player wins the ball and the referee decides it's a two footed tackle on the player, they're off. With Mancini claiming that he will definitely appeal, it shows that if the appeal is successful and is regarded as a two footed challenge, there is a possibility that one day that two footed tackles may be ruled upon differently.