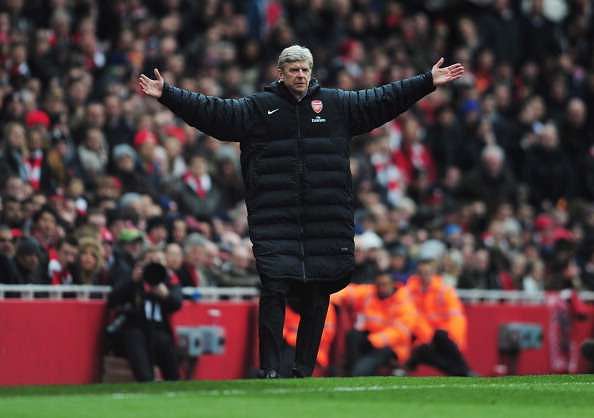 Arsenal have been struggling for trophies of late. It's been 12 years since the North London side last won the Premier League and their presence in the Champions League seems to be just to make up the numbers.
It has been another frustrating transfer market for Arsenal fans with Wenger missing out first on Jamie Vardy and most recently, Alexander Lacazette. These are the latest in a long list of players Arsenal have missed out on signing in the last few seasons under Wenger.
Also read: 10 most expensive signings by Arsenal
Here is a list of 11 superstars who came close to signing for Arsenal: (Formation: 3-4-3)
---
Goalkeeper
Gianluigi Buffon
The Italian legend was linked with Arsenal before and during his time at Juventus. A deal never materialised though and Arsenal were left with Manuel Almunia. Buffon met with Wenger back in 1998, but a concrete offer was never made and he decided to stay at Parma until 2001.
Buffon then moved to Juventus making 566 appearances and is considered one of the best goalkeepers of all time.
Defenders
Centre Back: Gerard Pique
Gerard Pique was part of a triple swoop including Lionel Messi and Cesc Fabregas that Wenger had planned. The move failed though and he ended up with only Fabregas. Pique, 15 at the time, was a part of the same youth system as Fabregas and travelled to England to complete the deal.
Legal issues involving a failed work permit prevented the deal from going through. Pique joined Manchester United the next year, then moving back to Barcelona where he was part of one of the greatest teams in the modern era, winning 2 Champions Leagues and several other pieces of silverware.
Wenger was quoted as saying in 2014, "We wanted to take Fabregas, Messi and Pique. It worked only for Fabregas."
---
Centre Back: Vincent Kompany
Arsene Wenger identified Vincent Kompany as a potential replacement for Sol Campbell in 2006. Inquiries were made, but yet again Wenger failed to make a concrete offer. The Belgian, swayed by his agent, decided against a move to a top club and signed for Hamburg instead.
2 years later he was scooped up by Manchester City and is now one of the best defenders in the world.
Kompany's agent Jacques Lichtenstein said, "I had meetings with Emilio Butragueno at Real Madrid, the club leaders at Barcelona and by Arsene Wenger himself at Arsenal. But heading to an absolute top club immediately was not the right solution because Vincent is someone who feels alone in an environment where he is not properly valued.
"Vincent is not a third or fourth choice. In Hamburg that was not the case."
---
Centre Back: Roberto Carlos
Roberto Carlos stated that his dream would be to join Arsenal once his contract had expired at Real Madrid. With Gilberto Silva supporting Carlos' decision to join the Gunners, a move was imminent.
Roberto told reporters," I am ready to play in the English Premier League and know it will be suitable for me,when my contract finishes that is definitely my priority and at Arsenal there are fellow Brazilians."
A deal never surfaced though, and the Brazilian ended up at Fenerbahce.
Midfielders:
Holding Midfielder: Claude Makelele
Claude Makelele could have been the answer to Arsenal's defensive problems. Makelele, one of the best defensive midfielders ever, was close to signing with Arsenal when he was just 23. The move never went through obviously and Claude went on to have an exceptional career, plying his trade for Marseille, Celta Vigo, Real Madrid and Chelsea.
According to Wenger, "Makelele was close to signing with us. He was straight after Vieira came, August 1996. He was still in Nantes."
---
Centre Mid: Yaya Toure
On the club's radar from a very young age, the Ivorian was on the verge of signing for the Gunners only to be denied by work permit and passport issues. With brother Kolo already established in the side, Wenger was keen on roping in Yaya as well.
The midfielder played a friendly for Arsenal against Barnet, but eventually signed for Ukrainian side Metalurh Donetsk. Yaya eventually ended up at Manchester City, and is currently one of the best players on their roster.
"We needed to wait for his passport in Belgium. We have made mistakes but he is not a mistake, it's just the fact that he preferred to go to Metalurh Donetsk. He could go there without any passport." said the Arsenal manager.
---
Right Wing: Gareth Bale
Arsenal were scouting the young Welshman alongside Theo Walcott in Southampton way back in 2006. Although Walcott made the move, Wenger was unsure of Bale's abilities as a defender and decided against making an offer. Bale moved to London rivals Spurs and eventually to Madrid for 86 million pounds, making him the world's most expensive player.
In an interview later, the Arsenal manager admitted his mistakes saying, "I must confess it was a huge mistake as he can play in midfield. He struggled at the start at Tottenham, then they moved him to midfield and he has done exceptionally well."
---
Left wing: Cristiano Ronaldo
Ronaldo was taken on a tour of Arsenal's training facilities and even given a jersey with his name on the back. A deal of 4 million pounds was agreed with Sporting, but it was never finalised. The Portuguese side then hosted Manchester United later in a friendly.
Sir Alex, impressed with Ronaldo's performances decided to make a move for the youngster. Using the Portuguese influence of Carlos Queiroz, Fergie managed to lure Ronaldo to United.
In 2014 Wenger was quoted as saying, "My biggest regret, I was so close to signing Cristiano Ronaldo, and not only did I not get him he signed for Manchester United, so that of course still hurts today."
Forwards
Left Forward: Luis Suarez
Wenger infuriated Liverpool fans and the board alike by making an offer of 40 million and 1 pound for Luis Suarez in an attempt to trigger his release clause. Liverpool though were not under any obligation to sell as Wenger had misunderstood the clause.
After a chat with then captain Steven Gerrard, Suarez stayed at Anfield for another season, almost firing them to the title. The Uruguayan then moved to Barcelona for 75 million pounds.
Failure to secure Suarez was termed by Jamie Carragher as the biggest mistake of Wenger's managerial career.
---
Right Forward: Lionel Messi
As stated earlier, Messi could have been an Arsenal player when he was just 16. According to reports, Wenger's failure to secure a flat for the Argentine was the only thing keeping him away. The Frenchman though refuted that by saying, "I think in the end, he was not so keen to move, because it was at a period where Fabregas came and Fabregas and Messi played together in the same team.
"It was not completely down to a flat in the end. It was down to the fact that in the end Messi was comfortable at Barcelona."
The Argentine, currently one of the best players in the world, has 5 Ballon d'Or's to his name and is widely regarded as the best player to have ever kicked a football.
---
Striker: Zlatan Ibrahimovic
The Swedish maestro was another almost for Wenger. A deal was in the making, that is until Wenger asked Zlatan to play a trial match. For most players this would be an opportunity to showcase their talents, but Zlatan was not a regular player.
Infuriated by the request, Zlatan refused and the deal broke down. "Arsene gave me the famous red and white jersey - the No 9 shirt with Ibrahimovic on it and I was so pleased I even posed for a picture wearing it. It was a fantastic moment for me.
"So then I waited for him to convince me that I should join Arsenal. But he didn't even try. He never actually made me a serious offer, it was more, 'I want to see how good you are, what kind of player you are. Have a trial'. I couldn't believe it. I was like, 'No way, Zlatan doesn't do auditions'."
---
Formation: 3-4-3
Honourable mentions: Didier Drogba, Angel Di Maria, Pepe Reina, Raphael Varane, Paul Pogba, Michael Essien, Xabi Alonso.