Star Wars fans got another reason to rejoice after the Ahsoka Tano skin in Fortnite Chapter 4 Season 4 was leaked. The new spin-off show recently started airing on Disney+ and has already made a significant impact. Clearly, another collaboration was the right direction for Epic Games.
Although fans get to see Ahsoka Tano in action on Disney+ already, they will have to wait a bit longer for the skin to arrive in the battle royale game. Ahsoka was announced as the Mystery Skin for Fortnite Chapter 4 Season 4 Battle Pass. This means the outfit will not come out on release day, but a couple of weeks later.
---
Fortnite Ahsoka Tano skin to arrive in 33 days
All Battle Pass Mystery Skins arrive right in the middle of a Fortnite season. For longer seasons, this could mean an exhausting wait. Luckily, Chapter 4 Season 4 is about two months long. Naturally, players can unlock the Ahsoka Tano skin after about a month.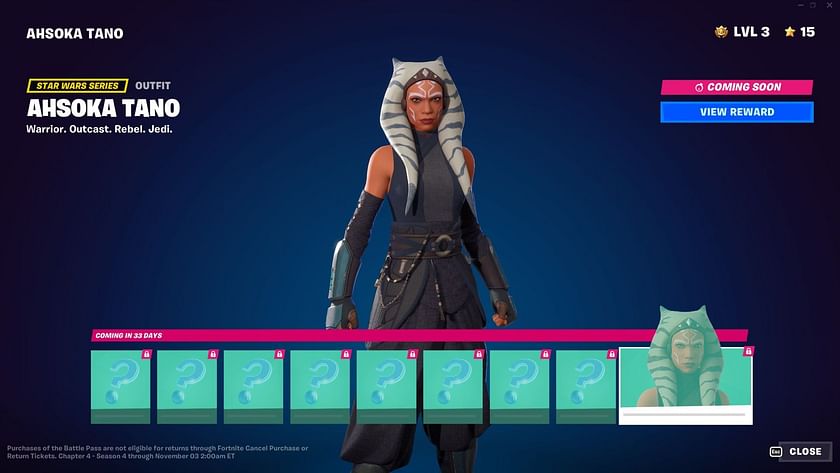 The exact release date of Ahsoka Tano skin in Fortnite Chapter 4 Season 4 is September 28. At the time of writing, that is about 33 days away. Players already know how the skin will look in-game. However, other cosmetics that usually accompany the Mystery Skin have not been revealed yet.
Star Wars fanatics will be eagerly waiting for September 28 to arrive so they can add yet another outfit to their favorite collection. Ahsoka Tano will join other popular characters from the franchise, including Mandalorian, Boba Fett, Luke Skywalker, Darth Vader, Leia, Han Solo, and a few others.
---
How to purchase the Ahsoka Tano skin in Fortnite Chapter 4 Season 4
The best thing about the upcoming Ahsoka Tano skin is that it won't burn a hole in your pocket. Unlike the costlier Star Wars cosmetics, Tano is part of the Chapter 4 Season 4 Battle Pass. Therefore, players can obtain her and other skins from the Pass by purchasing the premium version for 950 V-Bucks.
For all the premium Battle Pass owners, the Ahsoka Tano skin will automatically become available on September 28. Players will have to complete a list of challenges specific to the Mystery Skin in order to unlock Tano and the accompanying cosmetics.
There are several ways to earn XP faster in Fortnite Chapter 4 Season 4. Players can grind and reach Level 100 within the next month easily. After unlocking all the Battle Pass skins, one can focus on getting the Ahsoka Tano skin as soon as it releases and take down Kado Thorne.
The Battle Bus is heading into Fortnite Chapter 4 Season 4 soon! Check out the final Fortnite item shop today!
Edited by shwetangparthsarthy