Fortnite is known for its crazy cast of NPCs and characters. While not all of them are lovable or play a part in the storyline in a way that matters, they are still part of the metaverse in the grand scheme of things.
Sadly, not all of them can be featured/showcased on the island during one season, but they can seemingly fake their own death. At the start of Chapter 4 Season 2, an NPC known as Lil Whip was crushed under a building that 'rifted' in through the Red Rift or so, everyone thought.
---
How did Lil Whip fake his own death in Fortnite Chapter 4 Season 2?
As seen in the cinematic trailer for the current season, Lil Whip was undoubtedly and undeniably crushed/splattered when a building dropped on top of him. To add irony to the situation, the building in question was likely an ice-cream parlor that is part of Mega City.
This is due to the fact that it's called "Sofdeez," a wordplay on the word "softies" or widely known as soft-serve ice-cream. After being crushed, he exploded into what can only be described as an "ice-cream collateral" with sprinkle-toppings being scattered all around.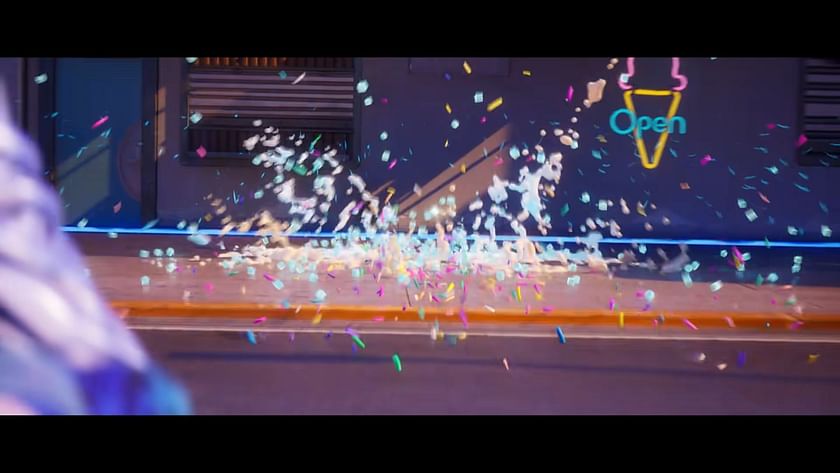 While his death didn't really affect anyone in particular (given that the community finds him rather annoying), he's not dead to begin with. It wasn't long before iFireMonkey (Fortnite leaker/data-miner) spotted Lil Whip back on the island hustling to promote his own brand of ice-cream.
This brings the conversation back to the original question of, "How did Lil Whip fake his own death?" The answer? He didn't fake his own death. The character in question did 'actually' die, but to understand how this is possible, there are a few things to know about The Loop.
When trapped in The Loop, characters don't die, they merely 'de-spawn' or pixelate. They are, in a sense, immortal. After the building fell on Lil Whip, the ice-cream and sprinkle-toppings that were visible started to pixelate.
This is very similar to how players/opponents pixelate when they are eliminated during a match. When this occurs, they are sent back to the lobby. Now in Lil Whip's case, since he's part of the island (an NPC of the metaverse), he naturally just spawned back on it and went back to business as usual.
---
Where to find Lil Whip in Fortnite Chapter 4 Season 2
Although Lil Whip can be found on the island, there's no fixed spawn location for this NPC. Ever since Fortnite Chapter 4 began, Rift Encounters have been occurring all across the island at random intervals during a match.
Players can locate these encounters, but there's no telling who or what they might find. At times, it could be Bushranger, while at others, it could be Meowscles. Truth be told, finding Lil Whip on the island this season will entirely depend on being in the right place at the right time.
That being said, there's not much to gain from meeting Lil Whip. Since he's a 'guest' or 'rifted' NPC rather than a seasonal NPC in Fortnite Chapter 4 Season 2, he doesn't have much to offer. Running into the character is just a pleasant surprise and nothing else.
Edited by Matthew Wilkins