Valve might give you extra Steam Wallet credit if you bought the Steam Deck for full price just before the handheld console was discounted in the ongoing spring sale. It is worth noting that this isn't official: one will have to write to Valve individually to get the credit.
This discount was first noticed by Reddit user @u/P1D3H_14, who got a Steam Wallet credit ticket from the company as compensation. It is worth noting that this offer will only be offered to users who feel ripped off in case the console was discounted by 10% right after they bought it.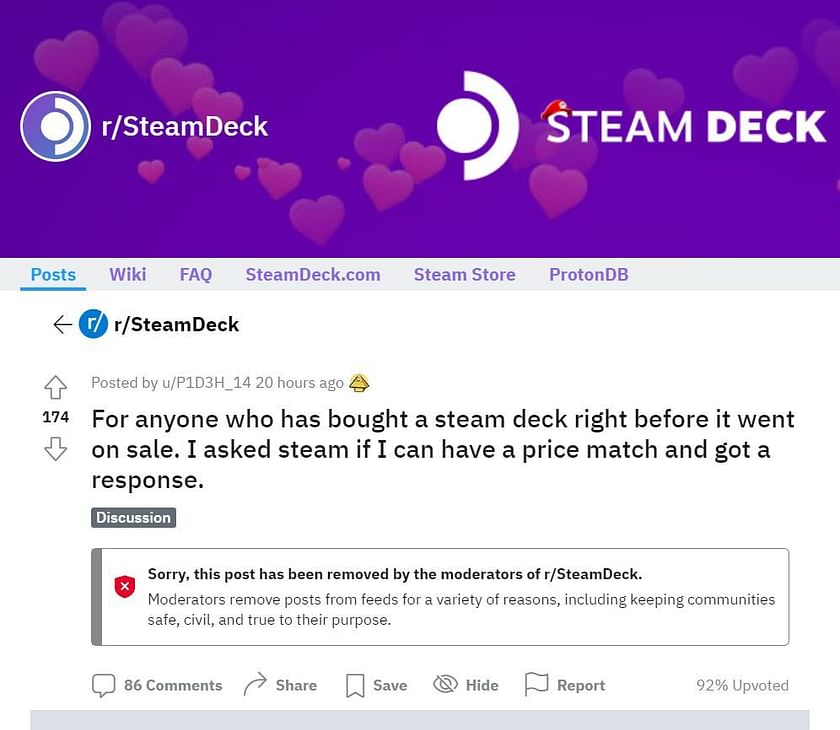 The Steam Deck can now be picked up for just $359, down from its launch MSRP of $399.
---
Detailed steps to get Steam Wallet credit if you recently bought Steam Deck for full price
Since Valve isn't officially offering discounts to every user on its platform, the exact steps can't be verified. The company has outlined the following rules for availing the credit:
"Steam does not offer discounts to purchases made outside of sale periods. However, as an exception, we can offer to apply a credit to your Steam Wallet for the difference in price. We're not able to apply this credit to any other payment method. If you'd like to proceed with this offer, please confirm by responding to this ticket."
According to gamers who claimed the offer from the company, the following steps should do the trick:
Step 1. Write an email to Valve's customer support elaborating that you bought a Steam Deck console right before it went on sale on the game's client. The closer the purchase date to the beginning of the spring sale (March 16), the higher the chances of Valve replying to the request.
It is worth noting that the final decision is completely at Valve's discretion. Buying the console a couple of days before the sale, thus, doesn't guarantee the discount.
Step 2. Valve should reply to the ticket with an offer to either accept the Steam Wallet credit or deny it. If you bought the base model of the handheld console, the credit would amount to about $40. Further, the amount can only be added to the Steam Wallet and won't be refunded via the original payment method.
Step 3. Reply accordingly to the ticket and accept the credit. The money should be added to the wallet within 48 hours. Now, you can spend it on any of the massively discounted titles in the spring sale.
It's worth noting that the original post from @u/P1D3H_14 was removed by moderators of the Steam Deck subreddit. Thus, Valve might not offer credit for much longer. Gamers should hurry up and claim the offer before the spring sale gets over this Thursday, March 23.