Big Bash League 2023 Leaderboard
View All
The 2022/23 edition of the Big Bash League [BBL] will get underway on 13th December 2022 with Big Bash league 2022 schedule out for cricket fans along with BBL Venue, fixtures and other match details. The tournament will get underway with the game where Sydney Thunder will lock horns with the Melbourne Stars at the Manuka Oval in Canberra.
A total of 56 matches will be played between in the round-robin stage between 8 teams between 13 December 2022-25 January 2023, following each top-5 team will make their way to the playoffs.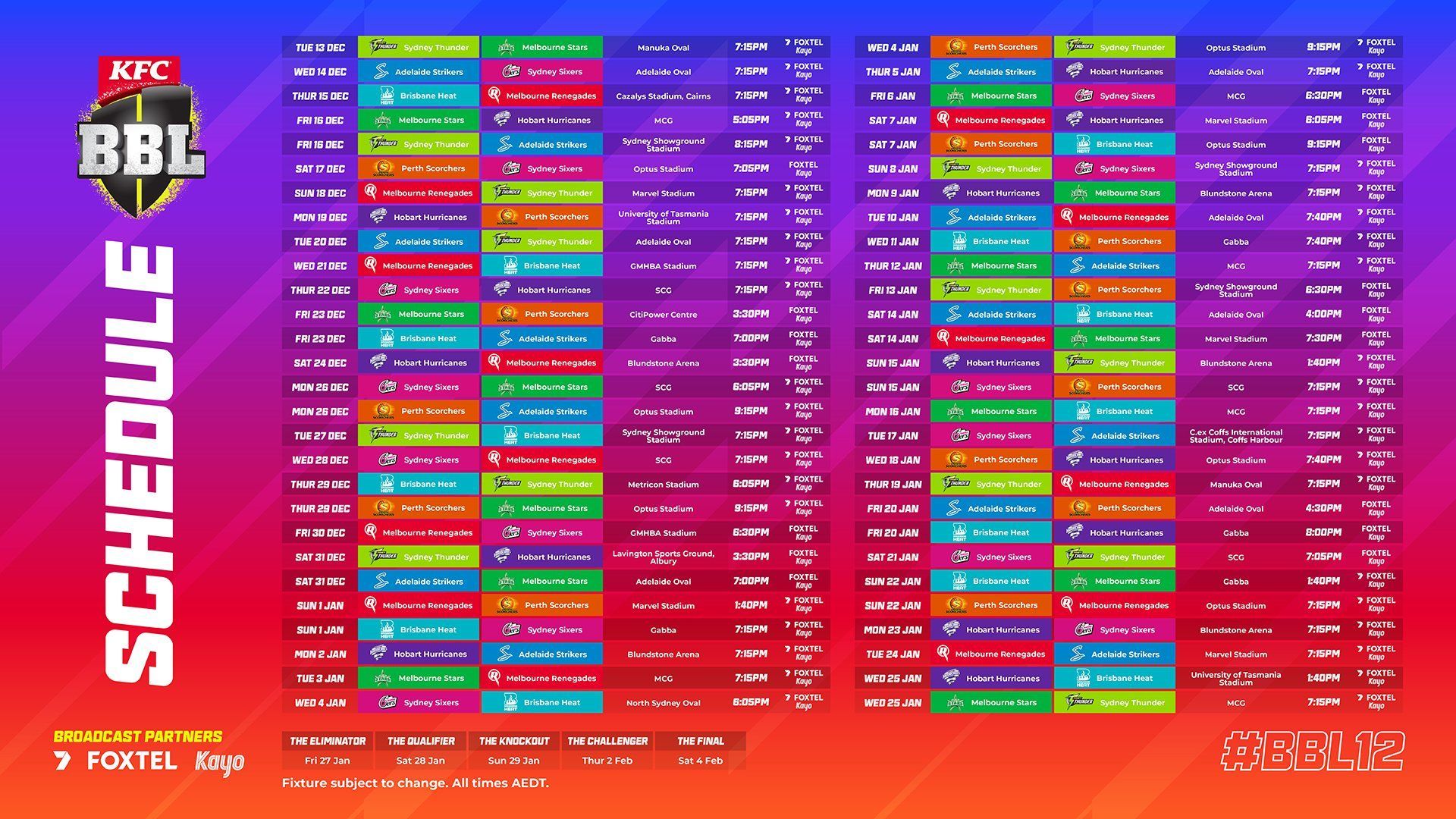 The summit clash of BBL 2022/23 will take place on 4th February 2023.
| | | | | |
| --- | --- | --- | --- | --- |
| S/N | Date | Match | Timing [IST] | Venue |
| 1 | 13 Dec 2022 | Sydney Thunder v Melbourne Stars | 01:45 PM | Manuka Oval, Canberra |
| 2 | 14 Dec 2022 | Adelaide Strikers v Sydney Sixers | 01:45 PM | Adelaide Oval |
| 3 | 15 Dec 2022 | Brisbane Heat v Melbourne Renegades | 01:45 PM | Cazaly's Oval, Cairns |
| 4 5 | 16 Dec 2022 | Melbourne Stars v Hobart Hurricanes Sydney Thunder v Adelaide Strikers | 11:35 AM 01:45 PM | MCG, Melbourne Sydney Showground Stadium, Sydney |
| 6 | 17 Dec 2022 | Perth Scorchers v Sydney Sixers | 01:35 PM | Perth Stadium, Perth |
| 7 | 18 Dec 2022 | Melbourne Renegades v Sydney Thunder | 01:45 PM | Docklands Stadium, Melbourne |
| 8 | 19 Dec 2022 | Hobart Hurricanes v Perth Scorchers | 01:45 PM | Aurora Stadium, Launceston |
| 9 | 20 Dec 2022 | Adelaide Strikers v Sydney Thunder | 01:45 PM | Adelaide Oval, Adelaide |
| 10 | 21 Dec 2022 | Melbourne Renegades v Brisbane Heat | 01:45 PM | Simonds Stadium, Geelong |
| 11 | 22 Dec 2022 | Sydney Sixers v Hobart Hurricanes | 01:45 PM | SCG, Sydney |
| 12 13 | 23 Dec 2022 | Melbourne Stars v Perth Scorchers Brisbane Heat v Adelaide Strikers | 10:00 AM 01:30 PM | Junction Oval, Melbourne The Gabba, Brisbane |
| 14 | 24 Dec 2022 | Hobart Hurricanes v Melbourne Renegades | 10:00 AM | Bellerive Oval, Hobart |
| 15 16 | 26 Dec 2022 | Sydney Sixers v Melbourne Stars Perth Scorchers v Adelaide Strikers | 12:35 PM 03:45 PM | SCG, Sydney Perth Stadium, Perth |
| 17 | 27 Dec 2022 | Sydney Thunder v Brisbane Heat | 01:45 PM | Sydney Showground Stadium, Sydney |
| 18 | 28 Dec 2022 | Sydney Sixers v Melbourne Renegades | 01:45 PM | SCG, Sydney |
| 19 20 | 29 Dec 2022 | Brisbane Heat v Sydney Thunder Perth Scorchers v Melbourne Stars | 12:35 PM 03:45 PM | Carrara Oval, Queensland Perth Stadium, Perth |
| 21 | 30 Dec 2022 | Melbourne Renegades v Sydney Sixers | 01:00 PM | Simonds Stadium, Geelong |
| 22 23 | 31 Dec 2022 | Sydney Thunder v Hobart Hurricanes Adelaide Strikers v Melbourne Stars | 10:00 AM 01:30 PM | Lavington Sports Oval, Albury Adelaide Oval, Adelaide |
| 24 25 | 1 Jan 2023 | Melbourne Renegades v Perth Scorchers Brisbane Heat v Sydney Sixers | 08:10 AM 01:45 PM | Docklands Stadium, Melbourne The Gabba, Brisbane |
| 26 | 2 Jan 2023 | Hobart Hurricanes v Adelaide Strikers | 01:45 PM | Bellerieve Oval, Hobart |
| 27 | 3 Jan 2023 | Melbourne Stars v Melbourne Renegades | 01:45 PM | MCG, Melbourne |
| 28 29 | 4 Jan 2023 | Sydney Sixers v Brisbane Heat Perth Scorchers v Sydney Thunder | 12:35 PM 03:45 PM | North Sydney Oval, Sydney Perth Stadium, Perth |
| 30 | 5 Jan 2023 | Adelaide Strikers v Hobart Hurricanes | 01:45 PM | Adelaide Oval, Adelaide |
| 31 | 6 Jan 2023 | Melbourne Stars v Sydney Sixers | 01:00 PM | MCG, Melbourne |
| 32 | 7 Jan 2023 | Melbourne Renegades v Hobart Hurricanes Perth Scorchers v Brisbane Heat | 12:35 PM 03:45 PM | Docklands Stadium, Melbourne Perth Stadium, Perth |
| 34 | 8 Jan 2023 | Sydney Thunder v Sydney Sixers | 01:45 PM | Sydney Showground Stadium, Sydney |
| 35 | 9 Jan 2023 | Hobart Hurricanes v Melbourne Stars | 01:45 PM | Bellerive Oval, Hobart |
| 36 | 10 Jan 2023 | Adelaide Strikers v Melbourne Renegades | 02:10 PM | Adelaide Oval, Adelaide |
| 37 | 11 Jan 2023 | Brisbane Heat v Perth Scorchers | 02:10 PM | The Gabba, Brisbane |
| 38 | 12 Jan 2023 | Melbourne Stars v Adelaide Strikers | 01:45 PM | MCG, Melbourne |
| 39 | 13 Jan 2023 | Sydney Thunder v Perth Scorchers | 01:00 PM | Sydney Showground Stadium, Sydney |
| 40 41 | 14 Jan 2023 | Adelaide Strikers v Brisbane Heat Melbourne Renegades v Melbourne Stars | 10:30 AM 02:00 PM | Adelaide Oval, Adelaide Docklands Stadium, Melbourne |
| 42 43 | 15 Jan 2023 | Hobart Hurricanes v Sydney Thunder Sydney Sixers v Perth Scorchers | 08:10 AM 01:45 PM | Bellerive Oval, Hobart SCG, Sydney |
| 44 | 16 Jan 2023 | Melbourne Stars v Brisbane Heat | 01:45 PM | MCG, Melbourne |
| 45 | 17 Jan 2023 | Sydney Sixers v Adelaide Strikers | 01:45 PM | International Sports Stadium, Coffs Harbour |
| 46 | 18 Jan 2023 | Perth Scorchers v Hobart Hurricanes | 02:10 PM | Perth Stadium, Perth |
| 47 | 19 Jan 2023 | Sydney Thunder v Melbourne Renegades | 01:45 PM | Manuka Oval, Canberra |
| 48 49 | 20 Jan 2023 | Adelaide Strikers v Perth Scorchers Brisbane Heat v Hobart Hurricanes | 11:00 AM 02:30 PM | Adelaide Oval, Adelaide The Gabba, Brisbane |
| 50 | 21 Jan 2023 | Sydney Sixers v Sydney Thunder | 01:35 PM | SCG, Sydney |
| 51 52 | 22 Jan 2023 | Brisbane Heat v Melbourne Stars Perth Scorchers v Melbourne Renegades | 08:10 AM 01:45 PM | The Gabba, Brisbane Perth Stadium, Perth |
| 53 | 23 Jan 2023 | Hobart Hurricanes v Sydney Sixers | 01:45 PM | Bellerive Oval, Hobart |
| 54 | 24 Jan 2023 | Melbourne Renegades v Adelaide Strikers | 01:45 PM | Docklands Stadium, Melbourne |
| 55 56 | 25 Jan 2023 | Hobart Hurricanes v Brisbane Heat Melbourne Stars v Sydney Thunder | 08:10 AM 01:45 PM | Aurora Stadium, Launceston MCG, Melbourne |
| 57 | 27 January 2023 | Eliminator (TBC) | 01:45 PM | TBC |
| 58 | 28 January 2023 | Qualifier (TBC) | 01:45 PM | TBC |
| 59 | 29 January 2023 | Knockout (TBC) | 01:45 PM | TBC |
| 60 | 02 February 2023 | Challenger (TBC) | 01:45 PM | TBC |
| 61 | 04 February 2023 | Final (TBC) | 01:45 PM | TBC |