India have managed to make it to the quarterfinals of the Olympics after a 36-year long wait with a series of good tournament finishes in the last one year. The Dutch on the other hand have had a very secretive preparation as they didn't participate in the Hockey India League (HIL) or any other major tournament. PR Sreejesh's heroics and a flurry of penalty corners right at the end were not enough for India to cross the line against the Dutch. However, Germany drew 4-4 with Argentina to ensure India's passage to the knockouts. Let's look at a detailed analysis of the penultimate match in Group B.
Safe and risk free hockey
The game started on a cautious note, contrary to the expectations of a goal fest from all parties involved. Both teams are known for their attacking instincts and it was a change to see them go about the scheme of things with so much detail and caution.
Van der Weerden Mink who people expect would emulate Teun de Nooijer was looking for a penalty corner opportunity only to be restricted by the Indian defense and midfield who just allowed 2 circle penetrations in the first half. Severiano, son of Paul Van Ass and named after a legendary golfer was looking good in the defensive line. The Dutch stayed back hoping to hit India on the run, perhaps the best team when it comes to counter attack!
On the whole, it was safe hockey in the opening quarter with both teams opting for risk-free play. Such tactical nous by Oltmans and his Dutch counterpart i.e. the Argentine Max Kaldas who played for the same Dutch club as Taeke Twando, Gagan Ajit Singh, Dilip Tirkey that they matched each other in terms of strategy, tactics, and man to man personnel on the field.
A game waiting to open up with some goals
The game was excellently set up during half-time, despite being scoreless. A treat awaited the fans in the 2nd half. The Dutch earned the first penalty corner of the match which Sreejesh acrobatically saved only to be denied by the rebound that was slotted in by Roger Kemperman. He is nicknamed Mr. Backhand, for his lethal backhand shots and perhaps the best in the business now!
Moments later, Van der Horst tackled Chinglensana to break the attack but only to be snatched by VR Raghunath. Raghunath earned a penalty corner after hitting Japp Stockmann twice! Rupinder's first shot was saved by Stockmann but deemed too high. India decided to give the next attempt to Raghunath. And boy did he reply by scoring low on Stockmann's left and brought the delight on the faces of fans, players and more importantly Oltman's face!! Raghu is Japp's old nemesis, has an excellent record against him even in the HIL.
India was handed a bigger jolt with 2 yellow cards SV Sunil for a push resulting in a 5-minute suspension whereas VR Raghunath got a yellow card for 10 minutes for an elbow! And from here India were down to 9 players and that forced the momentum to shift the Oranje way! Perhaps, Raghunath's yellow would also have some serious repercussions in the net match as FIH will also review the malice in his involvement.
The deciding quarter!
Oltmans changed the strategy from half press to quarter press with a lone striker up front. The Dutch earned a penalty corner as Rupinder tackled the Dutch attacker from behind. The resulting attempt produced a beautiful low save from Sreejesh and viewers got a view of why he is regarded as one of the best goalkeepers currently in the world. Keeping all angles closed with a 70% save ratio he has saved 14 out of 20 shots targeted at him throughout this tournament.
SV Sunil returned after suspension to restore some parity in the forward line with around 12 minutes left. Devinder Walmiki stopped Van der Horst Robert from proceeding, despite losing the ball giving a good account of physical play. This reiterates the fact that the Indian team doesn't get intimidated anymore by their opponents.
India conceded 2 back to back penalty corners, one saved but the resulting raised ball resulted in another one. The shot hit Rupinder very hard. His bold on rushing would have certainly made former Indian greats Dhanraj Pillay and Jugraj Singh. Finally, Mink scored beating Sreejesh in his 4th attempt, with a superb and precise low drag flick down right. With 6 minutes to go in the match, it was advantage Dutch now and India had to play catchup.
Final throw of the dice!
India did the unpredictable by removing Sreejesh with Raghu as the last man as a last ditch attempt. Harmanpreet made a superb run to earn a PC for India, which was not scored subsequently. The team started throwing balls in the D in the hope to earn a corner just like Surender hit from outside the D only to be missed by everyone.
India took their referral with 6 seconds left for a stick check. Yes, and they got a penalty corner and kept their referral! It was worth taking the risk because we had nothing to lose with the referral and with so little time to go in the match. This meant the match had to be played just for the PC as the time had already stipulated.
Drama after the hooter had gone off!
One more penalty corner was awarded, but the Dutch followed the Indian counterparts by taking a referral instead for an Indian foot, only to lose their referral. The resulting hit stuck the Dutch defender's feet and then his head which was dangerous but since the ball had raised another PC was awarded to India.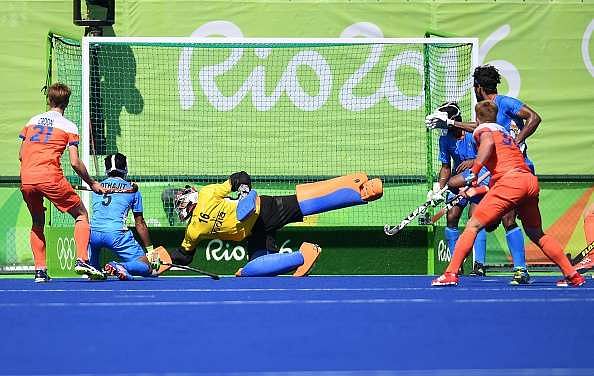 This time, Raghu took this PC, only to be denied by another foot, to give a fifth PC in line and the match's 7th! India needed to try a variation here perhaps giving Harmanpreet a chance to outfox Stockmann and the defenders. But alas the Dutch defense stood tall to this relentless barrage of penalty corners and India narrowly lost the chance to equalize and with it the match.
Area of Concern
With no goals so far, the form of our forward line is a major worry. This is the single biggest worry in the minds of all fans right now and more so for the Indian think-tank. Perhaps, with the next game against Canada, ur strikers can find form and strike gold!
Predictions for the final group stage matches
Date

Event

Prediction

FRI 12 12:30

Men's Pool B - Match

India vs Canada

India to win

FRI 12 13:30

Men's Pool B - Match

Germany vs Netherlands

Draw

FRI 12 17:00

Men's Pool A - Match

Great Britain vs Spain

Great Britain to win

FRI 12 18:00

Men's Pool A - Match

Belgium vs New Zealand

Draw

FRI 12 19:30

Men's Pool B - Match

Ireland vs Argentina

Draw

FRI 12 20:30

Men's Pool A - Match

Australia vs Brazil

Australia to win by a dozen goals
Regarding today's opponents, India are expected to beat them by a margin of 4 goals or more. SV Sunil, Akashdeep, and Ramandeep should all strike form in this match. It would also augur well for the next phase of the tournament – i.e. the knockouts!
That means India (rank 3 from Group B) would face Australia (rank 2 from Group A) !!
More predictions and analysis to follow.