SportsKeeda Exclusive Interview: Don't write us off, says Indian hockey captain Sardar Singh
806 //
29 Nov 2012, 11:19 IST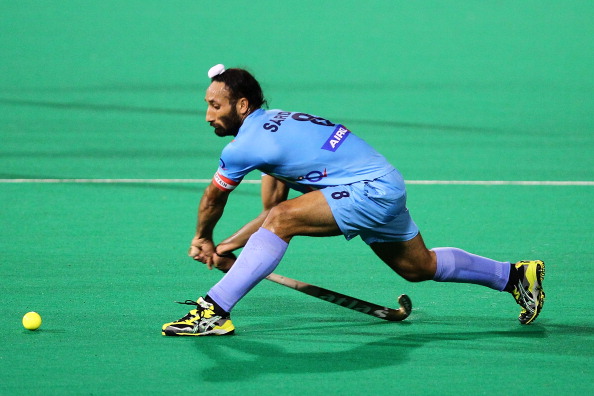 He provides the bedrock around which the Indian hockey team revolves. A vital cog in the midfield department, Sardar Singh has gained the respect of all and sundry with his exemplary all-round skills.
The value of Sardar's presence in the side can be best exemplified by the fact that chief coach Michael Nobbs did not substitute him even once during the entire London Olympics campaign, which also speaks volumes about his high fitness levels.
The wooden spoon finish at the London Olympics was the biggest low in Indian hockey. Three months later, the FIH Champions Trophy will be India's first major tournament after the London Olympics disaster. And the blue shirts will be feeling the pressure when they launch their FIH Champions Trophy campaign on December 1. "Of course, the boys will be under pressure to deliver as we did not do well at the London Olympics.  I still believe we did not really play bad hockey as the 12th position suggests," Sardar told Sportskeeda in an exclusive interview.
The 26-year-old playmaker revealed that the team has slogged hard to iron out their weakness and is determined to come out with a decent showing in the Champions Trophy. "We had a two-month break after the Olympics. We have worked really hard in the camp, trying to focus on areas such as man-to-man marking, trapping, ball release and finishing inside the striking circle. You should see a lot of improvement in these areas," said Sardar, who is a DSP in Haryana Police.
Apart from the pressure to perform, Sardar would also have the added responsibility of leading the senior team. Ask the strapping medio and he is excited at the prospect. "I don't really think captaincy will put me under any kind of pressure. It's a challenge I'm looking forward to. My job is to guide my team members. We have around 6-7 youngsters in the side and I would look to guide them in whatever way I can; even the senior players in the team would also have a role to play in guiding these young players," he paints a realistic picture.
This is not the first time that Sardar is leading the senior team. He became the youngest Indian captain when he wore the captain armband at the 2008 Sultan Azlan Shah Cup Tournament. In fact, he is richer with that captaincy experience. "Obviously that captaincy stint will help. You keep learning all the time, stuff like how to deal with senior players, how to deal with junior players," he puts things in perspective.
Despite the all-round criticism of the team following its calamitous run at the London Olympics, the team grabbed the positive eyeballs for its improved fitness levels. Sardar credits the high fitness levels to trainer David John, who has stepped down after the Olympics. "David (John) did a superb job. Our fitness levels improved significantly. He would conduct different training sessions for goalkeepers, fullbacks, halfbacks and forwards. It's sad that he did not want to extend his contract; we are going to miss him for sure," he quipped.
Sardar, who earned 160 international caps for India and scored 20 goals, is looking forward to working with the team trainer Jason Conrath. "We need to not only maintain our high fitness levels but also further improve on it. We are excited about working with Jason (Conrath)."
A bottom-place finish at the Olympics might have diluted the 'expectation' element to some extent, but Sardar feels that the India team has the wherewithal to spring a few surprises. "Australia won the last Champions Trophy, does it mean that they would win it this around? I reckon any team can win on any given day. The same applies to us, if we play good hockey we can best any team on any given day. We would give our best shot. Don't write us off," Sardar sings an upbeat tone.
The team is missing experienced players like London Olympics captain Bharat Chetri, drag-flicker Sandeep Singh, fullback Ignace Tirkey, forwards Tushar Khandker and Shivendra Singh. Sardar exuded hope that they will soon stage a national team comeback. "They are all good players. They bring a lot of experience to the side. If they keep working hard at their game, I'm sure they will stage a comeback to the national side soon."
The whole of India is talking about exciting 18-year-old Indian Oil drag-flicker Gurjinder Singh. So what is Sardar's take on him? "Gurjinder is only 18; he is an exciting prospect for the future. He packs a lot of power in his drag-flicks but he has to work on his fitness as it is a key ingredient for any player to achieve success in modern hockey," he says matter-of-factly.
Sardar likes to do his own personal training sessions apart from the regular team training sessions whenever he is at the national camp or on a national assignment. He unwinds from his hockey sessions by listening to Punjabi songs." I'm a big fan of Babbu Mann and whenever I get time to unwind, I like to listen to his songs. It works as a stressbuster for me," he guffaws.
At 26, he is the most eligible bachelor in the Indian hockey team. The coy lad tries his best to skirt any talk on this. "I have no marriage plans for now. May be in two years' time I would think about it as I'm in love with hockey for now," he remarked.