The Ultimate Fighting Championship is the largest MMA promotion in the world. As such, some of the top fighters from around the world come to the UFC each year and compete against the other top-ranked UFC fighters.
The best UFC fighters are often those who not only compete in the Octagon with their immaculate fighting styles but also ensure that they can draw a crowd. UFC puts focus on those fighters who have drawing power more, as if they are able to draw a big crowd, they can also ensure that UFC makes more money with more eyes on their product.
As a result of this, UFC naturally pays these fighters more as well and they become some of the highest-paid figures in the world of MMA. As a side note, in this article, I will only be including those names who were involved in the world of UFC in some way or form, including those who may have retired this very year, even if they did not fight.
However, MMA fighters' net worth will not be included if they already retired in or before 2018. As a result, Rorion Gracie's net worth of $50 Million will not be included. Without any further ado, let's list the top UFC fighters' net worths and see who the richest UFC fighters were in the year of 2019.
---
#5 Anderson Silva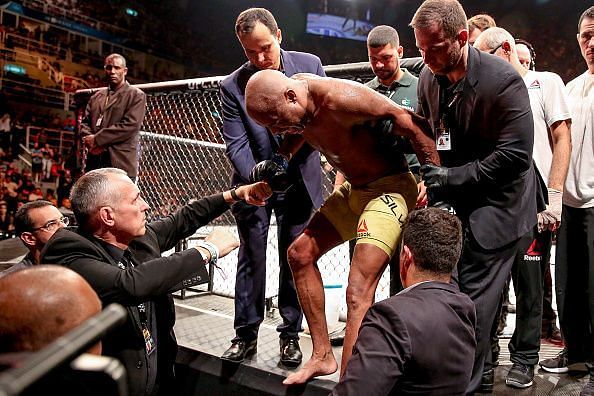 Anderson Silva is a fighter who may be considered a legend of the business having held the UFC Middleweight Championship for an incredible 7 years. His contribution to the world of MMA is fantastic, and it appears that he is not yet done.
This year, Anderson Silva returned to the Octagon and took part in a number of big fights, including one against Israel Adesanya and another against Jared Cannonier.
Unfortunately for 'The Spider', he lost both of the fights. In his last fight, he was unable to continue after a kick to his leg injured him. At the moment, it is not sure if Silva will be fighting again, however, what is sure is that even if he has to retire, it will be to a tidy sum of $18 Million, which makes him the 5th richest UFC fighter of 2019.
Anderson Silva Net Worth: $18 Million.
#4 B. J. Penn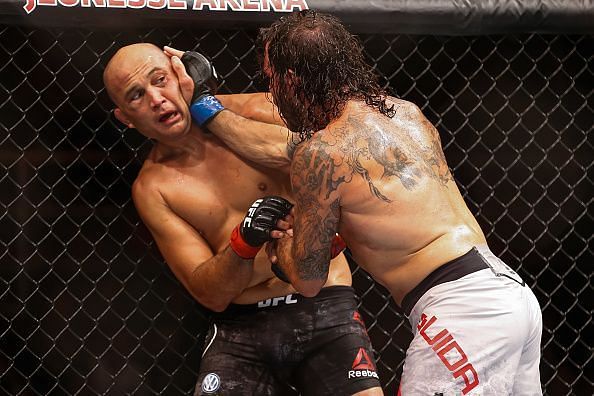 B. J. Penn might be one of the most tragic UFC fighters of all time. Not because of his losses, and there were many of those, but because of the manner in which his time with the UFC ended this year.
Penn is an actor, an author, a coach, and a bonafide legend in the UFC. He held both the UFC Lightweight Championship and the UFC Welterweight Championship during his time with the company. He is one of the top fighters who helped to draw a lot of attention to the lower weight classes in UFC.
Unfortunately for Penn, he fought on for far longer than he should have. Between 2011 to 2019, he did not have a single win in his 7 fights, thus getting the rather unfortunate record for most consecutive losses in the history of UFC.
His personal life, however, has been far more tragic. Penn was involved in several bar fights and his wife also filed a restraining order against him citing physical and sexual abuse. He was involved in two brawls in 2019, with the latter one in August resulting in his release from the UFC.
However, in his long career, Penn has established a solid net worth of $22 Million.
B. J. Penn Net Worth: $22 Million
#3 Brock Lesnar
Okay, hold on. I know Lesnar technically was not a part of UFC in 2019, but he was heavily rumored to be fighting against Daniel Cormier before he finally announced that he was retiring from the company by telling Dana White and that he was staying in WWE.
While there were many reasons for Lesnar to retire from UFC, his announcement caused Cormier's retirement fight to be changed and delayed, eventually fighting and losing to Stipe Miocic.
Brock Lesnar is well known for being money-minded and this has seen him be a disliked figure by both WWE and UFC fans. However, it has to be said that this approach to signing with companies has worked out for Lesnar, as he is the third-richest UFC fighter of 2019.
The current WWE Champion is a divisive figure and is a wrestler, former MMA fighter, a former NFL football player, and in both of the former, has found some level of success. He has also been an actor and was featured in TV shows and films, including the 2015 Oscar-nominated film Foxcatcher.
With all of this in mind, Brock Lesnar has a staggering net worth of $28 Million.
Brock Lesnar Net Worth: $28 Million.
#2 Georges St. Pierre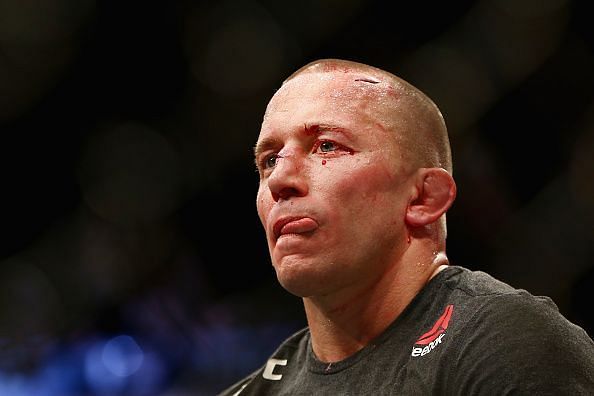 Another UFC fighter who retired this year, Georges St. Pierre is recognized as being one of the top fighters to have ever entered a UFC Octagon. His time in the UFC is seen to be almost faultless and many consider him to be the best MMA fighter ever.
He has held both the Middleweight and Welterweight UFC Championships over the course of his career in the Octagon. He was the UFC Welterweight Champion thrice and held the title for 6 years in total, which is the second-longest combined reign in UFC history.
Pierre, unlike others in this list, earned most of his fortune through the 14 pay-per-view fights that he competed in during his time in UFC. It should be noted that he also had several paid endorsement deals with Bacardi, Nos energy drink, Electronic Arts, and others.
GSP announced that he was retiring this year after a prospective fight between himself and UFC Lightweight Champion Khabib Nurmagomedov fell through. There have been hints that he might return to the Octagon again in the future for one more fight if everything aligns. Due to the success of his career, he has accumulated a total net worth of $30 Million.
GSP (Georges St. Pierre) Net Worth: $30 Million.
#1 Conor McGregor
When I began this list, there was no doubt about who would be the top name. Conor McGregor is the wealthiest MMA fighter by a considerable margin at the moment as well as being the best-known fighter.
Returning to the UFC in January after more than a year away from the Octagon, Conor McGregor appears to be ready for another run in the company. McGregor announced that he had retired from the UFC in 2019, an announcement that was not really taken that seriously as fans knew that Conor McGregor could not leave UFC just like that.
With a loss to Khabib Nurmagomedov in his last fight at UFC 229: McGregor vs Khabib, a rematch is something that McGregor might definitely be interested in. For the moment, however, he is set to fight Donald 'Cowboy' Cerrone, followed by a prospective fight against the 'BMF' title-holder, Jorge Masvidal.
The first-ever UFC fighter to hold multiple UFC Championships at the same time, McGregor has won both the UFC Featherweight and UFC Lightweight titles.
However, a bulk of McGregor's current fortune comes from a fight against Floyd Mayweather, where McGregor fought the boxer in a boxing fight, only to lose. The loss did not really hurt him in a big way as he reportedly took home around $85 Million. Since then, he has added to his current fortune with a successful clothing line and whiskey brand.
His current net worth is $110 Million.
Conor McGregor Net Worth: $110 Million.
ALSO READ: 4 Reasons why Conor McGregor will lose to Donald 'Cowboy' Cerrone
Edited by Kingshuk Kusari