Khamzat Chimaev, fresh off his triumph against Kamaru Usman, has once again stirred the pot with a surprising callout. This time, the Chechen-born fighter has directed his attention at UFC light heavyweight champion Alex Pereira.
Initially eyeing a middleweight title shot against Sean Strickland, Chimaev's plans have been disrupted by a hand ligament injury. Strickland is now scheduled to defend his belt against Dricus du Plessis at UFC 297 in January 2024.
Switching gears, Chimaev took to his X account, urging UFC president Dana White to greenlight a matchup with Pereira:
"@danawhite let me finish him."
However, the response from fans has been far from unanimous applause. Despite Chimaev's dominant performances, some supporters argue that he should commit to a specific weight class, recalling past weight-cut struggles that resulted in a canceled bout against Nate Diaz.
One fan suggested:
"A little jet cooling maybe in order... how about actually sticking to a weight class for a bit?"
Another chimed in:
"As much as I like Khamzat, he needs to pick a weight class and stick with it atm. Guys all over the place."
Critics also questioned Chimaev's readiness for a light heavyweight title fight, citing his recent close call against Usman:
"Lol, he almost lost with Burns, and he's asking for Pereira"
"Edged out a win against Usman at 185 and wants a title fight at 205??"
"yea ok. bro can't even finish a welterweight who was fighting on one weeks notice"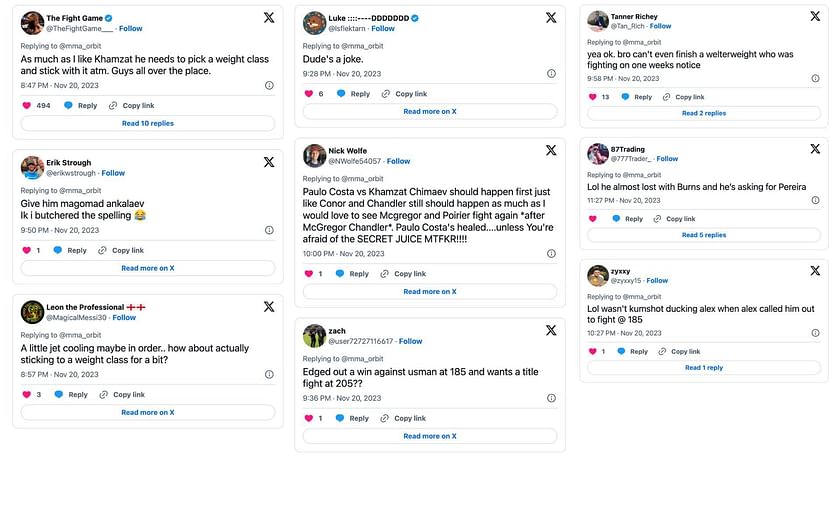 ---
Dricus Du Plessis warns Khamzat Chimaev of stylistic challenges at 185 pounds
Dricus du Plessis isn't mincing words when it comes to a potential matchup with Khamzat Chimaev, issuing a stern warning about the stylistic hurdles 'Borz' may encounter in a future clash.
During a recent interview with James Lynch, Du Plessis shared his skepticism about Chimaev's fighting approach, especially in the context of a bout at 185 pounds.
Casting doubt on 'Borz's' power in a higher weight class, Du Plessis commented:
"I don't think [Chimaev] realizes the power difference between 170 and 185. In terms of style, he tries to outpower everybody he fights because he wants to show how strong he is. If he fights me and he fights that way, he's going to find out what strength really feels like."
Check out Du Plessis' comment on Chimaev below (19:15):
The warning from Du Plessis adds intrigue to the potential showdown, hinting at a strategic advantage he believes he holds over Khamzat Chimaev.
Edited by Jigyanshushri Mahanta