EA Sports has recently released a new gameplay trailer for its highly anticipated UFC 5 game. The trailer features the voiceovers of lead producer Nate McDonald and UFC Hall of Famer Daniel Cormier, providing an in-depth overview of the game's gameplay and features.
Check out the video below:
This latest addition to the popular franchise is designed to capture the essence of MMA fighting, featuring realistic graphics, an authentic damage system, and improved gameplay mechanics.
According to the game developers, EA Sports UFC 5 is powered by the Frostbite engine, known for its stunning visuals. It provides next-generation graphics upgrades for console gaming, including dynamic lighting, realistic character details, and detailed animations for hair and clothing, making the virtual octagon experience more immersive.
However, the latest gameplay trailer of UFC 5 didn't quite meet the expectations of fight fans and gamers. Many of them turned to social media to express their dismay with what they perceived as underwhelming graphics and gameplay. Fans' reactions varied widely, painting a picture of their lukewarm reception to the trailer.
One fan wrote:
"Time to play ufc 2 for another 5 years"
Another wrote:
"That frostbite engine ain't doing it's job"
Check out some more reactions below:
"Hire THQ developers, its the only chance EA has to make a good game"
"Can't wait to try to grapple once, look like a wounded duck with cerebral palsy, and only stand and bang every single fight from then on."
"Literally the same striking as UFC 4"
"Bro I swear UFC 3 looked better than this"
"N*ggas dropped UFC 4 remastered lmao"
"Holy fu*k I can't believe it's the exact same animations as a game from 3 years ago. EA is the laziest company on earth 🤣"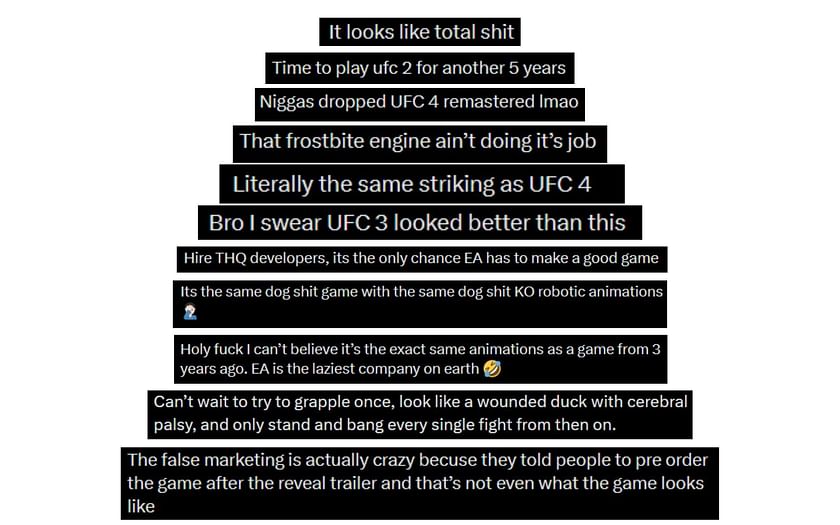 ---
Is EA Sports UFC 5 on PS4?
Since EA Sports announced UFC 5, the gaming community has been buzzing with speculation about whether the game will support cross-platform play.
This new installment in the franchise has undergone significant changes, with the adoption of the Frostbite engine. This upgrade promises more responsive gameplay and an overall improved fighting experience, according to the game developers.
However, UFC 5 will be exclusively available on the latest-generation consoles, specifically the PlayStation 5 and Xbox Series X|S. It's important to note that the game won't be accessible on the previous-generation PlayStation 4, and crossplay between PlayStation and Xbox won't be a feature of the game.
Edited by Jigyanshushri Mahanta