Michael Chandler is in line to face Conor McGregor in the latter's return from an absence of more than two years after the pair served as opposing coaches on season 31 of The Ultimate Fighter.
While the bout, or weight class in which it will take place, has not been officially announced, 'The Notorious' recently suggested his next bout could take place at middleweight. Responding to a tweet that questioned if he will return at welterweight, the former double champ responded:
"185"
'Iron' responded to the tweet, suggesting that he is open to fighting at middleweight as it would provide him with a more manageable weight cut:
"185 would be great…finally an easy cut after 22 years of hard weight cutting. #seeyousoon"
Check out the tweets from Conor McGregor and Michael Chandler below:
Fans responded to the tweet by mocking the No.5-ranked lightweight. @adityakartik4 claimed:
"you're not that guy pal"
@FROSTYGLAZE61k quoted McGregor's comments from the fighters' first meeting on The Ultimate Fighter, stating:
"You'll do what your told"
@H_ozz suggested that the former double champ will face a different opponent in his return:
"Poor mike still thinks he's fighting Conor #sosad"
@stanWizerbicki took a different route, claiming 'The Notorious' has fought for the last time:
"I like Conor and good for him with all the success, but he's never fighting again. "Hard to get up to go train sleeping in silk sheets" he's kind of annoying w trying to remain relevant after anyone else wins and he has to make it about him."
Check out the best fan reactions below: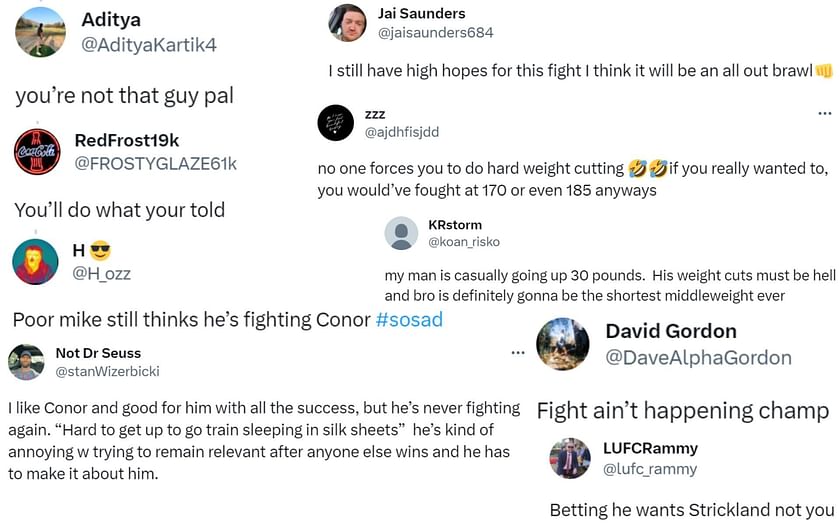 ---
When will Conor McGregor and Michael Chandler finally meet in the octagon?
Fans have been looking forward to the return of Conor McGregor since the announcement that he would be coaching season 31 of The Ultimate Fighter opposite Michael Chandler. While 'The Notorious' has suggested that the bout will headline UFC 296 in December, which is the final pay-per-view card of the year, there has been no official announcement.
Although the card remains without a headliner, it is unclear if the former double champ has re-entered the USADA testing pool. UFC rules require fighters to be in the pool for six months and submit two negative samples before competing.
While there were suggestions that the promotion could grant McGregor an exemption, as they did for Brock Lesnar at UFC 200, recent comments from UFC President Dana White suggest that may not be the case. During a recent appearance on Crain & Company, the promotional frontman stated:
"Obviously, we're running this whole season of The Ultimate Fighter. To not do that fight would be ridiculous, but we're working on it. I'm hoping we can do it early next year."
Check out Dana White's comments on Conor McGregor and Michael Chandler fighting below: