Paulo Costa has responded to Mike Perry's recent callout and expressed interest in a potential clash against 'Platinum.' In typical Costa fashion, 'The Eraser' harked back to a past claim by Perry that suggested that an online DNA test showed he is 2% black.
Mike Perry, who signed with BKFC (Bare Knuckle Fighting Championship) after his contract with the UFC expired, recently stated that he is open to rejoining the world's premier fight promotion.
In a recent video posted on Brendan Schaub's YouTube channel, Thiccc Boy, Perry named UFC middleweight contender Paulo Costa as an ideal matchup for him inside the boxing ring, stating that it would be "an amazing fight":
"Paulo Costa would be an amazing fight. I think he's very dangerous. I like Costa. He's a very physical looking guy. I think to box him, I would have to use a lot of speed and skill. Lot of technique. I would have to trick him and make him run into some good shots."
Watch the clip below:
A fan-favorite figure in recent times, Costa took to Twitter to react to the call out and responded by using the 'N-word' while referring to Perry. The tweet has since been deleted from his handle:
"This n**ga really wants that smoke. Mike Platinum Black Perry. Wakanda."
Check out Costa's response below: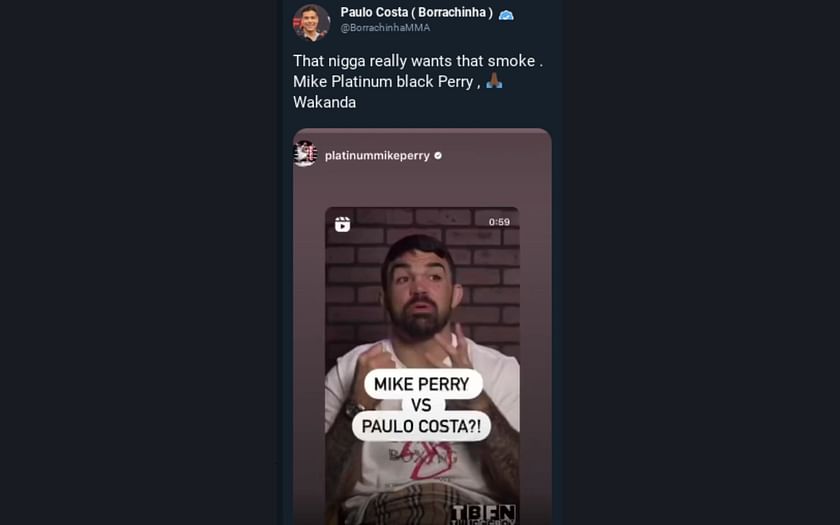 ---
Paulo Costa requests fans not to cancel him
Paulo Costa's decision to revitalize his career and express his comical side has recently made him a Twitter sensation. However, the commitment has come at a price at times, as several fighters and fans have taken offense to it.
While responding to Mike Perry's recent call out, Costa used a racial slur that is entrenched in the American vernacular as one of the most emotionally and historically charged words.
Fearing the wrath of the Twitter community, Costa immediately deleted the tweet and launched a bunch of follow-up replies urging fans not to cancel him:
"Please don't cancelled me. I will not say that word initially N. I don't know why but I will not. I promise."
He further wrote:
"People are so crazy in social media , it's scary. Reflection of a sick world."
Costa will return to the octagon against former UFC middleweight champion Robert Whittaker at UFC 284, which is set to go down on February 11 at the RAC Arena in Perth, Australia. The three-round bout will serve as the co-main event.