Israel Adesanya recently scorched his former girlfriend on Instagram after taking time to 'respond' instead of 'react', as he posted 'receipts' that were several years old.
It isn't clear why 'The Last Stylebender' chose to shed light on his life at this moment, but it appears that he is not holding back.
Adesanya's ex-girlfriend, Charlotte Powdrell, first caught fans' attention after 'The Last Stylebender' defeated Robert Whittaker at UFC 243 to become the new middleweight champion. A photo of Adesanya posing with Powdrell surfaced online, causing speculation as to who the mystery woman may be.
Israel Adesanya usually refrains from posting anything too personal on his social media, and something must have flipped a switch in the middleweight champion for him to scold Powdrell publicly.
He posted a series of scathing Instagram Stories directed at his former partner, and even pointed to the recent saga surrounding professional footballer Achraf Hakimi. He said:
"You don't care about my life cuz you've sold info about me, so I don't care about yours. I don't even hate, I just don't care about you. I've not been in love with you for a while. In summary, I'm glad this happened. I wouldn't change a f***ing thing."
See the posts below: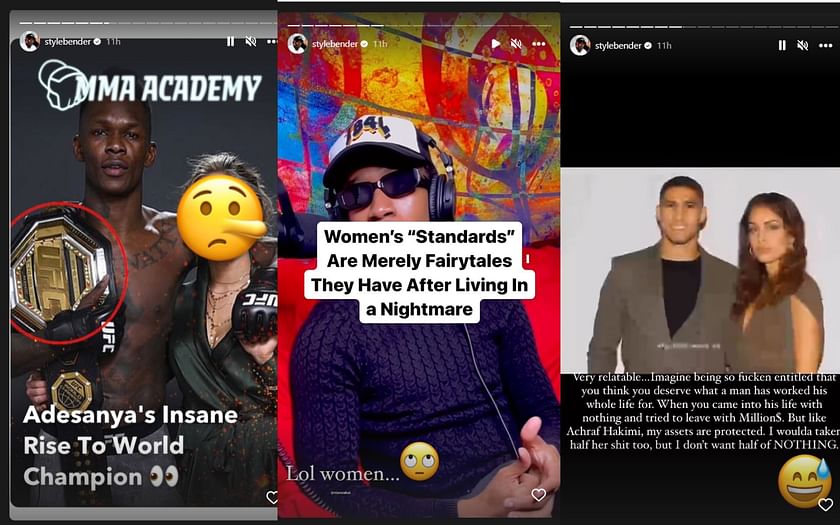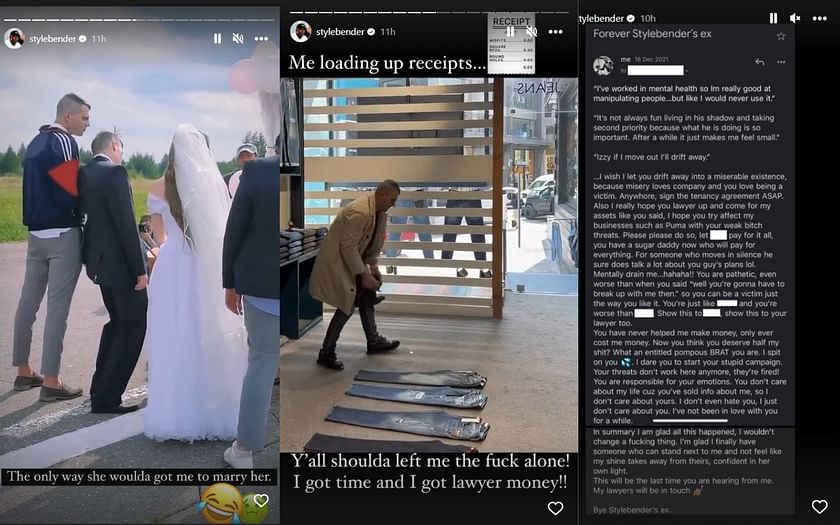 Israel Adesanya has a large Deadpool tattoo on his back, as 'The Last Stylebender' has taken great inspiration from the anti-hero character. Following his burst of Instagram Stories, Adesanya took to Twitter to remind everyone that he is not striving to be anyone's idol or hero.
Watch the video below:
---
A documentary about Israel Adesanya is set to premiere at Tribeca Film Festival
Israel Adesanya's redemption arc is finally complete, as he conquered his greatest challenge at UFC 287 earlier this month by knocking out Alex Pereira to reclaim the middleweight title.
'The Last Stylebender' has achieved immense success in his career, and news has emerged that a documentary about his life will premiere at the Tribeca Film Festival on June 11.
According to Ariel Helwani, the documentary has been ongoing since 2018.
Adesanya endured many challenges throughout his childhood, and his life story is set to be displayed on screen later this year, in what must be a surreal feeling for the middleweight king.
Helwani tweeted:
"Israel Adesanya's feature film documentary is premiering at the Tribeca Film Festival on June 11. This is something they'd been working on since 2018."
""The film follows Israel through the ups and downs of his childhood and career, tapping into masculinity, bullying, mental health and the art of fighting and dance," Israel's business partner, co-manager and long-time friend Ash Belcastro said."
See the posts below: