When it comes to sneakers for women, it is presumed that either it will be for running or for fashion. Sneaker is not only for running, exercising, or styling for hip-hop and street fashion. These days, sneakers are for everything. One can wear it for gyming, running, partying, shopping, or even for office meetings.
Someone wearing sneakers in an office is uncommon, but now it is time to incorporate sneakers for work too. Brands like New Balance and Nike offer smart and comfortable sneakers which can be worn for work purposes. Let's see some of the work sneakers for women.
---
New Balance, Nike, Adidas, and some other brands offer best work sneakers for women
1) New Balance Made in USA 990V6
The original 990's designers set out to make the best running shoe. In keeping with this objective, the MADE in USA 990v6 has undergone several performance-oriented upgrades. Instead of a traditional midfoot saddle, the upper is constructed with a seamless mesh upper, and overlays are made of pigskin and synthetic materials extending from heel to toe.
The biggest improvement, though, is on the interior, making this one of the most significant upgrades the 990 has ever received from one generation to the next. The development of the 990 is not just skin deep, thanks to the FuelCell midsole cushioning. This is one of the perfect work sneakers for women.
---
2) Nike Waffle Debut Sneaker
These slick work sneakers for women, which take their cue from the Nike Daybreak, give the retro style a contemporary update. Suede and nylon in colors that compliment one another echo a previous era, and a wedge midsole that has been modernized provides further elevation.
This is the perfect new addition to women's everyday rotation because it combines fashion with comfort and it has that trademark Waffle outsole.
---
3) Adidas Samba ADV Sneakers
For this model, Adidas used the timeless silhouette of the Samba to create a useful shoe with a low profile. Even though these sneakers are mostly produced in men's sizes, they are perfect for women too. These sneakers are for women who are into heavy work.
The Samba ADV builds on that history by incorporating an improved T-toe design alongside two Adituff toe support layers, enabling feel, flick, and durability. It is known for its secured fit and features a Molded sockliner and trademark tongue wings that assist stability. Additionally, the gripping cupsole guarantees feel and board control.
---
4) Sam Edelman Layla Sneaker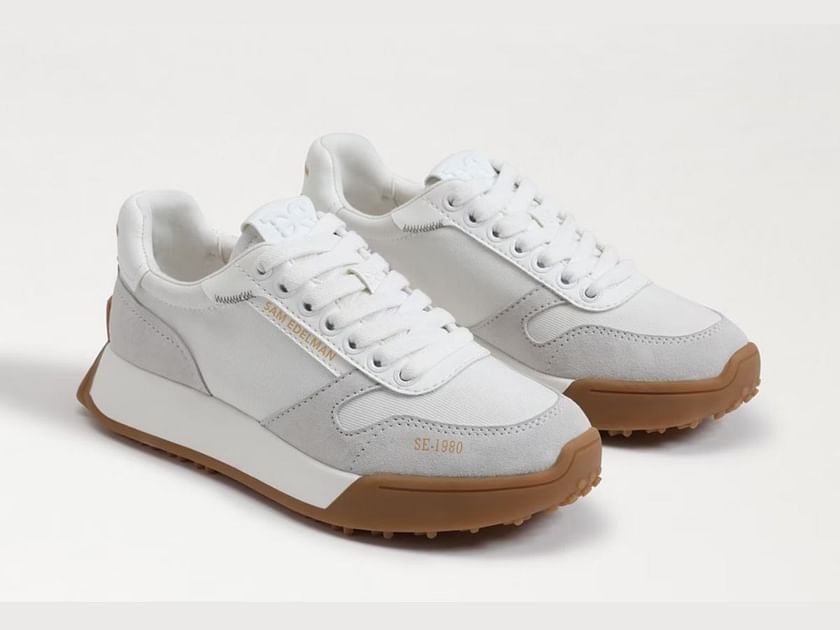 The creative innovator Sam Edelman draws on his more than 30 years of expertise in the footwear industry. Edelman is inspired by a life that has been lived to the fullest. The Sam Edelman brand is known for producing trendy and laid-back shoes with their roots in classic American style. These shoes are created by combining the founder's love of travel with enduring design.
These sneakers for women are perfect for completing a sophisticated work look without much effort. These can be worn with a skirt and a pant, making them one of the most versatile work sneakers available in the market.
---
5) Isabel Marant Bryce Suede-Trimmed Perforated Leather Sneakers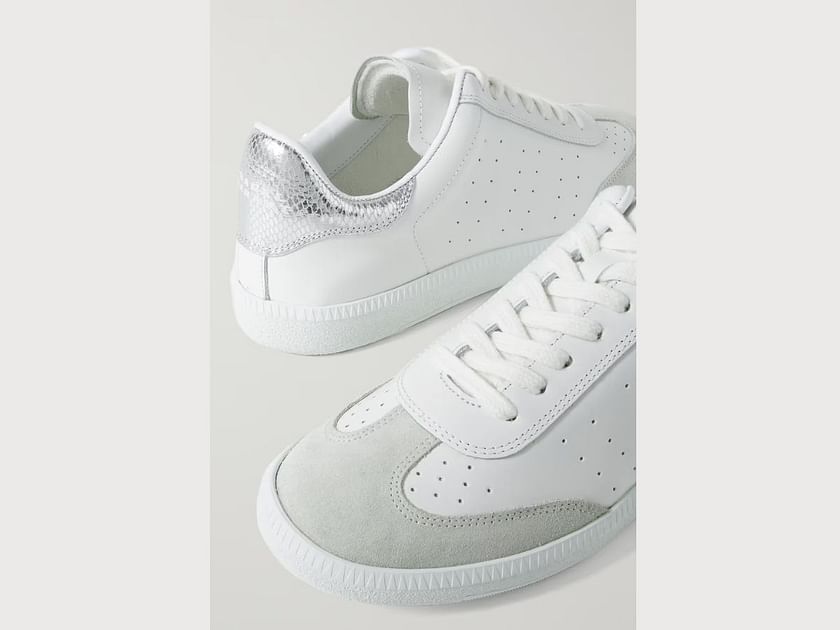 Isabel Marant is a French fashion designer known for her bohemian-inspired designs. Her line of leather sneakers is a popular choice among fashion-forward women. The low-top 'Bryce' sneakers designed by Isabel Marant draw their inspiration from vintage tennis shoes.
They have gray suede and metallic heel tabs and trimmings across the toes and are crafted from white leather. The sides have holes punched in them so they can breathe. For ladies who love to wear classic work outfits with a hint of vintage, these sneakers for women would be a great choice.
---
All these sneakers for women are currently available for purchase directly from the official websites of their respective brands.