Cardi B recently deleted her Twitter account after mentioning that she would do so. The WAP singer was visibly frustrated with her fanbase prior to the deletion. This comes after her fanbase took aim at her and her kids because she did not attend the Grammys. She has since conducted an Instagram Live where she elaborated on her decision to leave the social media platform.
Before deactivating her account, she posted a tweet where she shot down her fanbase. The tweet read: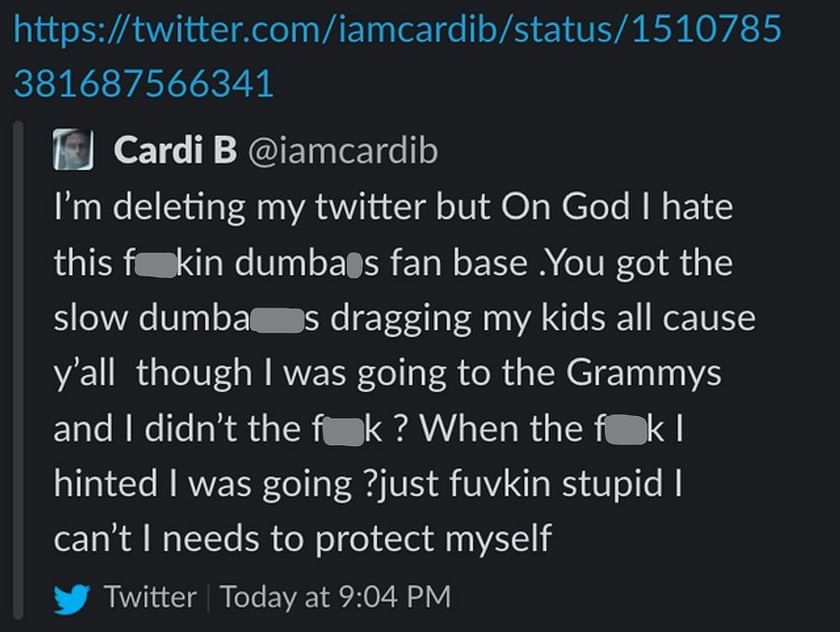 It seems like her attending the Grammys was not the only rumor Cardi B was battling. Not many days ago, she was being pressured by her fanbase to release the follow-up album to Invasion of Privacy, which was released in 2018.
Cardi B was nominated for Best Rap Performance for her song Up. She later elaborated on her Instagram Live that she refused to attend the award ceremony as she had bagged only one nomination.
---
What did Cardi B reveal in her Instagram Live session?
Following the 29-year old's Twitter account deletion, she explained why she did so on Instagram Live. She said:
"I'm doing girl-day*shit today, right? And I'm chilling and everything and then I'm going through my Twitter, and I see people in my Twitter—my fans, my own f**king fans—talking s**t like, 'Oh.' Practically saying that I'm lazy, and that I was giving hints that I was going to the Grammys. B***h, how the f**k was I giving hints that I'm going to the Grammys when I literally lasering and bleaching my p**sy on my Insta story?"
The singer then elaborated that she was in New York with her children. She then asked her fans why she would attend the Grammys:
"Why would I show up with one nomination? And I lost it anyways, so you wanted me to go to the Grammys, lose and award, and me just be there smiling like, 'That's great, that's great.' Like, come on now my n***a. Come on now. I don't like that s**t."
Cardi B addressed fans who claimed she gave hints about attending the award show. Her fanbase assumed that she would be attending the Grammys after she tweeted that she liked "men in fashion." Speaking about the same, Cardi responded:
"What the f**k does that have to do with the Grammys? Red hair and tattoos, what the f**k does that have to do with me saying I'm going to the Grammys?"
The mother-of-two then stated that she does not "give a f**k" about what she said in her tweets. She also commented on the hate that her child was receiving from her fanbase. According to Page Six, a troll tweeted that Cardi's son would not like "for you to be on your a** while teasing us fans and not ever dropping music." The singer harshly responded:
"I hope your moms die."
Another troll also claimed that one of her children is autistic. The singer responded:
"None of my kids are autistic… don't project wat u got on my kids the f**k"
Addressing her children being brought up on Twitter, Cardi said on her Instagram Live:
"If you talking sh*t about me, why you bringing my f**king son?"
Reacting to the ongoing Cardi B Twitter drama, a few netizens commented:
Cardi is not the only singer to skip the Grammys this year. Selena Gomez, Taylor Swift, and Kanye West also did not attend the award show despite the last two being nominated for Album of the Year.
Edited by Siddharth Satish