On January 9, STARmeter ranked actor Kim Tae-hyung as the fourth most popular Korean celebrity on IMDb.
STARmeter is an online popularity ranking based on the US Internet Movie Database (IMDb). The actor and singer bagged this position out of 2,104 other Korean actors and directors.
IMDb is a subsidiary of Amazon. It serves as an online database on movies, TV shows, actors, celebrities, directors, producers, and video games all over the world. It is considered one of the most objective platforms to analyze popularity, as it is consumed by users from all over the world and regarded as the world's largest movie site.
Upon hearing about the popularity of V on IMDb, one ARMY tweeted:
---
Many foreign and local directors want to work with actor Kim Tae-hyung
Kim Tae-hyung made his acting debut with the 2016 historical drama Hwarang: The Poet Warrior Youth, where he showcased his versatility and talent as an actor. Although Kim Tae-hyung has only acted in one show till now, fans are excited and patiently waiting to see him star as the main lead.
Park Chan-wook, the Cannes-Award-winning producer for the 2013 movie Old Boy, ranked first, followed by Parasite director Bong Joon-ho, who bagged the Academy Awards, and Korean-American actor Steven Yeun ranked third. Kim Tae-hyung ranked fourth, establishing a worldwide popularity among the reputed names. This shows that V is popular not only as a BTS member or singer but also as an actor.
IMDb describes actor Kim Tae-hyung on their site as: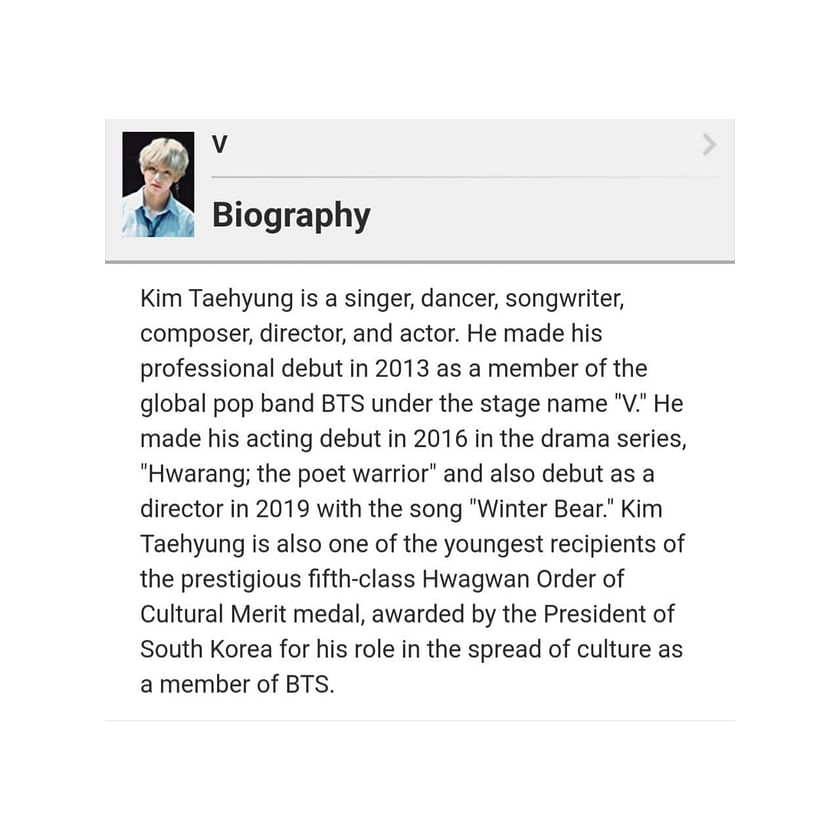 "Kim Taehyung is a singer, dancer, songwriter, composer, director, and actor. He made his professional debut in 2013 as a member of the global pop band BTS under the stage name "V." He made his acting debut in 2016 in the drama series, "Hwarang; the poet warrior" and also debut as a director in 2019 with the song "Winter Bear." Kim Taehyung is also one of the youngest recipients of the prestigious fifth-class Hwagwan Order of Cultural Merit medal, awarded by the President of South Korea for his role in the spread of culture as a member of BTS.
Many local and foreign directors have shown and expressed interest in casting actor Kim Tae-hyung earlier. The directors have shown a keen interest in working with him on more than one occasion. Cannes Jury Prize-winning director Xavier Dolan once confessed in his interview with Arena Hommeplus that BTS member V is very appealing and wants to work with him.
"V is very attractive. I want to work with him someday."
Even the famous Korean director Shin Won-ho, who is known for the Reply series and Hospital Playlist, has expressed his desire to work with Kim Tae-hyung. It has also been reported by Korean media outlets that in many instances, V has received calls from both local and foreign production companies.
What is more interesting is that if actor Kim Tae-hyung is really coming any time soon, the idol will eventually become the highest-paid actor in the South Korean entertainment industry. It was revealed by South Korean media outlets that actor Kim Tae-hyung's appearance fee per episode would be over 550 million won (445,000 USD), which is higher than the current highest-paid actor, Kim Soo-hyun.
Expectably many fans will be waiting for V to be cast as the lead on a show and have taken to Twitter to say the same. ARMYs want to see actor Kim Tae-hyung make a big comeback.
---
Kim Tae-hyung has previously expressed his desire to act
Kim Tae-hyung isn't just an idol, dancer, and vocalist but also a versatile actor. Even though he has acted in only one drama so far, he keeps expressing his desire to act from time to time. However, due to the group's activities, he is unable to make time for the other projects.
In an interview, V expressed how he wanted to act in the role of a villain and stated:
"My favorite character is a noir-like villain. I'm more attracted to villain roles. The main characters are very attractive, but I think there are some movies where the villains are more attractive, like Heath Ledger in Joker."
---
Presently, Kim Tae-hyung is gearing up for his much-awaited solo album and fans are eagerly waiting for it. It has also been reported that the idol will enlist in the military in June 2024. So far, Jin has enlisted.