Kanye West, now known as Ye, is back on Instagram, and this time he has a gripe with his decade-long collaborator, Adidas. The 45-year-old multi-hyphenate took to Instagram on Monday, June 13, 2022, in a now-deleted post to express his discontent with the three stripes' newest silhouette, Adilette 22.
Yeezy empire builder and founder, Kanye, who is transparent with his feelings, shared a lengthy statement alleging that the three-stripe brand copied his work and called out the label's CEO, Kasper Rorsted, for copying his Yeezy Slides design for the newly released Adilette 22, which he further called "a fake Yeezy."
---
More about the Kanye West x Adidas drama, as Ye calls out Adilette 22 as a fake Yeezy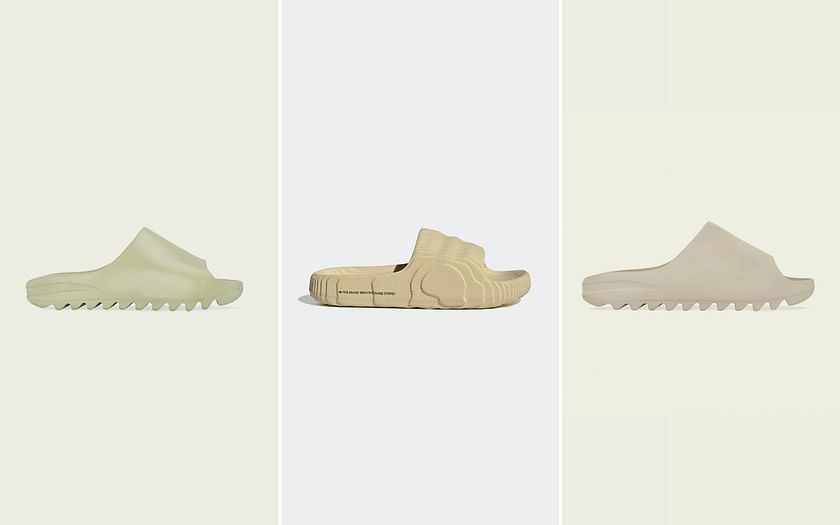 Kanye West and Adidas linked up in 2013 and have been responsible for changing the sneaker game significantly. The collaboration between the two has served sneakerheads with some unbeatable hits like the Yeezy Foam Runner silhouette and the Yeezy Boost 350V2 silhouette that caused a Frenzy among sneaker enthusiasts.
The duo have, till now, given their fans eight seasons of the Yeezy collection, however, the dynamic partnership is currently looking unstable as Kanye blamed Adidas for copying his content in an Instagram rant.
The rant's written statement was devoid of any punctuation and alleged that the brand was copying Ye's work. During his social media rant, he demanded to speak to Kasper Rorsted, who is Adidas' CEO, and wrote:
"THIS IS YE driving down the same street Kobe passed on Maybe I feel that Mamba spirit right now."
Kanye West started his rant with a hint of ending his Adidas partnership. He also referred to NBA legend Kobe Bryant, who signed a six-year deal with Adidas when he was straight out of high school in 1996. However, Bryant, due to circumstances, ended the deal with Adidas in 2002 and purchased himself out of the contract.
Kobe then signed a deal with Nike after waiting out 12 months as part of the opt-out clause he signed with Adidas.
Continuing the rant, Ye fired a direct shot at the CEO, Rorstad, stating:
"To Kasper I'm not standing for this blatant copying no extra."
Kanye further addressed everyone else in the sneaker industry who is facing a similar problem:
"To all sneaker culture To every ball player rapper or even if you work at the store This is for everyone who wants to express themselves but feel they can't cause they'll loose their contract or be called crazy. Bravery is not being afraid Bravery is overcoming your fear for your truth This Ye with the blue paint on my face."
Kanye West went on to say that he won't be talking to DC, which according to sources is Daniel Cherry III, who joined Adidas as the senior vice president and general manager in January 2022.
Cherry previously worked with Kanye on the "Classic" campaign, which was launched for Nike's Air Force 1's 25th anniversary. Kanye stated:
"These shoes represent the disrespect that folks in power have to the talent. This shoe is a fake Yeezy made by adidas themselves I'm not speaking to DC about this either. Kasper come talk to me. Happy Monday."
Ye posted a picture of Adilette 22, inspired by human expeditions to Mars and the 3D topography, said Adidas. The Adilette 22 slides have a 3D-print-esque mold, with a chunky midsole and sculpted one-piece silhouette construction, similar to Yeezy's slides.
Referring to it as a "fake Yeezy made by Adidas themselves," West's statement could lead to a severed business relationship or the beginning of Kanye West's own label. Hopefully, the two dynamos will solve the serious dispute before Adidas Adilette 22's new colorways debut, which is set to take place on June 23, 2022, for a retail price of $55.