On February 12, 2023, a YouTube Channel, K-digest, uploaded an interview with the real victim that inspired the bullying incident on the first episode of the Netflix hit series The Glory. While sharing her experience, the victim expressed how hard it was for her to believe anyone after the incident. She mentioned in the interview:
"It was hard to trust anyone."
Park Sung-min appeared on a Korean TV talk show to share about excruciating bullying experiences that happened to her when she was in middle school in 2006. She can be seen having an open conversation with the three hosts in the video on how The Glory is based on her story.
Following the release of the Netflix series The Glory, many South Korean media outlets reported that the scenes where the main lead was burnt with a hair iron were inspired by a 2006 bullying incident in a middle school in the Cheongju district of South Korea.
In 2006, Park Sung-min also attended the aforementioned middle school, where she was treated similarly. She was burnt with a hair iron, similar to what the female lead, Moon Dong-eun, suffered in the drama. She even told the interviewers that she was the inspiration for school bullying in The Glory.
Trigger Warning: The following piece mentions bullying and torture. Reader discretion is advised.
---
"I was bullied physically": Park Sung-min reveals how bullies burnt her arm with a hair iron, similar to the incident in The Glory
In the first episode of the Netflix series The Glory, a group of students bullied the main lead, Moon Dong-eun, and burned her hands with a hot hair straightener not once but multiple times.
Similar to the incident, Park Sung-min revealed that when she was in middle school, she was bullied physically, and they burnt her arm with a hair iron for over five minutes. She also stated that she hasn't seen The Glory because she is too afraid.
Park Sung-min also revealed that since she was smaller than her classmates growing up, her bullies started bullying her by asking for money. Slowly, they would ask for more money, and if she could not give them the figures, they would threaten to harm her younger brother.
When asked whether she knows what her bullies are currently doing, she responded that she checked their social media, and some are doing pretty well in their lives. She stated that one of them is a nurse, and the other is a social worker. Watching them live a life without feeling any guilt for what they have done, Park Sung-min stated:
"It makes me very angry."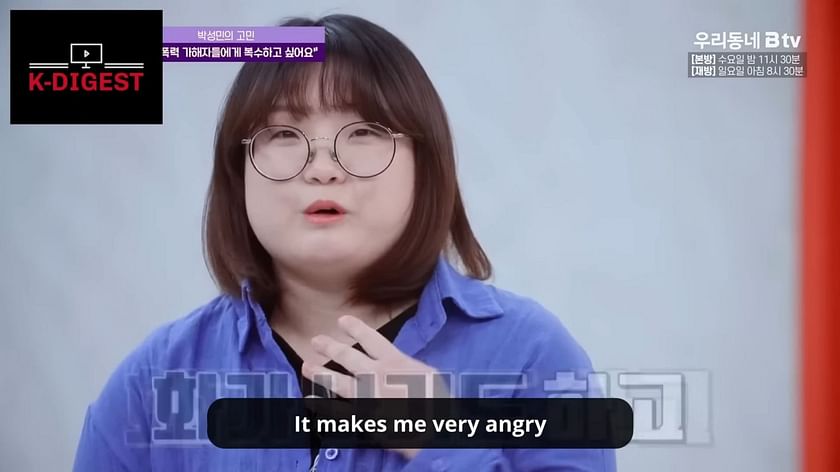 The host also asked Park Sung-min if she was comfortable showing her burn marks and scars. She agreed and assured the interviewer that it did not make her comfortable. The scars on her arms have been there for twenty years, and the blank faces of the hosts proved how painful it must have been for the victim.
Park Sung-min went on to describe how they used to bully her and stated:
"Some days they would poke my whole body using a fork. One time they threw it at me and torn my iris in my eye."
She revealed that the bullies were meticulous in lying that she needed help. They would lie that she was suicidal and needed their help. The victim was worried they would hurt her brother, so she had to stay at their home, getting physically abused for days.
She also revealed how all this came to light through a graduation photo. She stated:
"People could see my popped blisters on my arm through the shirt. My teacher saw the blood and fluid, but it was difficult to treat because it got stuck to the cloth. Since then, I had a hard time sleeping for 6 months."
She further stated that she could not forget those torturous moments and that it was hard to trust anyone and keep dreaming about them. However, her friends helped her dream about a new life and did not leave her side during difficult times.
When asked if the bullies were ever punished, she revealed that only one was punished. He had to serve 40 hours of volunteer service and only one week of suspension.
She also shared that the worst part of this bullying incident was that the adults blamed her, stating she must have done something wrong, similar to Dong-eun being blamed by the adults in The Glory. One of her bullies smirked at her while apologizing to her.
She stated that she wanted to take revenge on her bullies by appearing on the show to showcase how much damage they had caused. The hosts claimed that now that people know the truth, they will live in fear of being found out by their close ones about what they did.
Park Sung-min wishes to live happily by forgetting about those bullies, saying that would be the best revenge. Many fans wished her a happy life after watching the interview.
---
More about The Glory
The Glory depicted the life of a girl named Moon Dong-eun who used to get bullied by her classmates for no reason. Even her teachers won't help and would beat her if she raises her voice. All of this led her to take revenge on them, which will be showcased in the second season of The Glory.
The show features actors Song Hye-kyo, Lee Do-hyun, and others. The first season consists of eight episodes, building the tension and plot for the next season. The Glory received worldwide praise from the audience and is one of those dramas that promises to accurately showcase the transparent side of bullying. Season two is slated to premiere on March 10, 2023.