Friends star Matthew Perry passed away on October 28 at the age of 54 in his Pacific Palisades home in Los Angeles, California. As reported by many news outlets, including Page Six, he was found unresponsive in his hot tub by his assistant. Later, the Los Angeles Police Department (LAPD) pronounced him dead from an apparent drowning.
In the week leading up to his death, Matthew Perry published seven Instagram posts, all of them referring to Batman. In each of the posts, he also called himself Mattman, an amalgamation of his first name, Matthew, and Batman.
Following his demise, his back-to-back Batman posts have come under scrutiny, with many believing he was sending a bat signal, aka, calling for help and support. Others speculate that he knew that his death was close and put out hints for his friends, family, and fans.
In this regard, his video post where a hand is seen placing what appears to be three cranberries on a table has been a topic of interest. Its caption has even been deemed alarming.
"This is what I've had to eat today. I'm Mattman."
Meanwhile, an X (formerly Twitter) user with the handle @PatriotsNCtrl has dug out that the berries in Matthew Perry's post presumed to be cranberries, were, in fact, baneberries, a kind of poisonous berries that, if ingested can prove to be fatal.
Since this bombshell revelation, fans of the actor-comedian have been speculating that Perry may have taken his own life or somehow knew that his death was imminent and thus left signs on social media as a distress call. An X user commented under @AwakenedOutlaw's tweet in this regard.
---
Netizens engage in conspiracy theory as Matthew Perry's Baneberries video goes viral
Before his demise, Matthew Perry posted seven Instagram posts, all related to Batman. While all of them are significant, a particular post has stood out. In the clipping, a hand is seen dropping some berries on a table-like surface.
Initially, they were presumed to be cranberries, however, a fan on X figured out that they were really baneberries, a kind of highly toxic berries, native to North America.
According to Matthew Perry's caption on the post, he ate those berries. If that was indeed the case, it could have poisoned him, meaning that he may have died by suicide.
For those uninitiated, one baneberry has the power to burn the mouth and throat of a person, as per Gardening Know How. It can also exhibit symptoms such as dizziness, stomach cramps, headaches, nausea, and diarrhea, among others.
The website also cites that, as per research conducted by the Utah State University, eating multiple baneberries (six or more) together can even prove fatal, causing respiratory failure and even cardiac arrest. However, they are often untraceable in an autopsy.
If this wasn't all, many netizens, such as @AwakenedOutlaw on X, have also revealed another eerie link to his baneberries post. It says that in September 2018, the lead vocalist of the band The Cranberries drowned in her bathtub due to alcohol intoxication, as also reported by Yahoo! Now, since baneberries are often easily confused as cranberries, fans speculate that Matthew Perry may have wanted to warn everyone that his death would be similar.
Whatever the case, netizens are now almost certain that Perry's death was unnatural—he either died from suicide or knew someone else who would be involved in his death.
Meanwhile, an Instagram user with the handle @somebody_1999_1 commented on Perry's last post with a detailed analysis.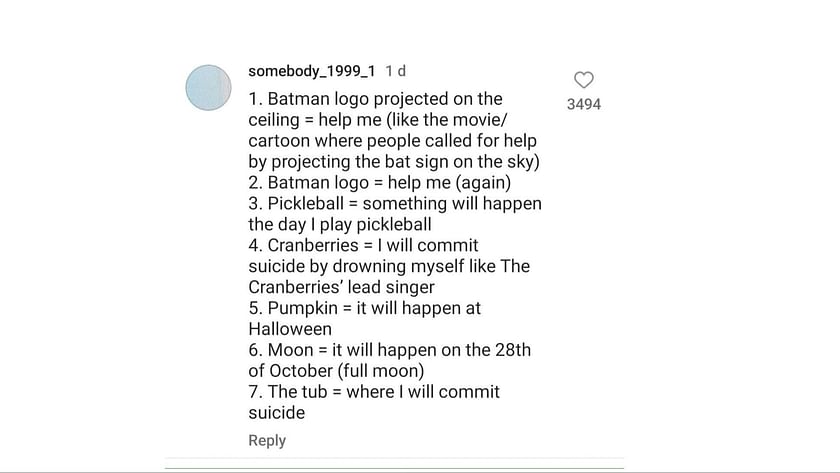 According to the user, Perry's first Batman post in which he shared a video with several projectors on the walls and the ceiling revealing the glaring text "The Batman" was a distress call just like the Batman animation in which people called for Batman's help by projecting the bat signal on the sky. The next post with the image of the Batman emblem with red lights was also Perry's way of asking for help, again, as per the netizen.
As for the pickleball post, the user speculates that he wanted to convey that the day he plays pickleball, he would meet his end. It is important to note that many media sources including Page Six reported that the day Perry died, he played pickleball in the morning.
The cranberries/baneberries post, as per this user was a warning that he too like The Cranberries singer Dolores O' Riordan would die in the bathtub under similar circumstances.
The post where Matthew Perry shared the image of a pumpkin with the bat signal engraved may have symbolized that he would die around Halloween and the reel with the moon illuminating the night sky perhaps indicated that he would choose to die on the day of the full moon (October 28).
His last post with him sitting in his hot tub wearing headphones, and the crescent moon up in the sky was perhaps Matthew Perry's final attempt to communicate exactly where and how he was going to die.
---
It is important to note that so far, the LAPD has not revealed any foul play and has not stated the actual cause of death, except that it may have been drowning. However, whether it was suicide or homicide remains undisclosed. The case is currently under investigation, and the toxicology report is also awaited.
Meanwhile, dismissing all speculations, Wendy Naugle, the editor-in-chief of People magazine, told Today on Monday that the Mattman/Batman references were linked with Matthew Perry's upcoming project and that he was "writing a little script." Naugle also said that the Friends icon was "doing very well" and even "signed on to a new drama film" before his untimely and tragic demise.