Rudy Giuliani's former associate Noelle Dunphy recently filed a 70-page lawsuit accusing the former New York Mayor of s*xual harassment. Dunphy alleged that the harassment began immediately after she was hired for "business development work" in 2019.
Noelle Dunphy first bought the allegations to light in January 2023 when she filed a summons against Trump's former attorney Rudy Giuliani. She accused Rudy of soliciting s*xual favors in exchange for keeping her job.
The summons also claimed that Giuliani refused to pay her $2 million for services rendered while she was employed at his law firm. She claimed that Rudy would often descend into alcohol-fueled tirades that included s*xist, racist and antisemitic remarks".
On Monday, May 15, Dunply filed a civil lawsuit suing Giuliani for $10 million in damages. Unlike the previous summons filed in court, the new lawsuit graphically detailed the many allegations against Giuliani. It explicitly expounded his alleged s*xual preferences, even stating "he enjoyed engaging in this conduct while on the telephone because it made him 'feel like Bill Clinton'".
The lawsuit also made a startling revelation that some of the encounters were recorded by Dunphy. In the lawsuit, Noelle Dunphy alleged that harassment began on her first day of employment in January 2019, when Giuliani kissed her in the backseat of a limo and asked her to send inappropriate pictures. The encounter reportedly left her "stunned and shaken".
The lawsuit stated that the former mayor offered Dunphy $1M a year to be his director of business development in 2019. He also offered her pro-bono representation in a dispute with an abusive boyfriend. Guiliani allegedly forced her to perform oral s*x the same month she was hired.
The lawsuit alleged that in the ensuing months, Giuliani's behavior towards Dunphy worsened as he began taking liberties, demanding "that satisfying his s*xual demands … virtually anytime, anywhere … was an absolute requirement".
The lawsuit said that during her tenure with Guliani, Dunply allegedly worked under a looming threat that Giuliani, who allegedly popped viagra in frequent intervals, would initiate contact without a moment's notice.
"When they were apart, they would often work remotely via videoconference, and … Giuliani almost always asked her to remove her clothes on camera. He often called from his bed, where he was visibly touching himself under a white sheet."
The lawsuit also detailed a particular instance where Giuliani asked Noelle Dunphy:
"'If she knew anyone in need of a pardon' as 'he was selling pardons for $2m, which he and President Trump would split'."
The lawsuit said in 2021, Giuliani fired her and deferred her payment, citing his acrimonious divorce from his third wife, Judith Giuliani.
---
Noelle Dunphy was an associate Producer for ABC News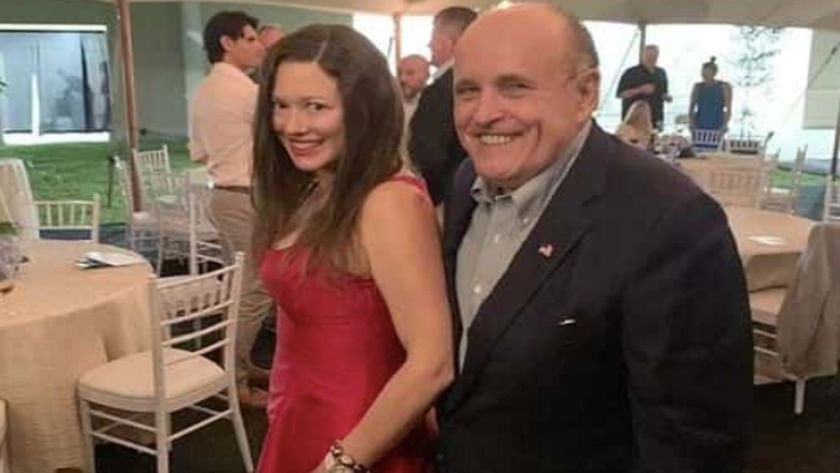 Per her website, Noelle Dunphy, a graduate of Columbia University, has reportedly worked in business development for more than 20 years. Dunphy, who earned a B.A. degree from Columbia College of Columbia University in New York, was hired as an associate producer for ABC News, where she worked on local, national, and international news stories.
Before working for Guiliani in 2019, Dumphy reportedly interviewed him while he was mayor of New York. She also wrote weekly columns for The Norwood Bulletin featuring prominent personalities. The website said that Dunphy combined her background in writing and finance to seamlessly transition into a financial writer for clients such as Gordon Haskett Capital, where she covered the NASDAQ and the NYSE.
As per her website, Noelle Dunply frequently found herself in the company of political leaders such as former Presidents Donald Trump and Bill Clinton, Hillary Clinton, Mayor Michael Bloomberg, Mayor Rudy Giuliani, and Governor Andrew Cuomo.
In light of the allegations, in a statement to local news station ABC 7 Monday, a spokesperson for Rudy Giuliani vehemently denied the claims and said:
"Giuliani vehemently and completely denies the allegations in the complaint and plans to thoroughly defend against these allegations. This is pure harassment and an attempt at extortion."
In January, shortly after Dunply filed the summons, Giuliani echoed a similar statement and called the allegations a frivolous accusation.
Edited by Anushree Madappa