A brand new version of Nike SB Dunk High sneakers will debut in 2023 as part of the Swoosh label's skateboarding collection. The most recent model, "Sweet Tooth" sneakers, will be available soon. This colorway is exclusively designed for Halloween this year.
In October 2023, fresh Nike SB Dunk High "Sweet Tooth" sneakers will be offered. These Halloween-themed sneakers will be offered with a retail price tag of $120 for each pair.
These will be sold through Nike and a few specific retail locations associated with Nike SB, where readers and Nike SB fans can purchase them. For the confirmed release dates of this colorway, interested readers will need to hold tight.
---
Nike SB Dunk High "Sweet Tooth" shoes will be dressed in orange and black hues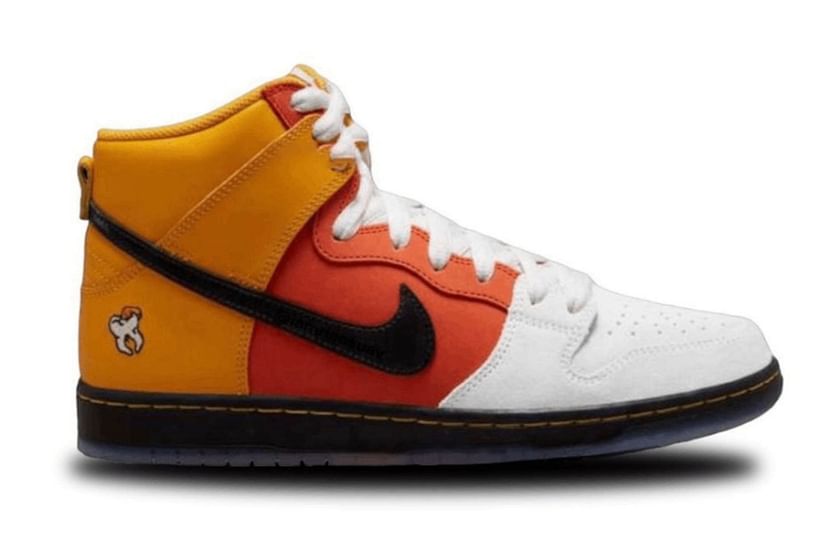 The Nike SB Dunk High silhouette has featured many distinct combinations and styles throughout 2022, both in independent releases and joint ventures with companies like FroSkate, KCDC, and Supreme. The recently emerged Supreme's "Rammellzee" version will be available in 2023, along with another eye-catching and opulent colorway created in collaboration with the musical group Run the Jewels.
In recent years, there has been an enormous increase in interest in Nike SB Dunks, with vintage styles currently commanding some of the highest resale market values. Due to the model's widespread popularity and the interesting colorways designed by the SB team, recent releases are now totally sold out, and skate stores can no longer maintain the inventory of the shoes.
Nike's sub-labels can release items with a theme, but Nike SB frequently excels in this area. In keeping with tradition, Nike SB has created another Halloween-themed SB Dunk after 2021's "Mummy" hue on the low-top model and 2023's release of a Nike SB Dunk High that resembles a sweet tooth.
Nike describes the inspiration for the Nike Dunks on their website:
"From backboards to skateboards, the influence of the Nike Dunk is undeniable. Although introduced as a basketball shoe in 1985, its flat and grippy soles were perfect for a neglected sports community—skaters."
The description further mentions,
"Uncovering a subculture craving creativity as much as function, the Dunk released decades of countless colorways that continue to capture the soul of skaters from coast to coast."
The model, which adopts the tri-tone color schemes found on the sweet treat, is reminiscent of the orange and white treat and a classic SB Dunk from the past, the Ray Guns, thanks to its color blocking.
The leather heel insert has a Mohler tooth image with candy corn adhered to it. However, the model doesn't have any fictitious aliens on it. The mudguard and toe box are covered in white, the quarter panel and eye stays are deep orange, and the heel patch, sockliner, and collar are all brighter orange.
Bright eyestays and a heel overlay are contrasted by stark white laces, and the midsole is all-black with orange edge enhancement stitching.
---
Readers can join the shoe company's email list to receive notifications whenever the Nike SB Dunk High "Sweet Tooth" shoes go on sale. Customers who want to know more about this rollout and other upcoming SB Dunk offerings can also download the SNKRS app.