Donald Glover, the co-creator of Swarm, a new psychological thriller TV series, has recently come under fire over allegations of his hatred towards black women. In a recent interview with Vulture, Glover is said to have likened Swarm's star Dominique Fishback's character, Dre to an "animal."
In the Vulture interview, Glover said that he told Fishback to think of her character as "more like an animal and less like a person."
Glover co-created the show Swarm with playwright Janine Nabers, and the show has been well-received by viewers. However, his comments on Fishback's character have prompted a storm of criticism online.
Netizens speculated that the implications of his words might be connected to his thoughts on black women, with one person even calling the 39-year-old a "pretentious hack."
However, this isn't the first time Donald Glover, aka Childish Gambino, has been criticized over the matter. He was previously called out for his portrayals of Black women during his 2016 comedy-drama Atlanta.
---
Donald Glover's comments on Dominique Fishback's character in Swarm
Swarm features Dominique Fishback playing Dre, an obsessive fan of a pop star called Ni'Jah, whose character has been inspired by Beyoncé. Dre, who is driven by the grief of losing her sister, feels a tremendous urge to protect her idol. To do so, she goes on a cross-country killing spree, murdering anyone that spills hate on her favorite singer.
In a Vulture interview with Madeline Leung Coleman, Fishback, shared that she had a hard time trying to make sense of her character's motivations. Madeline wrote that as far as the co-creator had described it, the confusion would have been made on purpose on Glover's part.
The interviewer said that Janine Nabers had stated that one of the references for Dre's character came from Scarlett Johansson's Laura in Under the Skin. In the film, Laura is an alien who came to earth to hunt down men. Nabers said that the film had several people trying to project humanity onto Laura, who didn't take it. Nabers wanted Dre's character in Swarm to be similar to this.
Speaking about Glover, Madeline Coleman said that the 39-year-old writer did not talk to Dominique Fishback about Dre's backstory. She quoted Glover saying that he kept telling Fishback that her character wasn't "regular people," and that she didn't need to find humanity in her character as that was the audience's job.
Glover is said to have acknowledged that his lack of clarification made on Dre's character made it harder for Fishback to connect the threads psychologically. The co-creator said that he told Fishback to think of her character as more like an animal than like a person.
Madeline further quoted Donald Glover:
"Actors in general, they want to get layered performances. And I don't think Dre is that layered. I wanted her performance to be brutal. It's a raw thing. It reminds me of how I have a fear with dogs because I'm like, 'You're not looking at me in the eye, I don't know what you're capable of."
---
Netizens react to Donald Glover likening Dominique Fishback's character to an "animal"
Needless to say, Glover's comments about likening Dre's character to an animal didn't sit well with netizens, who voiced their criticism on Twitter. People began saying that the co-creator wasn't "beating the allegations," and others said that while they appreciate the show, it's "too bad" that it was made by a man who hated Black women.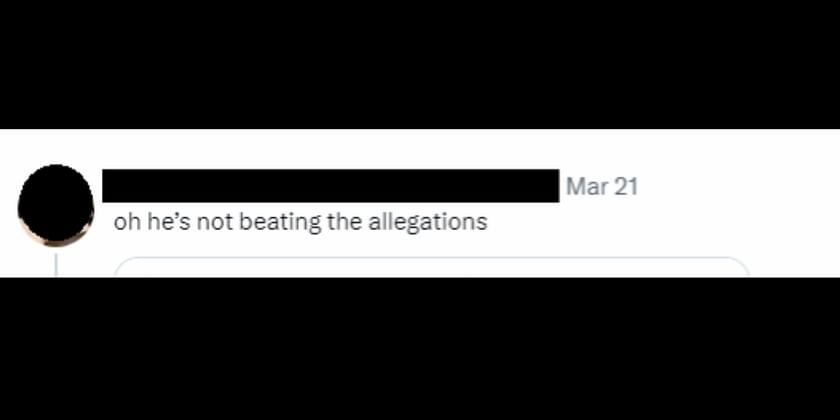 Many pointed out how Swarm's main writer is an African-American playwright, Janine Nabers. They said that her credit as a creator is overshadowed as Glover takes away the credit for creating the show.
As mentioned earlier, Donald Glover was previously criticized for portraying Black female characters in a one-dimensional way in Atlanta. He semi-responded to the criticism in an interview last year in which the actor and singer interviewed himself.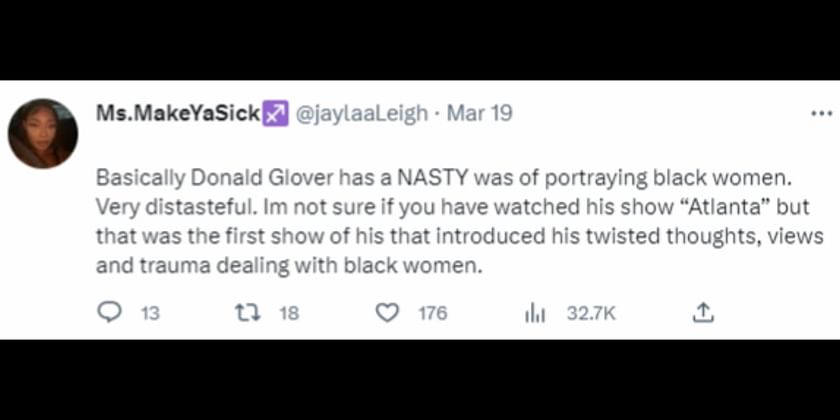 Glover asked himself if he was afraid of black women because he felt like his relationship with them played a big part in his narratives. To this, Donald Glover himself replied that he felt that he was using Black women to question his blackness.
Swarm stars Chloe Bailey, Paris Jackson, Nirine Brown and Damson Idris in major roles, and is available to stream on Amazon Prime.