Jeopardy! season 39 aired a brand new episode on Monday, January 30, 2023. Last week, the show announced a new champion, Jake DeArruda, who returned to the latest episode to play his second game.
Originally from Ludlow, Vermont, the delivery dispatcher banked $22,797 in his first game. In the latest episode, he played against two new players — Sam Meehan, an attorney from Santa Cruz, California, and Sarah Howard, a Ph.D. candidate from Durham, North Carolina.
The game show is one of the longest-running TV programs that has won multiple Emmy Awards over the years. The quiz show's first version aired from 1964 to 1975 on NBC and was hosted by Art Fleming. In 1984, the competition series returned as a syndicated TV program, which was hosted by Alex Trebek until his death in 2020.
Meanwhile, Jeopardy! has co-hosts Ken Jennings and Mayim Bialik.
---
Today's Jeopardy! winner is Jake DeArruda
Jake DeArruda became the one-day champion in the January 27 episode after defeating six-day champion Troy Meyer. The Vermont native maintained his winning streak in the latest game as well.
The categories for the first round in the January 30 episode included "Worst Case Ontario, Nursery Rhymes, Geology, 4-4, Channeling The TV Shows, Ends In A Double Vowel Potpourri."
Jake had a great start in round 1, especially after finding the first Daily Double. He gave 13 correct and four incorrect answers. New player Sam Meehan delivered nine correct and four incorrect answers and ended up in second place. Sarah Howard was struggling with the signaling device and was only able to correctly answer two questions. All three players' scores in the first round were Jake at $6,200, Sam at $2,200, and Sarah at $800.
In the second round, the categories were "Exploration, Saints & Their Cities, Words That Should Rhyme, Mushroom Stew, Scary Movies, Out On A Book Tour."
The returning champion, Jake, was quite fortunate in today's game as he found another Daily Double worth $5,000. He also gave the maximum number of correct answers and banked $26,400 before the final round. Sam, on the other hand, tried his level best to improve his scores. Although he landed in second place again, he scored a good amount — $13,400. Sarah's struggle with the signaling device continued and could only give three correct answers. The Durham native ended up in third place with a score of $2,000.
The Final Jeopardy round didn't end up well for any player. All three gave an incorrect answer to the final question. While Jake was still leading the game, Sam landed in third place after losing all his money to the final bet and going home empty-handed. Sarah, too, lost her wagering amount but was left with a dollar that ranked her in second place.
Hence, Jake DeArruda won Jeopardy! today.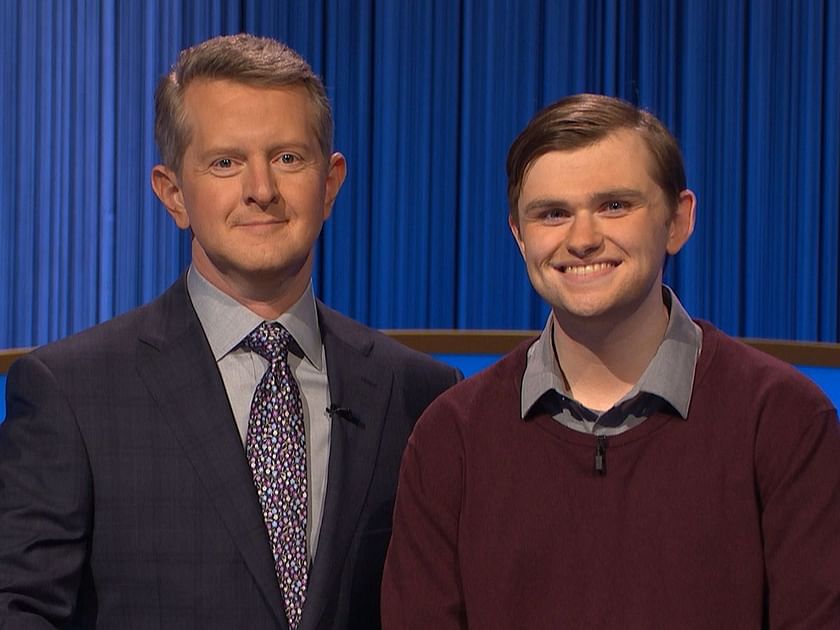 ---
Final Jeopardy! results today
In the January 30 episode, the category for the final round was "Word Origins," and the clue/question read:
"Originally relating to a story of suffering, this word now more commonly refers to strong emotion of any kind."
The correct answer was "Passion."
None of the players were able to correctly answer the final question. However, Sarah wrote half an answer as she couldn't finish it on time. Sam and Jake, on the other hand, guessed "dram" and "mortal," respectively.
Take a look at the final results of the Ken Jennings-hosted episode that aired on Monday, January 30, 2023:
Jake DeArruda: $26,000 – $803 = $25,197 (What is mortal) (2-day total: $47,994)
Sarah Howard: $2,000 – $1,999 = $1 (What is intense? pass)
Sam Meehan: $13,400 – $13,400 = $0 (What is dram)
With today's win, Jake became the two-day champion with a score of $47,994. He will return to the next episode of the Emmy-winning TV show to play his third game against two new contestants.
---
Jeopardy! season 39 will air a new episode on Tuesday, January 31, 2023.