On September 6, 2023, BLACKPINK's Lisa took to Instagram, sharing that she would be transforming into a Crazy Girl to deliver five performances at the renowned Crazy Horse Paris art theater in France. She will be electrifying the stage with original cabaret numbers, including the theater's original performances of But I'm a Good Girl and Crisis? What Crisis?.
Le Crazy Horse Saloon, also known as Le Crazy Horse de Paris, is a renowned Parisian cabaret famous for its captivating stage performances featuring female dancers in the nude. In addition to these alluring acts, the cabaret offers a diverse array of magic and variety performances interspersed between each nude show.
As the theater's concept revolves around the nude theme, fans have mixed reactions to the news. While some are over the moon, others feel somewhat nervous about it.
---
"I'M HYPERVENTILATING!!!!! CRAZY WHAT" - BLINKS can't wait to watch Lisa at Crazy Horse Paris
At the Crazy Horse Paris art theater, BLACKPINK's Lisa is scheduled to deliver five exclusive performances over three days, with her first show on September 28, followed by two performances on September 29 and 30. The upcoming show's tickets sold out within minutes after the announcement was made, showing the BLACKPINK member's popularity and influence.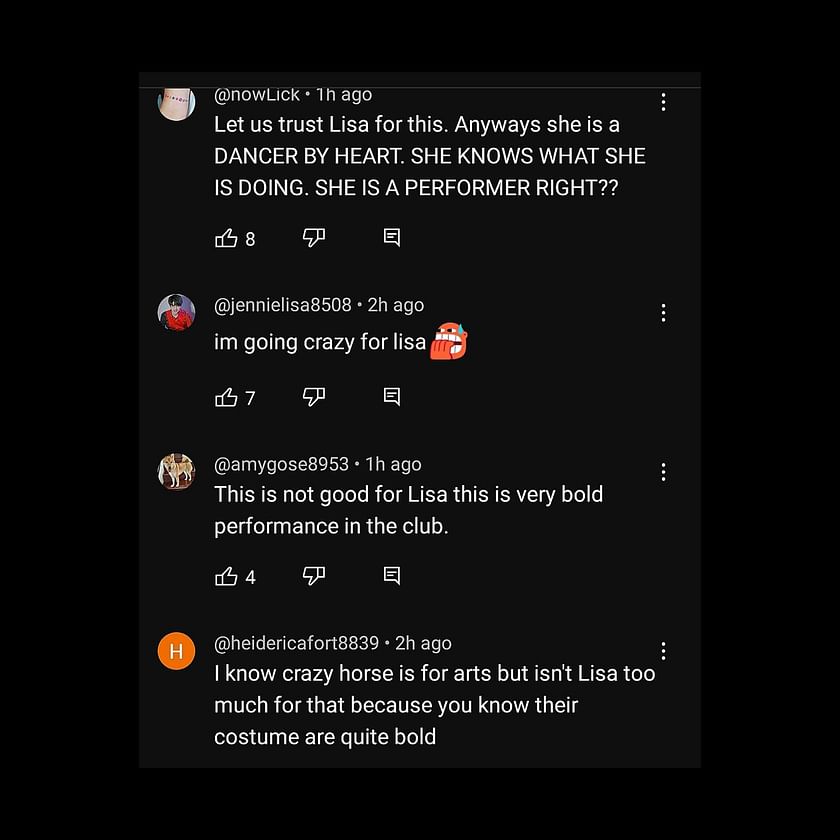 As the performances at the aforementioned art theater feature semi-nude dancers who go topless and wear minimal clothing while performing well-known cabaret acts, some fans believe Lisa is free to deliver bold performances and are confident she will excel. Additionally, when the news was announced, the official website of Crazy Horse Paris experienced technical difficulties.
Check out how fans are reacting to BLACKPINK's Lisa performing at Crazy Horse Paris:
Meanwhile, she previously updated fans on Instagram with a photo of the team at the Crazy Horse Paris art theater, where she was surrounded by the dancers. Now, fans understand that her visit wasn't just for leisure but also for business, as she's now ready to perform at the venue.
Fans are also amazed by the proximity between the stage and seating arrangements, allowing the audience to have a clear view of the idol even if they are seated a bit far away. Some speculate that she may be performing a song that hasn't been released.
Several other well-known celebrities, including Beyoncé, Frederick Wiseman, and Aubade, have previously delivered iconic performances at the famous Crazy Horse Paris art theater. As Lisa becomes the first K-pop act to perform there, fans are comparing her to Beyoncé within the group.
Meanwhile, fans of the MONEY singer and Jennie are engaged in a heated debate on social media, each claiming superiority over their favorite member. Some argue that Lisa can pursue her choices freely, while others mention the past criticism Jennie faced for her performances in the HBO series The Idol.
While some fans label the show as a strip club, defenders argue that it's a place where dancers deliver highly recognized performances and consider it an entertainment venue.
Photographing, filming, and recording the performance is strictly prohibited, and the organizer may ban the filming devices as well, so there is no other alternative to watching the show except for booking tickets for it.
---
The rapper is set to deliver her first show on September 28, 2023.