10 most memorable moments in India-Pakistan World Cup clashes
91.52K //
Timeless
As India heads into its first World Cup clash against arch-rivals Pakistan sans the services of master blaster Sachin Tendulkar, a confidence built up on empirical data is getting slightly tempered by the team's current form, which can at best be termed pathetic.However, the World Cup is a different prospect altogether, and to push that envelope a bit further, I have put together some of my favourite moments from Indo-Pak clashed in the marquee event over the years.Whether February 15th, 2015, will add to the list or take away some of this pleasant nostalgia remains to be seen, but till then, if you are an Indian fan, enjoy!
#10 Miandad emulates a Jumping Jack, 1992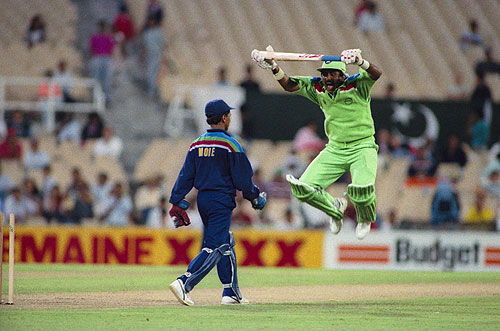 In an era when the game of cricket could, with a certain degree of honesty, pass of as the gentlemen's game as per its original christening, the Javed Miandad-Kiran More episode was one of the earlier instances of well-documented animosities, something commonplace in today's camera-friendly game.
The stakes were high. Arch-rivals India and Pakistan were meeting for the first time in a World Cup, at the iconic Sydney Cricket Ground. Pakistan were under pressure during the tricky chase of 217 after a couple of quick wickets fell, and though opener Aamer Sohail and Miandad steadied the ship, runs were being scored in a trickle.
Miandad, famous for his 'getting under the skin of the opponent' skills, was getting a dose of his own medicine, looking visibly disturbed by the incessant appealing synchronized with spasmodic leaps of wicket-keeper More at almost every opportunity.
Words were exchanged, and Miandad even complained to the umpire, but More was unflappable. A few overs later, Miandad disposed of the flimsy thread of sanity that was holding him together. After surviving a run-out attempt at the wicket-keeper's end, Miandad, displaying a flexibility which belied his bulky frame, leapt up and down animatedly several times, in a bid to imitate the diminutive wicket-keeper's enthusiastic appealing style.
Viewers, umpires and commentators looked on in shock and awe, as the moment went on to register itself as one of the most poignant visuals in the history of Indo-Pak cricket rivalry.