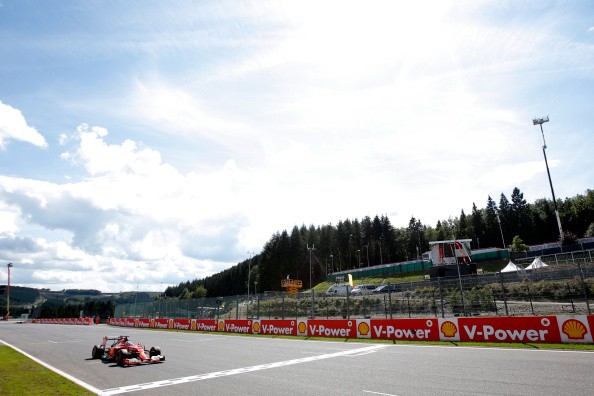 The vivid beauty of Spa Francorchamps: F1's electrifying and much loved circuit
Stavelot at Belgium houses what the entire F1 fraternity hails as perhaps the most idyllic track, set amidst the glowing beauty of Western Europe. Spa is part racing paradise, part entourage de excitement and a pure adrenaline rush all through.
Breathtaking maneuvers and mental toughness are what Spa demands from its commanding racers, who come to lock horns in a highly anticipated 44-lap racing contest.
It has to be noted that the race circuit, one that is hardly allowed any breathing space all throughout the year, is also the home event for the Formula One Belgian Spa 24 Hours and 1000 km Spa endurance races, a massive test for measuring a driver's stamina and endurance in tricky racing conditions.
Spa-Francorchamps almost always unfailingly provides vivid spectacles of high speed car chases during the two hour long battle for claiming ultimate glory through its glorious expanse.
It is a historic race track and one that cannot be replicated or matched, neither for its visual delight nor for the breathtaking maneuvers it demands of drivers contesting a battle of epic proportions. Spa-Francorchamps featured alongside Monza, Monaco and Silverstone, also present in the present day F1 calendar year during F1's highly anticipated inaugural year.
The challenge at Spa is one that presents a competitive race driver the ever-seductive charms of falling prey to the lavishness of "The Ardennes", a region of extensive forests, rough terrains and lofty valleys in South-Eastern Belgium.
It is amidst this bounty of nature that on-track racing presents a dynamic slice of competition where spoils are to be enjoyed only by the driver who can keep his cool in the ever-changing and mysterious track and weather conditions.
What challenges does Spa-Francorchamps pose to its drivers?
A circuit that is as beautiful as it is replete with challenges, both in overtaking and maneuvering the car, Spa offers minimal scope to make racing errors and emerge victorious. From the outside it may look like a normal race, but it is far from it.
Spa may seem like it just requires drivers to drive around those 44 laps in total but with its own set of challenges such as high speed breaking zones, fast corners, demanding chicanes and acceleration points such as the Kemmel straight where drivers are tested to the hilt in using the DRS advantage, this is no easy race day for even the best car driver.
Legend has it that the first ever national race of Belgium was held at this spectacular circuit way back in 1925. Legends have come and gone and the mantle of the greatest racing driver has been passed and accorded with full respect from a Fangio to Senna, Schumacher to Alonso, all of whom have competed at the breathtakingly beautiful racing track, located at the heart of Western Europe in Belgium.
With high speed corners, uneasy chicances, steep crests and tricky dips, Spa is the definitive guide to understanding the might of an F1 driver and his car's resilience.
Now that we know what magic Spa can extract on race day, what can we expect from this thrilling two hour long contest