Top cricket Bats - How to choose the right one?
57.36K //
Timeless
If you are looking to buy a cricket bat, there are certain aspects that need to be taken into consideration. This article talks about some of the top bats used in cricket.Cricket bats are made of willow, the kind of wood used by the British. English willow is the top grade willow used for manufacturing bats. For the expensive bats, bat-makers select the finest unbleached, naturally seasoned willow with the least amount of blemishes.Kashmir willow is often regarded as inferior to English willow. It is heavier than its English counterpart. Hence, it is not at the same level as the top-grade English willow in grain quality and structure. There are different grades in the willow used for manufacturing bats.Grade-1: Bats made of Grade-1 blades are the best looking ones and the first-grade ones you can buy for money. The grains in the bat will be straight and narrow, and there will be a minimum of 6-9 grains visible on it. High-performance is guaranteed in these kinds of willows even at the earlier stages.Grade-2: This is another good quality blade. There will be more redwood, but it won't affect performance. There should be at least 6 straight grains on the face of the bat, possibly with some blemishes.Grade-3: This is the grade that is mostly produced and sold. There will be a minimum of 5 grains in the blade, and they are not always straight. There can be some stains on it .Grade-4: This is the most inferior grade and often contains knots or stains.They are bleached to look pleasing.Wide Grains (3 or 4) - Not Straight6 to 9 grains - Narrow and straightVery Narrow Grains - More than 10Pin-Knots:Stains:A narrow grain bat (more grains across the blade) will give better performance from the earlier stages. However, narrow grain bats (12+ grains) will certainly not last as long and may, in the hand of a professional, be discarded after a few hundred runs.Wider grain bats are more durable and will surely play very well over a period of time but perhaps not initially. A lot of manufacturers make quality bats. Let us take a look at some of the top brands
#5 Reebok Blast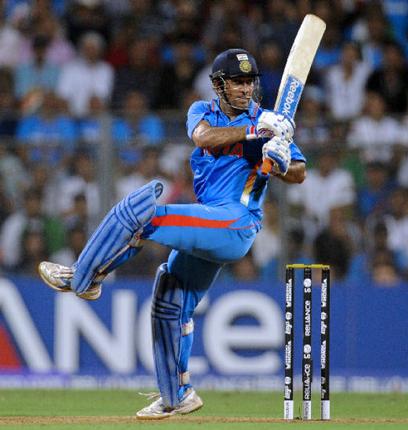 Reebok Blast – Made of Grade 3 willow, it is a stylish bat with thick edges and curved blade. MS Dhoni and Gautam Gambhir were using Reebok bats.