5 reasons why La Liga is better than the Premier League
102.83K //
Timeless
If there was a subject that could lead to a never ending argument among supporters aside from the typical Lionel Messi-Cristiano Ronaldo debate, it has to be this one: Which is a better league? Usually the answer is fairly related to the club one supports, or the kind of football one generally looks up to. If one is into fluid, passing football, or supports any of the Spanish clubs, he is more likely to go with La Liga, and the same works in the other way, where a person is more familiarized to football where strength always has an upper hand, or supports a Premier League club, will perhaps go with EPL.As a counter to 10 reasons why Premier League is better than La Liga, we bring you five reasons why La Liga is a superior league than the English Premier League:
#1 La Liga is more than just Real Madrid and Barcelona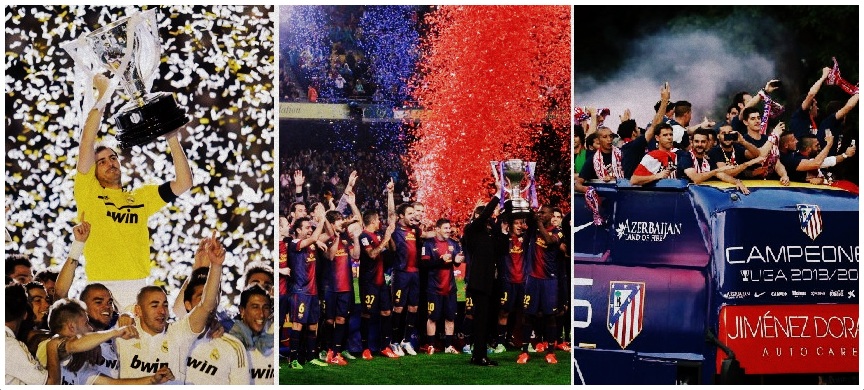 A cliché that generally exists is that the Spanish League is all about two teams, irrespective of what the other teams do. However, unlike what they say, La Liga is more competitive than what people expect it to be; it is just that Real Madrid and Barcelona are very good, and they just don't dominate Spain, they have dominated the whole of Europe for their fair share of time.
Now, let us take a look back at how competitive both the teams were in both domestic and European competitions:
La Liga

Premier League

Position
Team
Points
Position
Team
Points
1
Atletico Madrid
90
1
Manchester City
86
2
Barcelona
87
2
Liverpool
84
3
Real Madrid
87
3
Chelsea
82
4
Athletic Bilbao
70
4
Arsenal
79
5
Sevilla FC
63
5
Everton
72
6
Villarreal
59
6
Tottenham Hotspur
69
7
Real Sociedad
59
7
Manchester United
64
8
Valencia
49
8
Southampton
56
9
Celta Vigo
49
9
Stoke City
50
10
Levante
48
10
Newcastle United
49
Now, agreed that the difference between the first and the fourth placed teams La Liga is way more than that of Premier League's, but that is mostly due to the intense contest between Atletico Madrid, Barcelona and Real Madrid. Atletico have been in and around the top three spot for almost a decade now, and following the arrival of Diego Simeone, the team found as their manager would say cojones.
A look at the number of points won by La Liga and EPL teams over the span of 10 years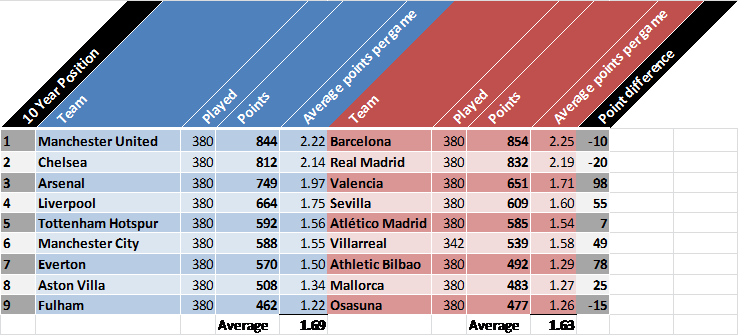 Note: The above list was compiled by redditor Layno7 last year before Atletico Madrid's League winning campaign.
The common argument that people usually come up with is that there are supposedly 4 to 5 teams in the English Premier League who could compete for the first place, which has however not been the case. Not more than two teams emerge to be in contention for the title every season; Manchester United have been one of those teams till last year, and the other team would be either Chelsea or Manchester City whose success have been merely a product of foreign money being invested on football.
#2 More to football than the physical aspect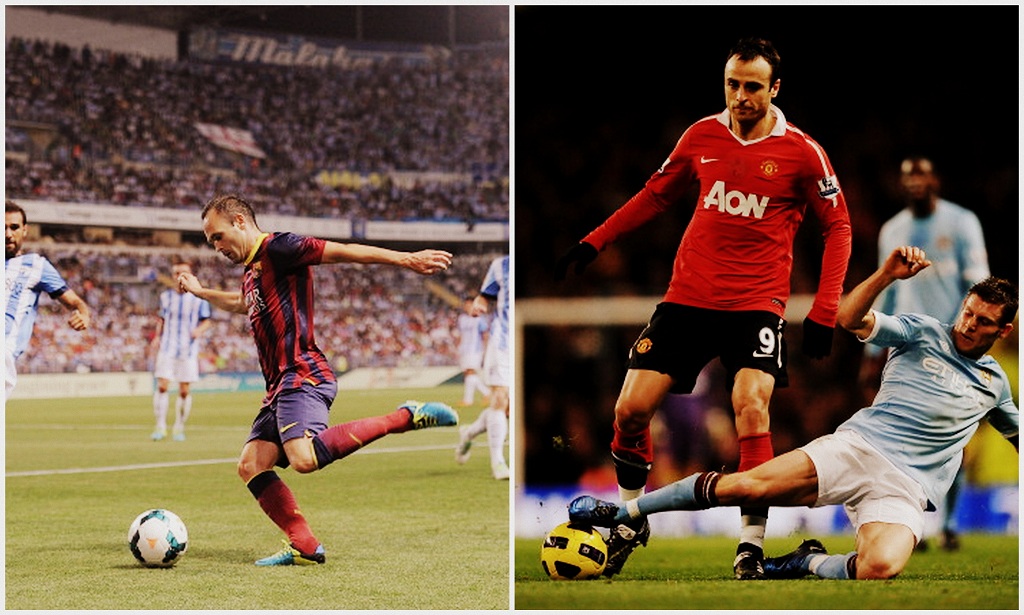 The Spanish clubs have always been technically steps ahead of that of Premier League's, and that is mostly due to the kind of football they have adapted to. Pre-match training for Spanish clubs focuses more on their passing and team chemistry, enabling players to be technically more sound and versatile in comparison to the ones in England. Sure, it could be hard to play in a cold rainy night at Stoke, but is that the kind of football you would want to see your team play?
English football is more about the physical aspect of the game where teams with high tempos and physically strong players tend to triumph. Matches are more about clearing long balls and winning the ball back instead of covering more ground or making those pin-point short passes. If that is the kind of football you prefer, La Liga is definitely not the league for you.
#3 Better set of players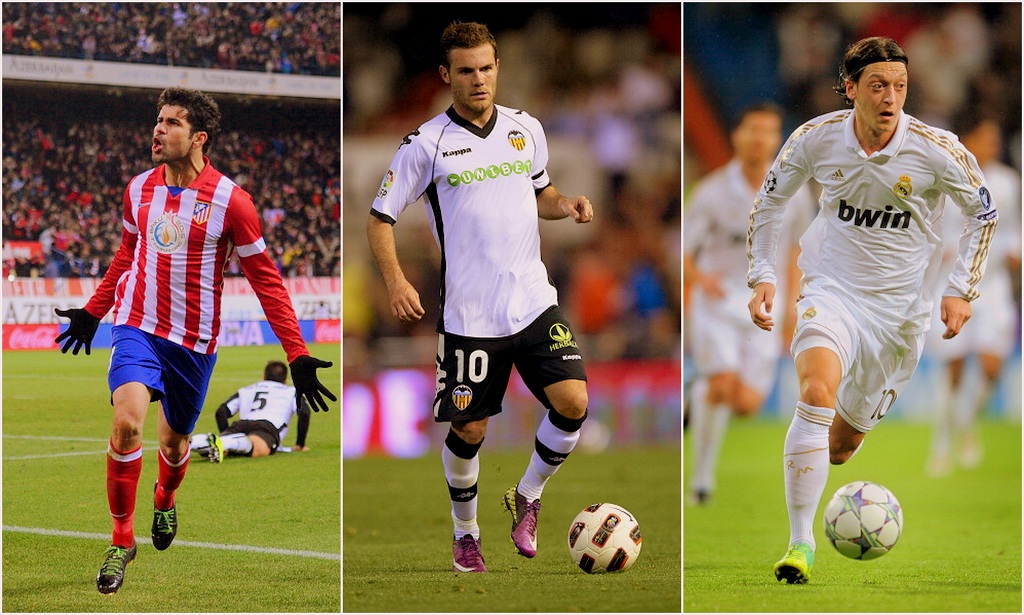 If La Liga clubs were financially as stable as the ones in England, there wouldn't be a single debate on which league has the best players. Clubs like Sevilla and Valencia have been losing their key players to the Premier League for quite some time now- players like Juan Mata or Fernando Torres, who have were both crucial in Chelsea's Champions League victory back in 2012, a big achievement for an English club at that period of time. But, the crop of players coming through the academies, or the teams itself hasn't stopped developing at all, and the country will continue to do so in the coming years.
Comparing it to the Premier League, you could obviously talk about young prospects such as Jack Wilshere or Raheem Sterling, but comparing them to the Iscos and Kokes is just not fair. Coming back to the league, clubs with the exceptions of Southampton and a few more had to focus on brining foreign talent to the country.
And, it is not just about hiring the right coaches. Because having a youth setup is more than just a coach. An academy is a vision with everyone involved in it with the same minds. For instance, you cannot just hire the coaches who have been working with Barcelona's or Athletic Club's youth academies, and put them in charge of teams like Chelsea or Manchester City, because eventually it will not bore the same fruits.
The football culture in Spain is what enables young players to grow into football superstars, and that is something that you can't just emulate.
#4 Better youth setup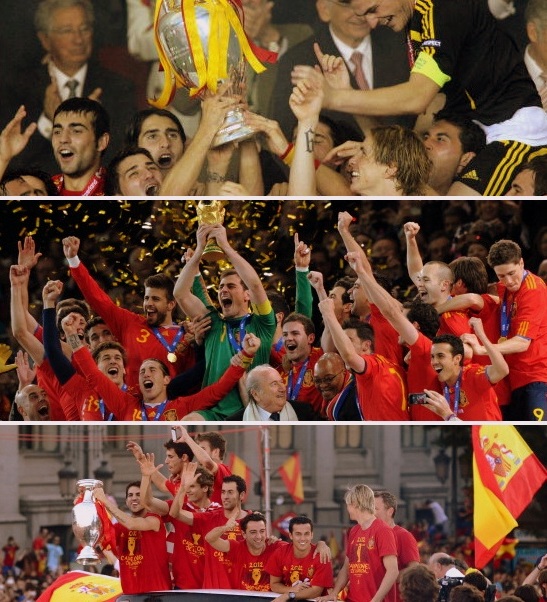 Speaking of players, the individuals that are produced in Spain are far, far superior to that in England, and the culture of football that exists in the country is what could be held responsible for La Roja's historical treble this last decade. And, if you would think that the selection process in the Spanish national team is all on the coach, then you are partially wrong. Ginés Meléndez, who was given the control over the U17 and U19 international team before Spain emerged into a World Cup winning team, was quoted by Graham Hunter in a Guardian story he had published last year.
He said, "In Spain we are almost further ahead than the clubs when it comes to spotting the cream of youth talent. There are tournaments where the best teams in the 19 regions compete at Under-12, Under-16, Under-18 and so on. The 2013 Under-12 national tournament took place a couple of weeks ago in Logroño and we have already selected 24 youngsters from that. Those same boys will be in the Spain Under-15 side in three years."
"The key research work is done by 57 scouts, nationwide, who work for us voluntarily," he added. "They are elected by their regional federations [Andalucía, Catalonia, Asturias, Basque Country and so on]. We all meet up, once a year, in December and I explain to them precisely what I´m looking for. Then they call me, weekly, with information which is input to a database which I set up when I arrived in 2001."
This thorough scouting of players had helped players like Santi Cazorla and Xabi Alonso break into the scene despite starting their careers with smaller clubs. This culture that has been maintained in the country for quite a while now helps the several young players spread throughout the country, get a chance to the youth national team, and eventually making it to the big picture.
#5 Better representatives in European competitions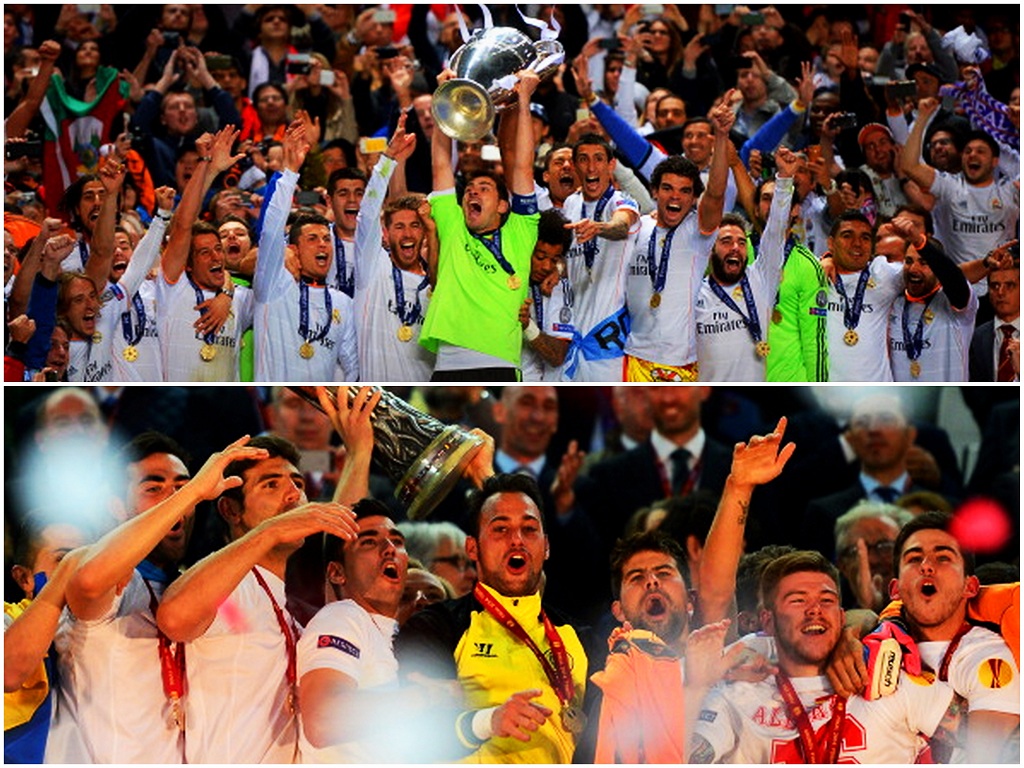 The performance of Spanish teams in European competition is unmatched by any of the leagues, let alone the Premier League in the last decade. Four of the eight teams playing in the semi-finals of the UEFA Champions League and Europa League were from Spain while the rest were each from Italy, Portugal, Germany and England.
To put that into perspective, here is the number of European cup trophies won by Spanish and English clubs since 2000:
| Competition | Spain | England |
| --- | --- | --- |
| UEFA Champions League | 6 | 3 |
| Europa League | 6 | 2 |
Spanish sides have triumphed in European competitions a total of 12 times since 2000, seven times more than English teams. Their representation in the semi-final stage is further more impressive over the past decade, having represented La Liga in an incredible 13 times by seven different teams.
But, no matter how many trophies teams other than Real Madrid or Barcelona, they can never be ahead of the likes of Arsenal or Spurs: Not my words. Fifth placed-Sevilla may not have been the sharpest team in the league, but they went onto win the UEFA Europa League, a tournament featuring teams such as Napoli, Juventus and Spurs.
So, it isn't like the league is not competitive enough. With the right people to administer these teams, and more regulation in the financial distribution of TV money, there could be more League winners in the upcoming future.