5 reasons why La Liga is better than the Premier League
101.84K //
Timeless
If there was a subject that could lead to a never ending argument among supporters aside from the typical Lionel Messi-Cristiano Ronaldo debate, it has to be this one: Which is a better league? Usually the answer is fairly related to the club one supports, or the kind of football one generally looks up to. If one is into fluid, passing football, or supports any of the Spanish clubs, he is more likely to go with La Liga, and the same works in the other way, where a person is more familiarized to football where strength always has an upper hand, or supports a Premier League club, will perhaps go with EPL.As a counter to 10 reasons why Premier League is better than La Liga, we bring you five reasons why La Liga is a superior league than the English Premier League:
#1 La Liga is more than just Real Madrid and Barcelona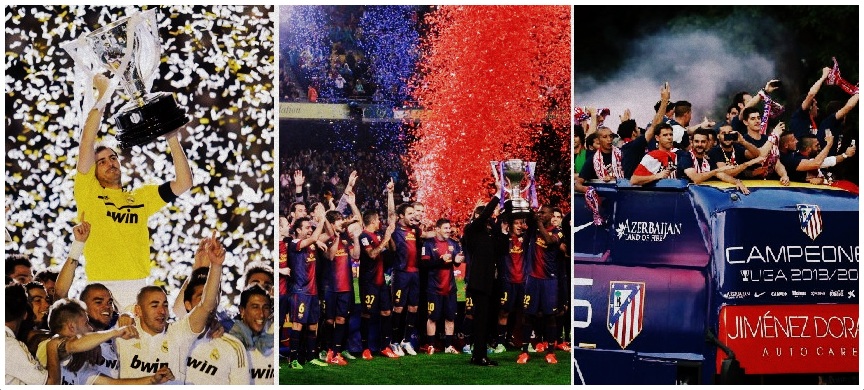 A cliché that generally exists is that the Spanish League is all about two teams, irrespective of what the other teams do. However, unlike what they say, La Liga is more competitive than what people expect it to be; it is just that Real Madrid and Barcelona are very good, and they just don't dominate Spain, they have dominated the whole of Europe for their fair share of time.
Now, let us take a look back at how competitive both the teams were in both domestic and European competitions:
La Liga

Premier League

Position
Team
Points
Position
Team
Points
1
Atletico Madrid
90
1
Manchester City
86
2
Barcelona
87
2
Liverpool
84
3
Real Madrid
87
3
Chelsea
82
4
Athletic Bilbao
70
4
Arsenal
79
5
Sevilla FC
63
5
Everton
72
6
Villarreal
59
6
Tottenham Hotspur
69
7
Real Sociedad
59
7
Manchester United
64
8
Valencia
49
8
Southampton
56
9
Celta Vigo
49
9
Stoke City
50
10
Levante
48
10
Newcastle United
49
Now, agreed that the difference between the first and the fourth placed teams La Liga is way more than that of Premier League's, but that is mostly due to the intense contest between Atletico Madrid, Barcelona and Real Madrid. Atletico have been in and around the top three spot for almost a decade now, and following the arrival of Diego Simeone, the team found as their manager would say cojones.
A look at the number of points won by La Liga and EPL teams over the span of 10 years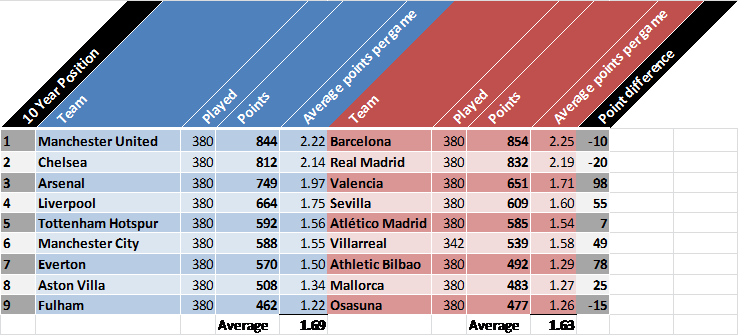 Note: The above list was compiled by redditor Layno7 last year before Atletico Madrid's League winning campaign.
The common argument that people usually come up with is that there are supposedly 4 to 5 teams in the English Premier League who could compete for the first place, which has however not been the case. Not more than two teams emerge to be in contention for the title every season; Manchester United have been one of those teams till last year, and the other team would be either Chelsea or Manchester City whose success have been merely a product of foreign money being invested on football.