Whenevera young footballer puts in an impressive performance, the hype they get is usually unwarranted. Some people come good over the years and live up to their potential or rather the expectations of the public. Some however can't afford that luxury. Now, being hyped is not a luxury, but being talented enough to ride it, is not always easy for all of us.Here we take a look at the 10 footballers who were over hyped orwho just blew it.
#11 Honourable mentions: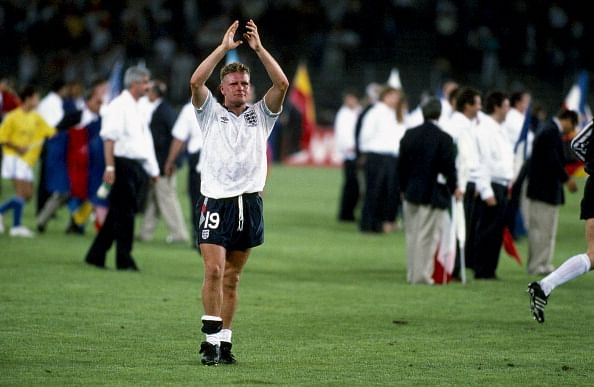 Before we jump into the top 10, here are few of the footballers who just couldn't make it to our list.
Savio Nsereko, the 24-year-old was once hailed as the talent of the century by German pundits, but now finds himself playing for FC Ataryu in Kazakhstan.
Francisco Pavon was famously associated with Los Galacticos, when Fiorentino Perez promised to build a team full of Zidanes and Pavones, i.e. consisting of expensive high profile recruits like Zidane and youth graduates like Pavon.The centre-back now 34, retired from football when he was 33 after being without a club for over 2 years.
Paul Gascoigne is the story of how alcohol and drug addiction ruined one of the most technically gifted footballers of his generation.
Yoann Gourcuff was once hailed as the next Zidane by French media and football pundits, but after his €22 million move to Lyon in 2010, things have gone from bad to worse for the 27-year-old.Injuries have had a huge say in the stagnation of the talented play-maker.
#10 David Bentley
Once he was hailed as the solution to the creative problems of the English national team, today he is nothing more than just another typically over-hyped English mid-fielder; some would say even that would be too big a compliment for him.
When Arsene Wenger handed Bentley his first start for Arsenal at the tender age of 16, many things were expected of him. He first showed a glimpse of what he was capable of when he chipped the then Middlesbrough keeper Mark Schwarzer from outside the box to score his first goal for the club.
Due to the huge size of the Arsenal squad at that time, he was loaned first to Norwich City and later to Blackburn Rovers, where he later joined on a permanent deal. After his permanent transfer to Blackburn, David scored a hat-trick on his league debut against Manchester United.
When manager Mark Hughes left for Manchester City in 2008, David Bentley also demanded a move to a bigger club, and was sold to Arsenal's arch-rivals, Tottenham Hotspur for a reported £15 million.
He scored his first league goal for Tottenham against his boy-hood club Arsenal, scoring a 43-yard dipping volley. This led the British mathematician Tony Mann to ask Marcus Du Sautoy to name a Symmetry group in honour of David Bentley; the group is labelled Set [C[1], C[2], C[3], C[4]]=[40, 13, 4, 4], with the final two digits corresponding to the result of the match.
Bentley would then suffer a huge dip in form, and with the rise to prominence of Aaron Lenon, he was forced to spend most of his time on the bench. Loan spells to West Ham United, Birmingham City and FC Rostov followedm but nothing came out of those moves.
He then moved on a loan back to the club where his rise began, Blackburn Rovers, but even that did not help the 29-year-old regain his lost form.
He was released on 7th of June 2013 by Tottenham Hotspur and has been unemployed ever since.
#9 Roque Junior
One could argue as to how a person who has been a World Cup, Champions League, Coppa Italia and FIFA Confederation's Cup winner is a failure.
Despite amassing a total of 48 caps for Brazil, Roque Junior was a failure when it came to club level football. He was a Champions League winner with Milan, the Copa Libertadores with Palmeiras and also enjoyed an iconic status at Palmeiras. But the Champions League win was a fluke as best, and apart from that he appeared in the Milan shirt for a total of 44 times in 3 years. A loan spell at Leeds United didn't help, nor did one at Siena.
He then moved to Bayer Leverkusen where again he played only 35 times in 3 years. Moves to clubs like MSV Duisburg, Al Rayyan, Ituano along with a move back to Palmeiras also followed, but none of them worked as he finally retired in 2010.
A lot more was expected from this talented Brazilian, who had dazzled spectators and pundits alike while playing in Sao Paulo in Brazil for Palmeiras.
#8 Dmytro Chygrynskiy
A player who was signed by ex-Barcelona boss Pep Guardiola for €25 million, from Ukranian club Shakhtar Donetsk and went on to remain at the club for only a season, before being shipped back to Shakhtar for €15 million, a loss of €10 million.
Although, in the Ukranian;s defence, John Laporta was the culprit in this case, as he had agreed to pay a sum of €25 million for an error prone central defender. Chygryinsky had committed a lot of mistakes in his last year with Shakhtar, and some of them cost the Ukranian champions dearly.
Chygryinsy was good, but was he €25 million good? There are many reason behind his failure. The expectations that the Barcelona faithful had of a player with a hefty price tag was immense. This put a lot of pressure on Chygryinsky, who was not totally prepared for it.
Also, a few weeks after his transfer to Barcelona, he suffered ligament damage. He was also caught in the war between Sandro Rosell and John Laporta.
Chygrynskiy was unpopular with the supporters, and Rosell sold the Ukranian to highlight the financially weak transfer dealings that had been conducted under Laporta.
The Ukranian was not at fault for most of these problems, but he was simply not tough enough to handle the immense pressure of being a Barcelona player. Having said that, after having gone back to Shakhtar, he has only made 40 odd appearances, as he has suffered one injury after another, thus derailing his career to a great extent.
#7 Carlos Alberto
This has to be one of the most bizarre stories in World-Football, and the player is still only half-way through his professional career.
Meet Carlos Alberto, our 29-year-old attacking mid-fielder who currently plays for Goias Esporte Clube, commonly known as Goias, a Brazilian football team, who have won the Brazilian Serie B twice.
Not the most glorious of clubs, I know. But, Carlos Alberto has played for many clubs through-out his career ever since breaking into the first team at Fluminense as an 18-year-old, including the likes of Porto, Corinthians, Werder Bremen, Sao Paulo, Botafogo, Vasco da Gama, Gremio and Bahia, before moving to his current club.
Carlos Alberto was also a Champions League winner with Porto, where Jose Mourinho, not known for starting teenagers, started this 19-year-old on the grandest of stages, the 2004 Champions League finals against AS Monaco. The 19-year-old did not disappoint, as he opened the scoring for his club, with a deft volley.
But his disruptive personality and never ending controversies have always followed him, and have been one of the major reasons behind his frequent transfers. These transfers have never let Alberto settle and become the player he was meant to be. But there was the occasional reminder of his brilliance, of what could have been.
#6 Freddy Adu
A child prodigy, who went on to make head-lines at 13 shortly before making his MLS debut for DC United as a 14-year-old. He became the youngest player to appear in MLS, while also becoming the youngest scorer ever. There was a time when he was referred to as 'the next Pele'.
Meet 24-year-old Freddy Adu, who last played professionally for Brazilian club Bahia in 2013, making only 2 appearances. Although only 24, he is already being considered as a flop. Not because he is not good, but because he wasn't as good as was thought.
Adu's life changed after he moved to Benfica, where he spent most of his time out on loan at other clubs, like AS Monaco, Belenenses, Aris and Caykur Rizespor while managing only 11 starts for the Portuguese Champions. At one time, he also had a trial with Manchester United.
All those expectations did nothing more than weigh him down and re-building his career is all that Adu can do now.
#5 Michael Johnson
The story of a talented footballer, who was once tipped to be an England regular, and how his fall was triggered by mental health problems.
Michael Johnson had made his Manchester City debut at the age of 18, in 2006, while also appearing for the under-21 England team. His footballing career was cut short due to mental health problems, as he still continues to battle them.
Manchester City football club finally terminated the contract of the then 24-year-old Johnson, during Christmas of 2012, about three years after he had made his last appearance for the club. In his last 5 years with Manchester City he only made four appearances. Injuries had taken a toll on the body of Johnson, who had been side-lined for more than 24-months due to injuries alone.
Johnson was also convicted of driving under influence on two occasions, when he had crashed his car in Manchester. After a brilliant start to his career at City, Michael had to be side-lined for an initial four months due to a double-hernia surgery. He then signed a five-year-contract with the Citizens, but was again injured due to a recurrence of the abdominal injury. The injuries took a toll on his career, as he was forced to retire at the age of 24.
Once hailed by City team-mate Dietman Hamann as an "outstanding" mid-fielder, one who reminded him of Michael Ballack, he couldn't really build on it. Sven Goran Eriksson also acknowledged his brilliance, while ex-City manager Roberto Mancini said "A guy with a big talent – I am sad for him".
Sven Goran Eriksson had once also said that he would not swap the mid-fielder even for stars like Steven Gerrard.
Following the termination of his contract by Manchester City, he revealed that he had been undergoing treatment at The Priory Clinic for several years for his mental health problems and added that he "would be grateful if he could now be left alone to live the rest of his life."
#4 Eric Djemba-Djemba
Eric Daniel Djemba-Djemba was unknown in the footballing world when Sir Alex Ferguson signed him for £3.5 million in 2003, to be an eventual successor for the ageing Roy Keane. In his 18-months at the Manchester club, he never found a period of sustained form and was not able to establish himself in the 1st team. A high point of his time with the club was the looping volley which he scored against Leeds United in the League Cup.
The Cameroonian then moved to Aston Villa in search of first-team football, but the move was of little help to him, as he found first team opportunities limited. He was initially loaned to Championship club Burnley before being shipped to Qatar SC for a free.
This helped the mid-fielder reignite his career, but only so much that he moved to Odense BK, where he made 108 appearances in 4 years. He has since then spent small periods of time with a few clubs like Hapoel Tel Aviv followed by Partizan Belgrade and finally St. Mirren, where he is presently.
An FA Cup, Community Shield, African Nations Cup and FIFA Confederations Cup winner cannot straight away be deemed as a failure, but when one looks at what was expected of him, when Ferguson signed him from Nantes, and what he has achieved, the feeling is definitely underwhelming.
#3 Ricardo Quaresma
Featuring 3rd on our list is 30-year-old Portuguese International Ricardo Quaresma.
Ricardo Quaresma was destined for greatness when he first broke through the ranks at Sporting Clube de Portugal, or so everyone thought.
He was likened to Luis Figo, at a time, and Barcelona were quick to sign him after he spent a couple of seasons at Sporting. The €6 million spent by Barcelona though, on the winger, was not of much use, as he was shipped to Porto after just one season, as he failed to make the grade at the Blaugrana.
During his first year with Porto, Quaresma was subjected to heavy criticism for his selfishness and for his frequent attempts to try and dribble past defenders instead of making the simple pass. However, slowly the Portuguese started working in tandem with his team-mates, and in his third season was considered a fan favourite.
A move to Inter, for €18.6 million, proved disastrous for the winger as he struggled for first team opportunities under Jose Mourinho, who was not impressed by his work-rate.
He also received the Bidone d'oro award for being the worst footballer in Serie A in 2008. He was loaned to Chelsea in 2009, but only made 4 appearances for the club during his time. After the completion of his loan, he returned to Inter, but again found first-team opportunities restricted and finally moved to Besiktas.
At Besiktas he was released from his contract six-months before its completion. He was suspended and realeased for launching a scathing attack on Carlos Carvalhal.
He then moved to Dubai based club Al-Ahli where again his contract was terminated within a year. A move back to Porto seemed best for Quaresma, as he signed with the Portuguese giants on the 1st of January this year, where he was welcomed by more than 10 thousand fans.
Quaresma had the potential, but whatever was the exact reason, he never lived up to it.
#2 Denlson de Oliveira Arajo
Denilson became the world's most expensive player in 1998, when Real Betis paid a then record £21.5 million for the talented left-winger.
Life was good for the Brazilian, as he started out in Spain. In his first season he managed 35 appearances for the club. But things started to change, as Betis were relegated in his second season. He then moved back to his country for a brief spell with Flamengo, in 2000.
He then returned to Betis, and was part of a productive unit in front of the goal, helping Betis achieve promotion. He played regularly for the club after then, but mostly as substitute. Next season he was only a fringe player in the squad, and soon moved to French club Bordeaux.
He was sold by Betis, four years prior to his contract expiry. He spent only a year with the Bordeaux, who were unable to fulfil his wage demands, and he soon moved to Saudi Arabian club Al Nassr FC. Shortly after, he moved to MLS side FC Dallas, as he became the team's designated player.
He played only 8 times for the MLS side, before moving to Palmeiras, followed by Itumbiara and Hai Phong and finally to Kavala in Greece, where he reitred without having played any games for them.
Denilson won the World Cup with Brazil in 2002, when he featured in five matches for the Selecao as a substitute. He appeared for a solitary minute in the finals against Germany. He had a total of 61 caps for Brazil before retiring from football at the age of 32.
But he hardly ever contributed for either the national team or his club sides. Denilson failed to be the great player, that he was once expected to be. It was as if the Brazilian was more content with one moment of highlight, than a life full of it.
That's the reason he makes it to our list at the 2nd position.
#1 Adriano Leite Ribeiro
There was a time, when he was earmarked by many as the next world class forward. But instead of realizing his potential, he rested on his laurels and did not put up the extra yard that separates a good footballer from an average one.
Adriano's life story can be cited as the perfect example to young players about how it can all go wrong for the best of the lot, as his story makes it to the top of our list.
After he impressed at Flamengo, Inter signed him in 2001 for a fee in the region of €10 million. He scored a solitary goal in his eight appearances for the club during the period. He then moved to Fiorentina on loan where he scored 6 goals in 15 games.
He returned to San Siro in 2004, signing a four and a half year contract, for about €23.4 million. His return saw him start his new stint in prolific form, as he scored 15 goals in just 16 games. In the year of 2004-05 he was at the peak of his powers as he scored 40-goals that season for club and country.
He was then awarded by Inter for his terrific form, as the Brazilian signed a contract running till the end of June 2010. Following this Adriano's form took a nose-dive along with his career. He was caught partying late at night on many occasions. He also missed trainings due to late night parties, while his commitment was questioned on many occasions.
Brazilian coach Dunga warned Adriano and asked him to "change his behaviour" and focus on his football. But by then, Adriano was already addicted to the nightclubs, parties and his time at the San Siro turned into a huge disappointment.
An overweight and unfit Adriano moved to Sao Paulo on loan, before being permanently shipped to Flamengo. He scored 19 goals in 31 appearances for the Brazilian side.
He then moved to Roma, signing a three-year-contract with a gross annual salary of €5M. The contract was however terminated by Roma within 7 months of his arrival, following which spells to Corinthians and a move back to Flamengo didn't help either, as he was then without a club for over one year, finally retiring at the age of 31.
Compeonato Brasileiro Serie A side Atletico Paranese signed him in 2014, where he has been assisting with training and coaching duties.
Adriano's life can be summed up in short as follows:A mercurial player, if there ever was once. During his footballing career, Adriano showed us the good and bad of a footballer's life. While on the one hand he enjoyed some great successes, on the other he plummeted to greater depths.