Top 5 teammate rivalries in Formula 1
Your teammate is your first rival in F1 There is an old saying in Formula 1; first driver you want to beat is your teammate. And, trust us, all th ...
Your teammate is your first rival in F1There is an old saying in Formula 1; first driver you want to beat is your teammate. And, trust us, all the drivers, current or retired, take this notion pretty seriously.Formula 1 has an unwritten decree that a driver, first and foremost, must beat his main rival: his so called 'mate' in the team.During the course of last year and a half, we have seen a great degree of tension between World Champion Lewis Hamilton and his Mercedes partner Nico Rosberg. Of course, both are young, energetic and full of fire; to win every race and titles, but both have the same car and both race under one roof. Hence, there is always an aerie friction between the two; day in day out.But, this type of tension between colleagues is nothing new to the sport, even if they are paid millions of dollars every year. However, some drivers put winning first, at any ethical cost, whatsoever. So, let us ignite our minds again, with a list we have carved, of the best teammate rivalries of all time in Formula 1.
#5 Sebastian Vettel and Mark Webber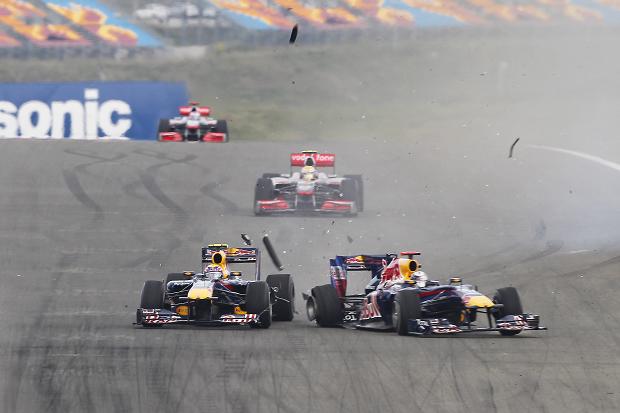 Main Reason for the Rivalry being Special: Vettel's dominance over Webber over the years.
This German-Aussie pairing for Red Bull from 2009 to 2013 always exploded with tension. The pair seemed happy at first, when Vettel had initially joined the senior Bull team, but the tussle started as soon as Red Bull created a rocket ship of a car. And, the 2010 Turkish Grand Prix was the epicenter for the issues.
The pair clashed whilst trying to fight for the lead at Istanbul Park, and the German, because of the accident, had to subsequently retire from the race. The result of the accident was that Red Bull lost a sure one and two, and this made the team's hierarchy pretty angry.
Another prime example of the tension between the Aussie and Vettel was at the 2013 Malaysian Grand Prix. This was the venue of the infamous Multi-21 saga. And, because of this Webber's always believed, he was getting second hand treatment from the team. But, the incident really shook Webber up and it might have acted as a catalyst in his decision to call it a day at the end of that season.
However, many paddock insiders believed that Webber was always under pressure because of Vettel's continuous title wins (4 in total) in the same car. The German also made sure that the team ran around him, thus creating the difference.