Roger Federer and Novak Djokovic are two of the biggest names in men's tennis. Together with Rafael Nadal, the duo form the 'Big 3' troika, a name coined for their stellar achievements in the sport.
With 20 and 17 Grand Slam singles titles respectively, Federer and Djokovic occupy the first and third spots in the all-time list of Slam champions. The duo (Federer - 362 and Djokovic - 287) have won more Grand Slam singles matches than any player since tennis opened its doors to professionals in the summer of 1968.
Federer and Djokovic are the only players to have won over 50 hardcourt titles, amassing 71 and 58 titles on the surface respectively. On that note, let us have a look at 5 tournaments that they have both won at least 5 times during the course of their respective careers:
#1 ATP Finals (Federer - 6, Djokovic - 5)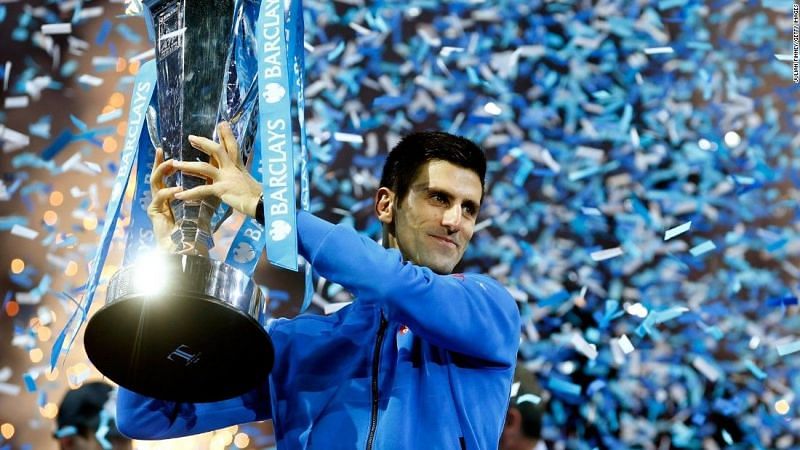 Federer's 6 titles at the ATP Finals is the most by any player in five decades of the season-ending competition. The 38-year-old won titles at the ATP Finals in 2003-04, 2006-07 and 2010-11 while losing in the title match in 2005, 2012, 2014 (walkover) and 2015.
Among a plethora of other records at the tournament, Federer has made the most appearances of any player at the ATP Finals (17), and his 57 match wins at the tournament is the highest by any player.
Djokovic won his first ATP Finals title in 2008, and followed up with further successes in 2012-2015, in the process becoming the first player in tournament history to do a 4-peat. However, the Serb has failed to emulate Federer following respective final reverses in 2016 (Andy Murray) and 2018 (Alexander Zverev).
#2 Australian Open (Djokovic-8, Federer-6)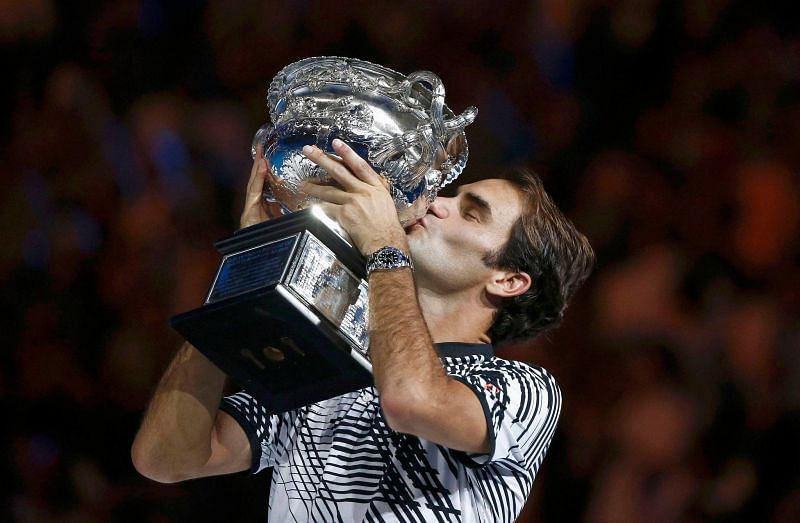 The Australian Open became the second tournament where both Federer and Djokovic triumphed at least 5 times, when the former beat arch-nemesis Rafael Nadal in a five-set final in 2017.
Federer was the joint-Open Era title era title leader at the first Grand Slam tournament of the year when he won his 4th Australian Open title in 2010, going level with American Andre Agassi. The Swiss maestro then went level with Djokovic (6) after repeating his title run in 2018.
Djokovic won his first Australian Open title in 2008, and has won further titles in the tournament in 2011-2013, 2015-16 and 2019-20. With his 7th title in 2019, the Serb surpassed Federer for outright lead for most Australian Open titles in the Open Era.
He then grabbed a record-extending 8th title in 2020 with a 5-set win over Dominic Thiem in the final.
#3 Indian Wells (Djokovic-5, Federer-5)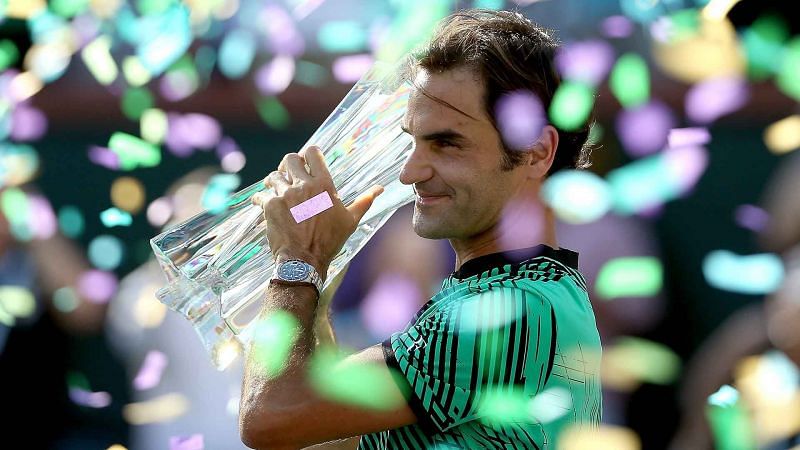 Continuing a dream comeback from injury, Federer followed up his first Australian title in 7 years by going all the way at 2017 Indian Wells. That marked his first title at the Masters 1000 tournament since winning his fourth in 2012.
Federer's 5th title at the first Masters 1000 tournament on the tennis calendar moved the then 35-year-old level with Djokovic for most titles titles at Indian Wells. Federer had won three consecutive titles at Indian Wells from 2004 to 2006.
Djokovic won his first Indian Wells title in 2008 and followed up with another title run in 2011. He then emulated Federer's three-peat in 2016 to take the sole lead for most titles at the tournament, until the Swiss maestro moved level with the Serb in 2017.
#4 Wimbledon (Federer-8, Djokovic-5)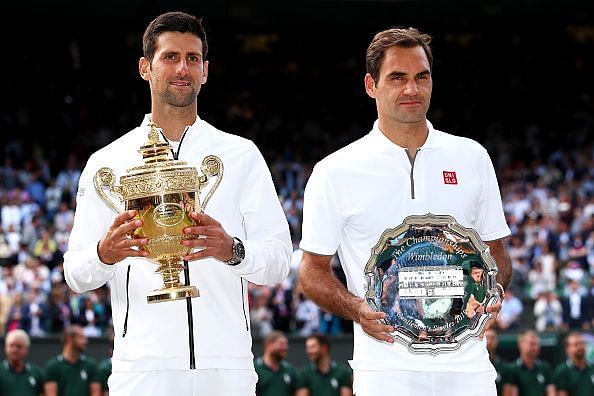 Federer became the first player to win 8 Wimbledon titles when he beat Marin Cilic in straight sets in the 2017 final. The next year, however, the defending champion fell in a five-set quarterfinal against Kevin Anderson after failing to convert a match point in the third set.
In 2019, there was more match point misery in store for Federer. In a Wimbledon finals for the ages, Djokovic denied the Swiss two consecutive championship points on serve at 8-7, 40-15 before winning his 5th title in a historic first-ever fifth-set tiebreak at the tournament.
The triumph made Djokovic the first Wimbledon champion in 71 years to have saved multiple championship points. The Serb's 2019 followed previous successes in 2011, 2014-15 and 2018.
Federer had won his first 5 Wimbledon titles in as many consecutive years from 2003 to 2007 before winning his 6th and 7th in 2009 and 2012 respectively.
#5 Dubai (Federer-8, Djokovic-5)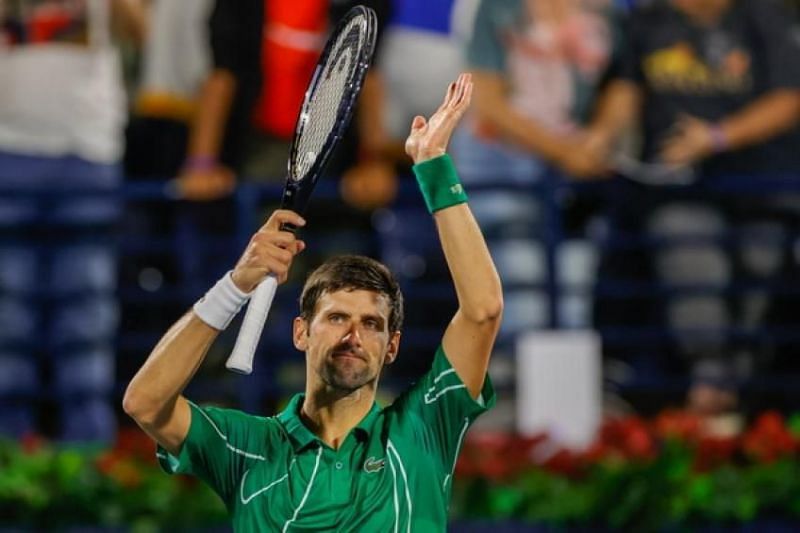 Amongst a plethora of records at the desert tournament, Federer's 8 titles, 10 finals, and 53 match wins stand out. The Swiss maestro won Dubai titles in 2003-05, 2007, 2012, 2014, and 2015 before his record-extending 8th triumph in 2019 made him the first player after Jimmy Connors (109) to win 100 career singles titles.
Djokovic became the first player after Federer to win multiple Dubai Open titles when he did so in 2010. He then emulated the Swiss maestro in 2011 as the only players in tournament history to win a three-peat.
After lifting his fourth title at the Dubai Open in 2013, Djokovic won his fifth in his first appearance at the tournament in 4 years by beating Stefanos Tsitsipas in straight sets in the title match.