Second seed Aryna Sabalenka halted former World No. 3 Elina Svitolina's impressive run in the French Open quarterfinals on Tuesday. Sabalenka secured a 6-4, 6-4 victory, advancing to the semifinals of the clay-court Grand Slam for the first time in her career.
The Belarusian was relentless on Court Philippe Chatrier, pummeling the ball into the corners every time she got something short. Despite tallying 37 unforced errors in the match, surpassing Svitolina's 12 by quite a margin, Sabalenka's formidable power helped her strike 30 winners which was ultimately the difference-maker.
Nevertheless, the match saw some controversy at the end, when Aryna Sabalenka was observed waiting for the traditional handshake with Elina Svitolina.
This occurrence came as a surprise to those present, considering Svitolina and other Ukrainian players' consistent stance of refraining from shaking hands with Russian and Belarusian players. Adding further insult to the incident, Elina Svitolina faced a chorus of boos from the crowd in Paris over her decision not to shake hands with her opponent.
Aryna Sabalenka later defended her gesture of waiting at the net, saying that it was her instinct as she always does it after her matches.
"I don't know. It just was an instinct like I always do after all my matches," she said at her post-match press conference.
The World No. 2 further clarified the existence of pictures on the internet showing her with Belarusian President Alexander Lukashenko. Sabalenka revealed that she does not currently support Lukashenko due to his involvement in Russia's war on Ukraine.
"Well, we played a lot of Fed Cups in Belarus. He was in our matches taking pictures with us after the match. Nothing bad was happening that time in Belarus or in Ukraine or in Russia," Aryna Sabalenka said.
---
"I felt really disrespected, and I felt really bad" - Aryna Sabalenka on her decision to skip press conferences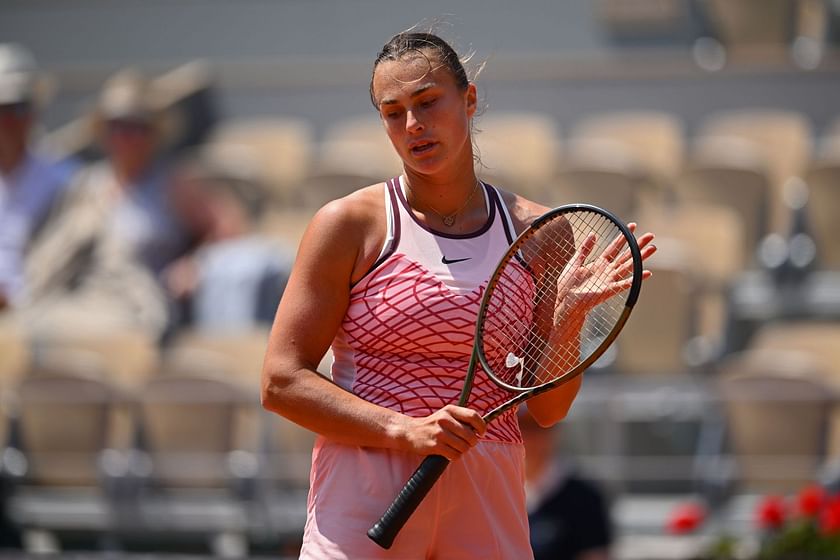 Aryna Sabalenka justified her decision not to attend consecutive press conferences during the tournament, and said that she had no regrets about it. The Belarusian explained that she felt added pressure due to the numerous political questions asked of her, and that handling such inquiries alongside the pressures of a Grand Slam event was too challenging.
"No, I don't regret the decisions. I felt really disrespected, and I felt really bad. I mean, Grand Slam, it's enough pressure to handle, and I just tried to focus on myself, on my game," she said.
"I really hope that you guys will understand me, my feelings. You know that I really respect all of you, and I always open. You can ask whatever you want. You will get all the information. But in the last press conference, I felt like my press conference became a political TV show, and I'm not expert in politics. I'm just a tennis player," she added.
Sabalenka will next lock horns with Karolina Muchova in the semifinals on Thursday (June 8).