Former World No. 1 Jimmy Connors has praised Novak Djokovic's desire to continue playing tennis at the highest level.
At the age of 36, Djokovic recently won the 2023 US Open, which was his 24th Grand Slam title — an Open Era record. He won two other Majors this year (Australian Open and French Open) while finishing as the runner-up in the other (lost to Carlos Alcaraz at Wimbledon).
After his win in New York, Djokovic stated that he has no intention of making space for the next generation just yet.
"Knowing that I play at such a high level still and I win the biggest tournaments in this sport, yeah, I don't want to get rid of this sport or I don't want to leave this sport if I'm still at the top," he said (via Reuters).
Earlier this year, speaking at an on-court interview at Wimbledon, the Serbian stated that he was aware of the younger players being eager, but unsuccessful, in wanting to beat him.
"I love it. They want to get a scalp, they want to win, but it ain't happening," he said.
Eight-time Grand Slam champion Jimmy Connors has praised Djokovic for continuing to dominate the sport despite being in his late 30s. He said the World No. 1 has shown that he is better than almost anyone on the tour right now, which is why there was no reason for him to consider walking away from the sport.
"We're talking about a 36-year-old guy who's making the headlines. And you know I'm going to say it again. I like that. You know, he made a good statement. He says I'm staying around as long as these young guys don't want to beat me. I'm gonna stay and play and I don't blame him, because he is good," he said while speaking on the latest episode of the Advantage Connors podcast.
The American also added that Djokovic works extremely hard for his success and that his desire needs to be respected.
"You know, he works at, he works at it. He does everything he can to be the best he can be and from there I mean all you all you have to do is just give him the respect for everything he's put into it. And by the way, He's on number 24," he added.
---
"You need to reinvent yourself" - Novak Djokovic on painting his tennis prowess despite his advancing years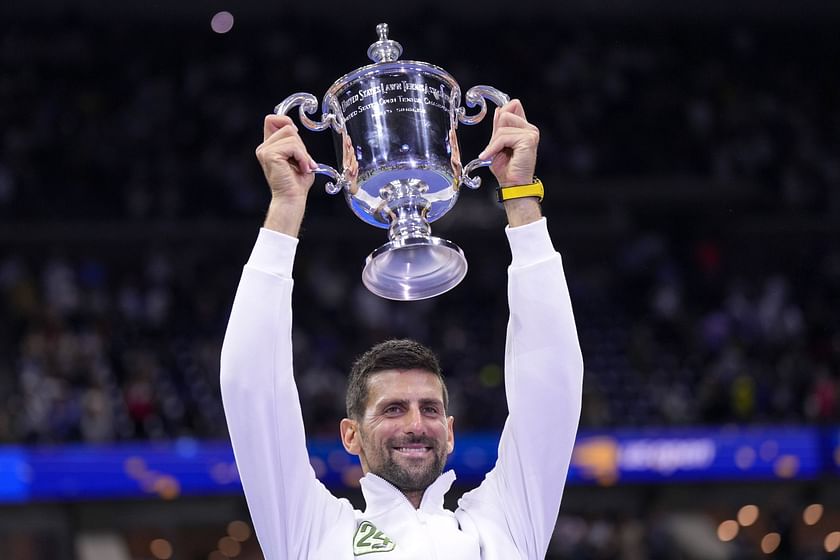 After his 2023 US Open win, Novak Djokovic stated that he has always been adapting and changing his physical and mental training and recovery to stay at his best.
The Serbian has won 12 Grand Slam titles since turning 30 years old, the most of any player – male or female. He has now won a Major in 13 different seasons (2008, 2011 to 2016, 2018 to 2023).
Djokovic first Slam title was won at the 2008 Australian Open as a 20-year-old. 15 years later, he is still going strong. At a press conference in New York, Djokovic spoke about how he has been constantly adapting to remain at his best.
"One of the biggest lessons I have learned probably mentally throughout my career is that even if you find a formula that works, it's not a guarantee, and actually most likely it's not going to work the next year. You need to reinvent yourself, because everyone else does. As a 36-year-old competing with 20-year-olds I probably have to do it more than I have ever done it in order to keep my body in shape, in order to be able to recover so that I can perform on the highest level consistently," he explained.