Frances Tiafoe has reacted to the recent news of Bradley Beal's departure from the Washington Wizards. He expressed his deep sadness at both Beal and John Wall, who last played for the Wizards in 2020, no longer being a part of his favorite team.
Beal has recently been traded from the Washington Wizards to the Phoenix Suns, where he will join forces with superstar players Devin Booker and Kevin Durant. This trade has caused significant buzz throughout the NBA community and among fans.
Following the trade, Bradley Beal took to social media to share a collection of photos that captured his 11-year journey with the Washington Wizards. The images showcased a range of memorable moments, including his initial signing with the team, his partnership with John Wall, his numerous accolades, and much more.
Frances Tiafoe re-shared Beal's post on his Instagram story, expressing his sadness at both Wall and Beal no longer donning the Wizards jersey. Tiafoe also referred to the duo as his "favorite backcourt."
"Crazy both these dudes ain't wearing wiz jersey no more. Always gon be my favorite backcourt," Tiafoe captioned his Instagram story.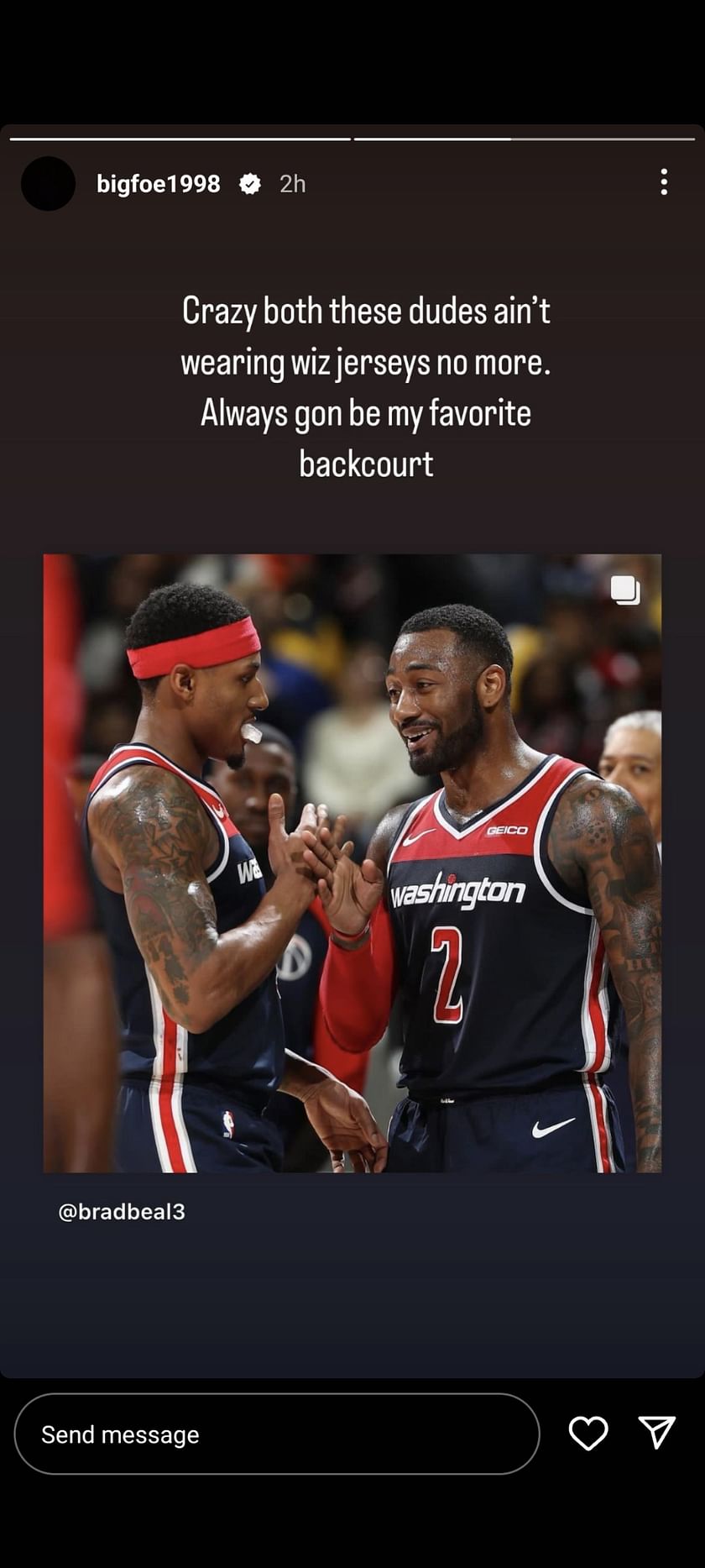 ---
Frances Tiafoe enters Wimbledon Championships 2023 as top 10 player
Frances Tiafoe broke into the top 10 following his triumph at the 2023 Stuttgart Open, cementing his status as only the third Black American to achieve this feat, the first two being Arthur Ashe and James Blake.
Following his match against the home favorite, Jan-Lennard Struff, which ended in a nail-biting 4-6, 7-6(1), 7-6(8) victory, Tiafoe remarked that he was "super emotional" upon learning of his ascent to the 10th spot in the world rankings.
"Super emotional. For a guy like me, with my story and everything. I'm a guy who shouldn't even really be here doing half the things he's doing," Tiafoe said after the final. "And now when you say his name, you can say he's top 10 in the world. So that is something that no one can take from you and I'm going to remember that forever."
Frances Tiafoe secured the second spot for the USA in the top 10 of the ATP rankings. This is the first time since 2012 that the country has two players in the top 10 — Taylor Fritz and Tiafoe. The last duo to achieve this feat were Mardy Fish and John Isner.
The 25-year-old will look to better his performance from last year's Wimbledon. In 2022, he reached the fourth round, which was his best result at the grasscourt Major.