Novak Djokovic's dominant win over Carlos Alcaraz in the semifinals of the 2023 ATP Finals has left Paul McNamee unimpressed with the court conditions in Turin.
Djokovic's commanding 6-3, 6-2 victory over Alcaraz in just 88 minutes marked a departure from their typically closely contested battles. The Serb delivered a clinical performance, capitalizing on three crucial break points to advance to the final in Turin.
Paul McNamee, however, found the one-sided match between the two top-ranked players disappointing, labeling it an "anti climax." He attributed the lopsided contest to the ATP's choice of a fast surface, which appeared to have a negative impact on Alcaraz's performance.
"63 62 was a masterclass by Djokovic over Alcaraz, the second best player in the world. Ultimately though an anti climax…. but ATP have themselves to blame by laying such a quick surface…imo not a way to showcase the two best players," he posted on X (Formerly Twitter).
McNamee also clarified that while he wasn't opposed to fast surfaces in general, he believed the year-end championships should feature more balanced court conditions to ensure a level playing field for all eight contenders.
"I don't have a problem with a fast surface…. but not for the finals, which should be balanced and give a fair go to all eight players," he commented.
Novak Djokovic: "Carlos Alcaraz always brings out his best in these matches, you've got to weather the storm and I did that"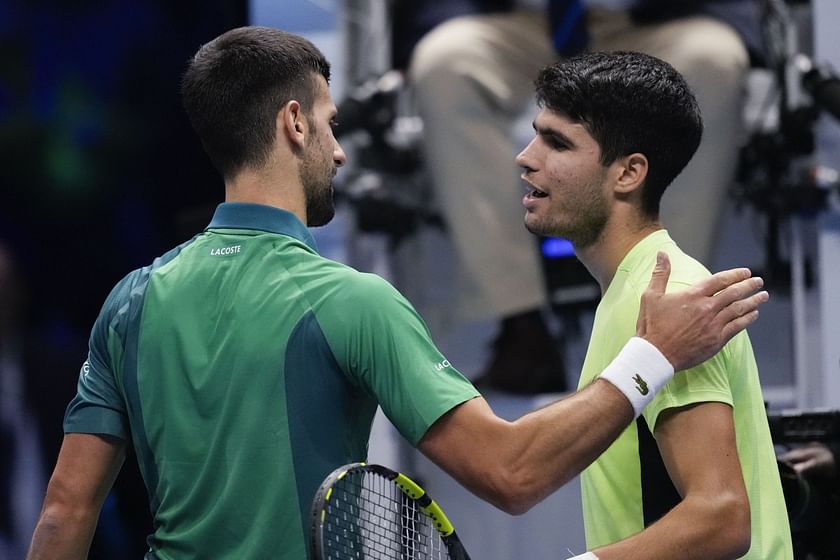 Novak Djokovic expressed satisfaction with his strategy in the semifinal against Carlos Alcaraz, taking pride in his ability to keep up with the Spaniard's high level of play and intensity.
"I approached the match with the right attitude, the right mentality, and I knew from the very first point it was going to be greatly intense. He had break points right away, 15/40 in the first game. That's Carlos. He always brings out his best in these kinds of matches and starts with a lot of high quality tennis and intensity. You've got to match that, try to weather the storm, and I did that," he said in his post-match interview.
The 24-time Grand Slam champion praised his own serving performance in particular, highlighting his pivotal break of serve in the second set as the turning point from which he showcased "flawless" tennis.
"I served well in important moments and the match shifted when it was 4-3 and I broke with new balls. He missed a couple of backhands, and it gave me the break. From that moment I really played flawless tennis," he added.
Following his win over Alcaraz, Djokovic will play against Jannik Sinner in a blockbuster final in Turin. The Serb enjoys a 3-1 lead in their head-to head record. However, Sinner clinched his first win over the World No. 1 in the group stage of the ATP Finals earlier this week.