Novak Djokovic took on the enigmatic Australian Nick Kyrgios in a fun-filled exhibition clash at Melbourne Park on Friday. The charity match started out with some fiery exchanges between the duo, but soon took a turn towards a more light-hearted affair.
Priced at just $20, tickets for 'The Arena Showdown' sold out within 58 minutes, with fans eager to watch a repeat of the 2022 Wimbledon final. It's no secret that Kyrgios, who leads the head-to-head over Djokovic 2-1, hasn't always had the most cordial of relationships with the Serb.
A refreshing camaraderie was palpable, however, inside the Rod Laver Arena on Friday. The duo exchanged plenty of captivating shots and, surprisingly, a round of drinks between sets.
After Kyrgios clinched the first set 4-3, the 21-time Major champion soon found his groove to take the second set.
With both players one set apiece, the clash moved onto the super-tiebreaker. The duo, however, were joined by two of the leading men in wheelchair tennis, namely David Wagner from the USA and Australia's Heath Davidson. The match evolved into a doubles game, much to the amusement of the packed stadium.
Wagner and Davidson added a delightful flair to the proceedings and soon made way for young guns Thaadhie Karunanayake and Ana Maric to partner with Kyrgios and Djokovic. The children displayed their remarkable tennis skills and gave the contest a thoroughly entertaining finish.
Here are some snapshots from the high-spirited evening:
Nick Kyrgios claims he will retire if he wins the Australian Open 2023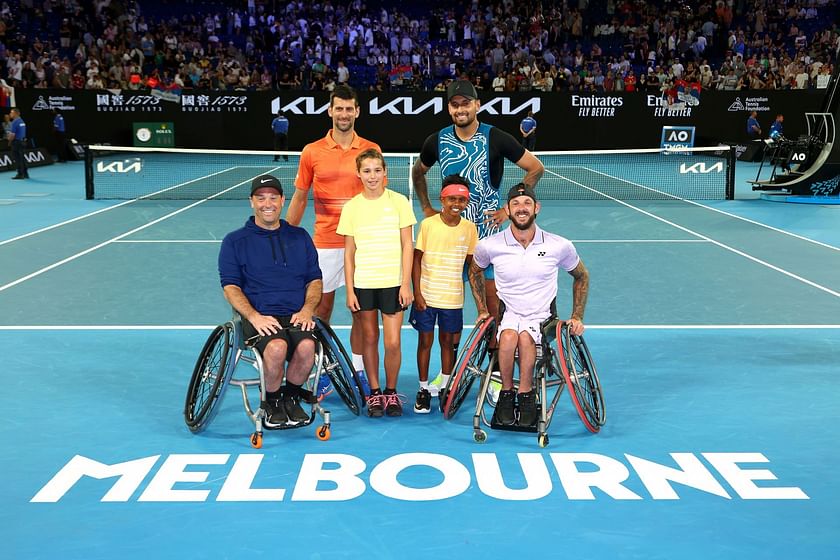 Nick Kyrgios and Novak Djokovic sat down for a chat after an entertaining match at Rod Laver Arena on Friday. The men find themselves in the same quarter of the 2023 Australian Open draw, and Kyrgios will be looking forward to "payback" after losing the 2022 Wimbledon final.
When asked to reflect on his previous admission of hanging up his racket should he manage to win a Major title, Kyrgios revealed that he still abides by the statement. The Aussie highlighted the taxing nature of the tennis season and said that he would love to adopt a more carefree diet.
"100 per cent! It is a lot of training and a lot of work," the 27-year-old Aussie said. "I just want to be able to eat whatever I want and drink what I want to drink, and just relax. It is a hard lifestyle."
"The dedication that these guys show day in and day out...I did a bit of that last year and had a great year to show that I am still one of the best. I am going to try and do it this year, and hopefully I can do it, but it will be hard," he added.
While Novak Djokovic will begin his quest for a tenth Australian Open title against Spain's Roberto Carballés Baena, Nick Kyrgios will take on Roman Safiullin in the first round.