Novak Djokovic has humorously suggested that he would take John McEnroe's commentary role after the Serb delivered a flawless match analysis of his French Open quarter-final win over Karen Khachanov.
On Tuesday, Djokovic defeated Khachanov 4-6, 7-6(0), 6-2, 6-4 on Court Philippe-Chatrier in three hours and 38 minutes. The win secured his spot in the semifinals at Roland Garros where he will face Carlos Alcaraz.
During a post-match interview with Eurosport, the Serb gave his thoughts on the match. He provided a comprehensive analysis of his play and the perfect tie-break he played. The interviewers, Tim Henman and Barbara Schett were thoroughly impressed with Djokovic's insights and praised him for his exceptional analysis.
The 22-time Grand Slam champion in turn playfully teased John McEnroe, claiming that he was better than the American tennis legend and that he was coming for his spot in the commentary box.
"Better than you, John. I'm taking your spot, I'm taking your job," Djokovic said.
"I was struggling to find my rhythm. I made a lot of unforced errors" - Novak Djokovic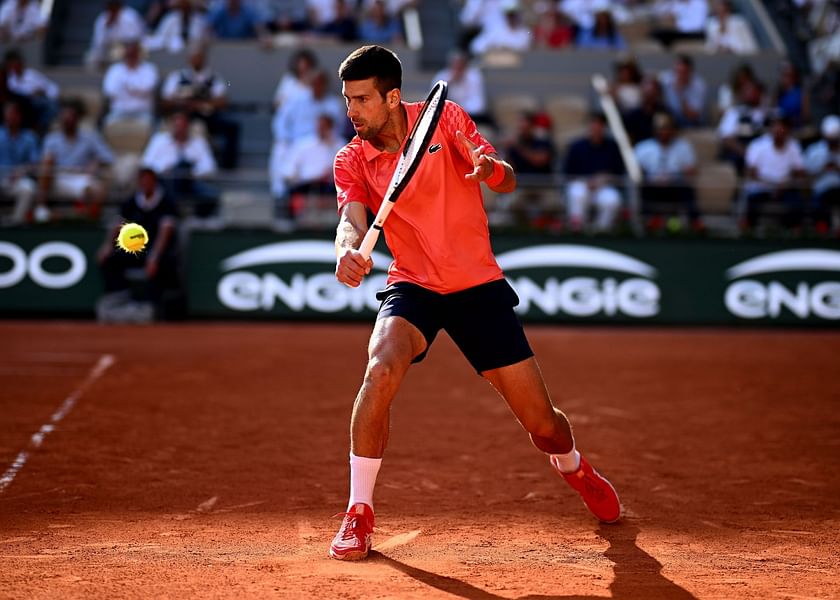 During a post-match on-court interview following his win over Karen Khachanov, Novak Djokovic gave his insights on the match.
Djokovic acknowledged Khachanov outplaying him in the first two sets due to his sluggishness and inability to find his rhythm. However, the Serb was happy that he played a perfect tie-break in the second set to regain his rhythm.
"I think he was the better player for most of the [first] two sets," the former World No. 1 said. "I was struggling to find my rhythm. I made a lot of unforced errors and came into the match quite slow, quite sluggish. But I played the perfect [second-set] tie-break, really, and from that moment I played a couple of levels higher than I did at the beginning.
Djokovic acknowledged that tough situations are to be expected in a Grand Slam quarter-final but he was pleased to have overcome the challenge Khachanov posed.
"[There was] a little bit of a scare towards the end of the fourth set, but I managed to win eight points in a row to finish it off. It's a big fight. It's something that you expect in the quarter-finals of a Grand Slam. You're not going to have your victories handed over to you. You've got to earn them, so I'm just glad to overcome the big challenge of today," he said.
Novak Djokovic will face Carlos Alcaraz in the semifinals of the French Open on Friday, June 9.