Novak Djokovic recently disclosed the hilarious intrusive thoughts that popped up in his mind when he was asked to appear at the Ryder Cup All-Star game in Rome.
The Serb showed impressive technique during the celebrity event at the Marco Simone Golf and Country Club, which preceded the 2023 Ryder Cup. However, he admittedly lacked confidence in his golf game when he was first invited to the All-Star clash, as revealed during his interview with the Golf Channel.
During the interaction, the 24-time Major winner also disclosed that he practiced his swing religiously over the past six months.
"When I got an invite, I was like, 'Oh my god. I gotta accept this...' I got a bit prepared. [I thought] 'Cannot embarrass myself, cannot hit someone in the head... because we don't want that. I have no insurance,'" Djokovic said jokingly.
"But then I started to ask questions like, 'Who is participating,' and I wanted to know their handicap. And I started to train a bit more, I got lessons, and yeah... when you become a father, you have less time. I haven't played much golf in the last six years. But I increased the amount of golf I've played in the last six months, especially in the last ten days," he added.
"I am super grateful to the Ryder Cup for hosting me and my team" - Novak Djokovic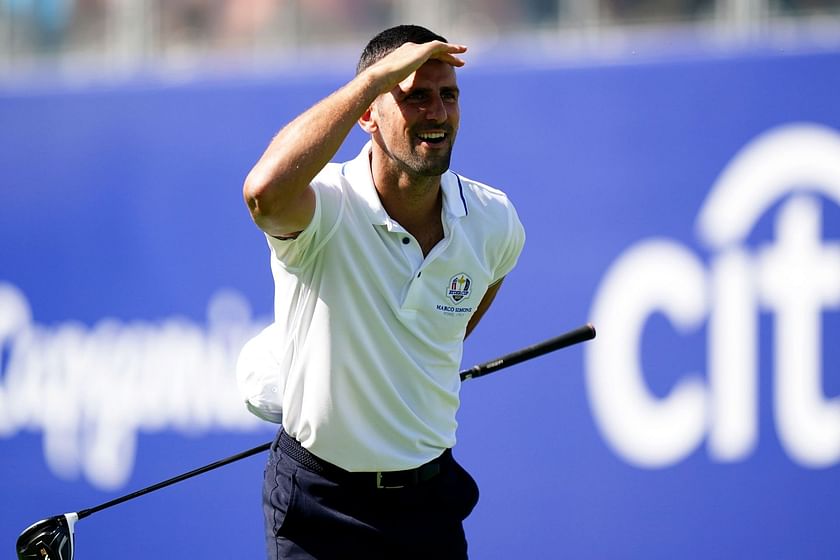 Novak Djokovic expressed gratitude towards the Ryder Cup personnel that hosted him and his team. He said:
"So I had to make sure I have a good enough level, it was a thrill and I am super grateful to the Ryder Cup for hosting me and my team."
Towards the end of the interview, the Serb spared a thought for his friend Mark Madden. He claimed that it was Madden who had caddied him around on the golf course and who had also given him technical advice during the celebrity event.
"And I had my business partner and my friend Mark Madden, who is a much better golfer than me. He was caddying for me today, giving me great tips. So, it was all in all a fantastic experience," he said.
Djokovic also revealed that he was planning to prolong his departure from Rome since he intends to watch the first day of the 2023 Ryder Cup on Saturday (September 30).
"I'm going to stay for a few days just because I need to see the tee-off on Friday, 7 a.m., I heard the atmosphere is electric, everyone is talking about the noise and the incredible vibe that you get to feel. So I'm gonna be there for that and just enjoy fantastic golf."