Carlos Alcaraz was pleased with the overwhelming support that he received during his first-round match at the 2023 French Open on Monday, May 29. He was later told that his compatriot Rafael Nadal's fans were also rooting for him in the legendary player's absence.
The 14-time Roland Garros champion withdrew from the ongoing tournament on May 18, revealing that he was yet to recover from a hip injury that he suffered at the 2023 Australian Open. This is the first time since 2004 that he hasn't participated in his favorite tournament, making Novak Djokovic and Alcaraz the favorites to lift the title.
The World No. 1 Alcaraz, meanwhile, began his quest for a second Grand Slam title with a thumping win (6-0, 6-2, 7-5) over World No. 159 Flavio Cobolli of Italy.
In the post-match press conference, a journalist informed Alcaraz about numerous Nadal fans getting behind the junior Spaniard. The 20-year-old stated that he didn't know about the Mallorcan's fans, but was glad to receive the support of so many people.
"Well, yeah, I feel the love from the people. You know, I don't know if they are the Rafael Nadal fans or not, but I felt the energy from the crowd. I felt the love, you know, and it was great to feel that," Carlos Alcaraz said.
The match that lasted one hour and 58 minutes saw the 2022 US Open champion break his 21-year-old opponent as many as seven times. This was Cobolli's maiden Grand Slam main-draw match as he made his way through the qualifiers.
---
Carlos Alcaraz to face Taro Daniel in French Open 2023 R2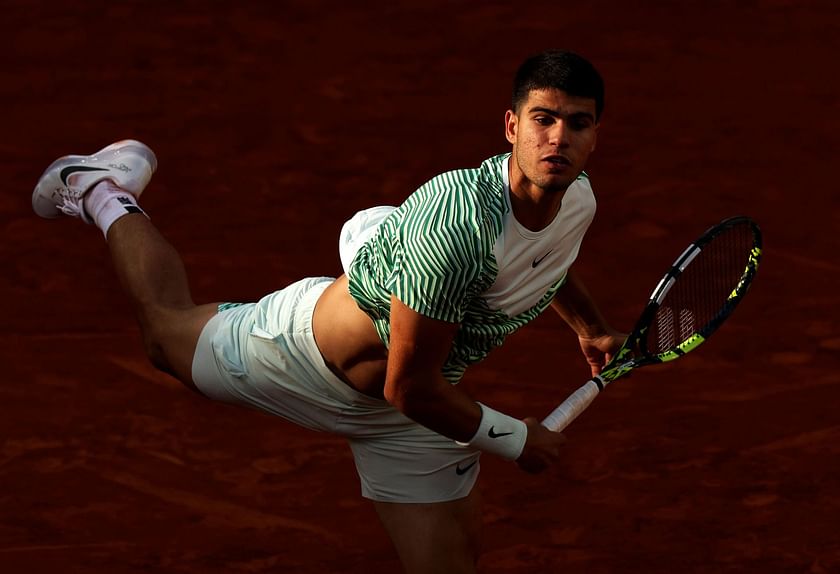 Carlos Alcaraz will take on World No. 112 Taro Daniel in the second round of the 2023 French Open on Wednesday, May 31. This will be the first tour-level meeting between the two players. The 30-year-old Japanese player beat Australia's Christopher O'Connell 6-0, 6-2, 6-4 in his opening match on Monday.
On May 22, Alcaraz regained the ATP No. 1 ranking as he dethroned Novak Djokovic. In the press conference yesterday, the Spaniard was asked if he remembered the first time he dreamt about becoming the World No. 1. He stated that he was around 10 years old and was glad to have fulfilled his dream in just 10 years.
"I was 10 years old, something like that when I started to think about being professional player, about my dreams," he said. "I started to think about that. It was that age and it's a great feeling to feel that 10 years later.
"So it's something crazy for me. I do think it's the best feeling in the world to be No. 1, to know that I reached my dream really, really quick."
With his first-round win at Roland Garros, Alcaraz improved his record for the season to 31-3. He has already won four titles so far, including two Masters 1000 crowns.
What is the foot injury that has troubled Rafael Nadal over the years? Check here
Edited by Sudeshna Banerjee