Carlos Alcaraz has taken the tennis world by storm in the last few years. He became a Grand Slam champion and World No. 1 as a teenager, and is adding even more accolades to his resume after turning 20.
Fans, colleagues, pundits and former players have been in awe of the Spaniard's skills and maturity, but some believe there's another angle to his dominance. Tennis journalist Simon Cambers recently wrote an article on "the charisma of Carlos Alcaraz" and how it is supposedly giving the Spaniard an added advantage.
Many fans on social media didn't agree with the take though, saying that the 20-year-old's charisma isn't as great as the journalist has claimed.
"Where do you see charisma in him? He has a lot of qualities but charisma? I think at some point media just throw some random words out there to set a narrative cause they know dumb people will blindly follow that narrative," one fan wrote on Twitter.
"He's definitely got good tennis skills, but I personally don't see the charisma," added another.
"Charisma? Where? Haven't seen it yet. Long way for that. Media creation," wrote another.
"That's because 'charisma' to people like you means "the potential to sell Rolexes,"" one fan wrote.
"It's just the media hyping him up because they need new young star," wrote another.
Some Novak Djokovic fans were quick to remind everyone that the Serb was still the most charismatic.
"If anyone has charisma it's DjokerNole and I pointed that out years ago. Y'all are taking my narratives. Nobody on tour has the charisma, intelligence, versatility and swagger like Novak!" wrote a fan on Twitter.
One of the fans even went as far as saying that the media is trying to attach the same qualities to Alcaraz that they did to Roger Federer when the Swiss was active. Federer was often described as an elegant and charismatic player, with many attributing his popularity to those qualities.
This fan even went as far as suggesting that Djokovic and Nadal aren't Alcaraz's main rivals given how old they are.
"Same Federer talks started. I understand tennis desperately needed someone like Alcaraz considering Nadal and Djokovic are old now and almost retired. But, kid doesn't have any competition. 0. No, I don't count Djokovic or Nadal as his main rivals at age of 36/37," the fan wrote on Twitter.
Here are some more reactions:
---
Novak Djokovic and Carlos Alcaraz set to face each other in French Open 2023 semifinals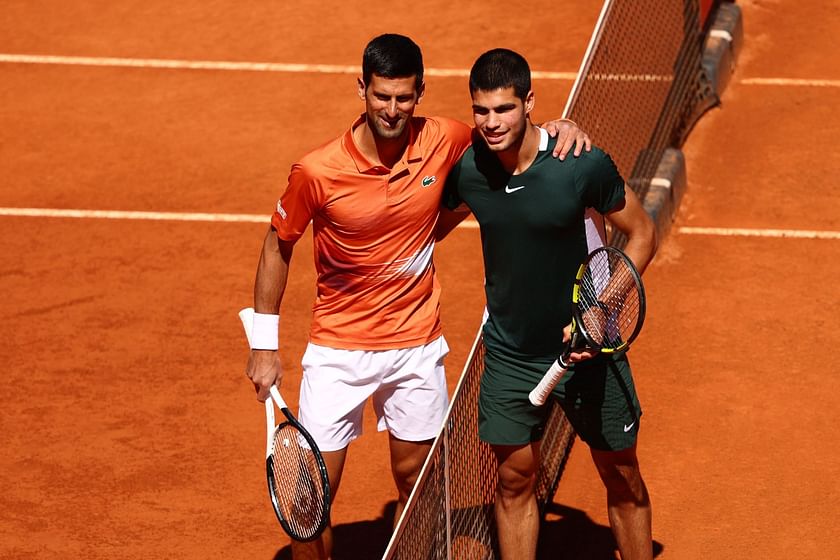 Carlos Alcaraz and Novak Djokovic will play the first men's singles semifinal at the 2023 French Open on Friday, June 9. Alcaraz leads the head-to-head 1-0, having won their semifinal at the 2022 Madrid Masters.
On the way to the French Open last four, the Spaniard defeated Flavio Cobolli in the first round, Taro Daniel in the second, Denis Shapovalov in the third, Lorenzo Musetti in the fourth and Stefanos Tsitsipas in the quarterfinals.
Djokovic, meanwhile, started off by dispatching Aleksandar Kovacevic in the first round. He then beat Marton Fucsovics in the second round and Alejandro Davidovich Fokina in the third. The Serb went on to beat Juan Pablo Varillas in the fourth round and Karen Khachanov in the quarterfinals.
Both players have lost just one set on the way to the last four. Khachanov took a set off Djokovic in the quarterfinals, and Daniel did the same against Alcaraz in the second round.