Carlos Alcaraz has left tennis experts spellbound with his ever-evolving game. After Andy Roddick recently hailed the youngster, Rick Macci has commended the Spaniard for his adaptability to all surfaces, labeling him the best role model.
With a 27-2 record in the season so far, Alcaraz has reached the semi-finals of the 2023 Madrid Open, where he will take on Croatia's Borna Coric today, May 5. The top seed, who turns 20 today, has played exactly 150 matches on the ATP tour, winning 117 and maintaining a win percentage of 78.
Legendary tennis coach Macci has worked with the likes of Serena Williams, Venus Williams, Andy Roddick, Maria Sharapova, and Jennifer Capriati. Speaking on the Tennis Unfiltered podcast, the 68-year-old American recently showered praise on Alcaraz, saying that the youngster was changing the way tennis was played.
"At the end of the day, you've got to play on all surfaces. The best players are the most complete players and there's not a better role model right now than Alcaraz," Macci said. "He's changing how you play the game, he's even changing how you teach the game, which I said three years ago, he was going to do."
Macci made a special mention of the player's much-talked-about drop shot and the fact that he was not afraid to use it in a must-win situation.
"Now it's okay drop shot. Earlier if you missed a drop shot, it was like, 'Who are you doing that for, you knucklehead?' Now it's like, 'It's okay'. That didn't start yesterday. It started when he was six years old. He'll do it on a breakpoint," Macci added.
2003 US Open champion Roddick also recently remarked that the dynamic player was better than Rafael Nadal and Roger Federer when they were teenagers.
So far in 2023, Carlos Alcaraz has won three titles — the Argentina Open, BNP Paribas Open, and the Barcelona Open. He has a chance to replace Novak Djokovic as the World No. 1 if he defends his title in Madrid and just plays a match at the upcoming Italian Open.
---
Carlos Alcaraz reserves drop shots only for matches, not practice sessions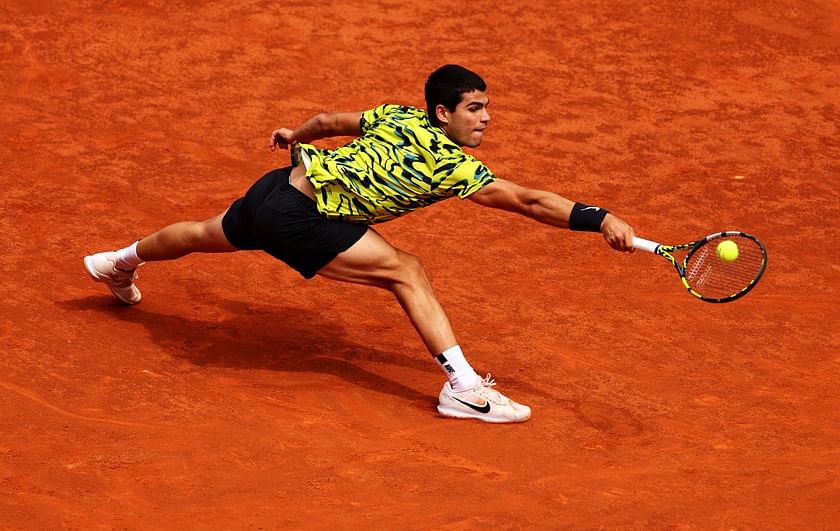 In a press conference after beating Karen Khachanov in the quarter-finals in Madrid, Carlos Alcaraz was asked to comment on his flawless drop shot. He stated that he had been using it since childhood and felt extremely comfortable.
"It is something that I did a lot when I was young," Alcaraz said. "I feel really comfortable on that shot. Yeah, is a really good weapon for me. Honestly, I just feel it, the drop shot. Yeah, good percent, it's good for me, but in practice, I try not to do a lot of drop shots. I just feel it in the match."