Yet another tennis expert has tipped Carlos Alcaraz, Jannik Sinner, and Holger Rune to form the most exciting rivalries in the future. Serena Williams' former coach Rick Macci has praised the three youngsters and also warned that the likes of Novak Djokovic and Daniil Medvedev should not be underestimated.
The tennis world has seen Alcaraz, Sinner, and Rune establish themselves as future superstars in the last year and a half. Quite a few pundits and fans have even tagged them as 'the next Big 3'. Unlike the original Big 3, these young guns are much closer to each other in terms of age. While Alcaraz and Rune have just turned 20, Sinner will be 22 this August.
In an exclusive conversation with Sportskeeda, legendary American coach Macci was asked if he was excited about a rivalry in the future like the ones between Pete Sampras and Andre Agassi, and between Roger Federer, Rafael Nadal, and Novak Djokovic.
The 68-year-old picked the Spaniard, the Italian, and the Dane while also mentioning Daniil Medvedev, Djokovic, and Sebastian Korda as potential threats.
"I think you're going to have a big rivalry with Alcaraz and Jannik Sinner. Those two are going to be right there battling. I can see Rune going in there battling," Macci said. "Medvedev is not going anywhere, the Djoker is not going anywhere. Korda is injury-free, I look for him to make a big push in the next few years."
Macci has worked with the likes of Serena Williams, Venus Williams, Andy Roddick, Maria Sharapova, and Jennifer Capriati. He added that after Federer's retirement and Nadal and Andy Murray's health issues, the younger lot only had Djokovic to tackle for titles.
"There's a lot of players who think, 'now Federer, Nadal, Murray, and who knows what's going to happen with the Djoker. So why not me?' You're not playing a great Grand Slam champion in the round of 16 anymore," he added. "Now you might have someone in the quarters or even the semis. So everybody thinks, 'Why not me?'"
Macci expressed his admiration for Alcaraz, Sinner, and Rune, and remarked that in men's tennis, any player could win on a given day.
"If I was going to pick three people, it would definitely be Carlos Alcaraz, I think he has the ability not only to change the game, he could go on to be one of the greatest players we've ever seen, barring injury. He just brings a whole different package to the game of tennis," Macci said.
"Sinner's going to be in there. I love a lot of things about him, and Rune. I think those three guys are the ones. But listen, Medvedev's not going anywhere, and in men's tennis, because of the power and serve, anybody can beat anybody on a given day. But those would be my three," he concluded.
---
"Carlos Alcaraz has changed the whole landscape with the drop shot" - Rick Macci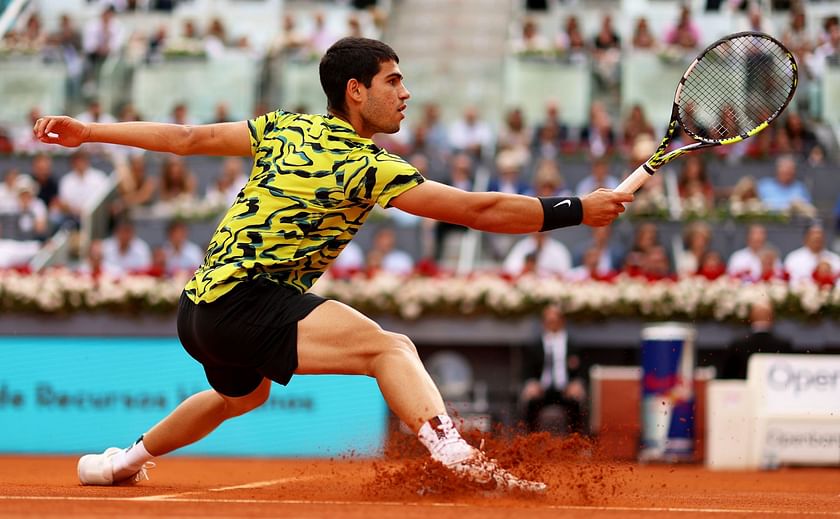 Apart from his impeccable tennis abilities, Carlos Alcaraz has been applauded for the way he delivers the drop shot, regardless of the situation of the match. He even admitted that he never practices for the drop shot and uses it instinctively in matches.
In his interview with Sportskeeda, Rick Macci hailed the Spaniard for his courage to use the shot, saying that he is changing the way tennis is taught.
"I said this three years ago. He's not only going to transcend the game, he's going to change the way people teach the game," Macci said. "People are teaching the drop shot more. Earlier, if you did the drop shot and missed, it's like, 'What are you doing that for'? Alcaraz has changed the whole landscape with the drop shot. People sprinkled it in before but now he does it anytime, anywhere, against anybody."
Macci credited Carlos Alcaraz's coach Juan Carlos Ferrero for encouraging the player to not shy away from adding weapons to his arsenal.
"But let me tell everybody who reads this that it started long ago. The guy missed more drop shots probably at 7, 8, 9, 10, 11. It's baked in, extra crispy, there's a big confidence there, he believes in it. It's like his right arm," he said. "And that's a big part of his game and I give a tremendous amount of credit to Juan Carlos Ferrero, who is his coach, for encouraging that."
"Remember it's junior development, not junior final destination, and that's why he [Carlos Alcaraz] has extreme confidence. But he's going to change the way the game is not only played but the way it is taught," he added.
Carlos Alcaraz will face Albert Ramos Vinolas in the second round of the 2023 Italian Open today, May 13.