Novak Djokovic returned to play in Melbourne after two years and regained his throne with a dominant performance. Amidst concerns about the 2023 Australian Open's low TV ratings in comparison to last year, a few reports suggested that the women's final attracted more viewers than the men's final, which turned out to be false.
Reaching her maiden Major final, Aryna Sabalenka of Belarus rallied from a set down to defeat reigning Wimbledon champion - Elena Rybakina of Kazakhstan - at Melbourne Park on Saturday. Sabalenka registered a 4-6, 6-3, 6-4 victory at the Rod Laver Arena in two hours and 28 minutes and lifted her first Grand Slam title.
Djokovic, on the other hand, breezed past Greece's Stefanos Tsitsipas in the summit clash, beating him 6-3, 7-6(4), 7-6(5) in two hours and 56 minutes. The Serb won a record-extending 10th Melbourne title, also equaling Rafael Nadal's record of 22 Majors in the process.
According to online trade website MediaWeek, Channel Nine received 762,000 views during the women's final and 851,000 views during the trophy presentation ceremony. For the men's final match, Nine brought in 1,322,000 views, with 1,053,000 tuning in for the presentation ceremony, clearly indicating that more fans did watch Novak Djokovic and Stefanos Tsitsipas duel on Sunday.
However, it is also true that the numbers for the 2023 edition pale in comparison to the previous edition. While the men's final between Nadal and Daniil Medvedev was watched by 1.6 million people, the women's final between home favorite Ash Barty and America's Danielle Collins received around 2.5 million views. Nadal fought from two sets down to become the first man to reach 21 Majors and Barty became the first homegrown player to win the singles title in 44 years.
Channel Nine extended its deal with the first Grand Slam tournament of the year for $500 million till 2030 just a few months ago and has seen a drop of around 40% in viewership in the just-concluded event.
Novak Djokovic vs Stefanos Tsitsipas was the least-watched men's final in the last 10 years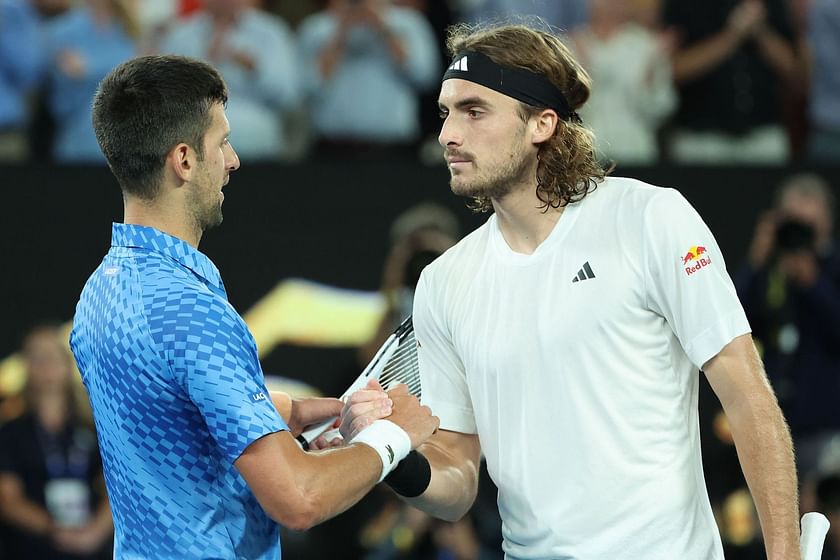 Viewership numbers for the 2023 Australian Open have been largely disappointing all over the world. ESPN recently revealed the TV ratings for the US, saying that the men's final was watched by 439,000 viewers on average, which was the least for a men's title clash in the last decade. The 2022 Australian Open final between Rafael Nadal and Daniil Medvedev, on the other hand, brought in 689,000 views.
However, many journalists and fans think it is a systemic issue, seeing as tennis is in a transition period after the retirement of legends like Roger Federer and Serena Williams. With Carlos Alcaraz and Nick Kyrgios' absence and Rafael Nadal's early exit added to that, TV ratings for the 2023 Australian Open being abysmal comes as no surprise.