Andy Roddick has backed Novak Djokovic to defeat Jannik Sinner in the final of the 2023 ATP Finals on Sunday, November 19.
Djokovic advanced to his ninth title clash at the year-end championships by defeating Carlos Alcaraz 6-3, 6-2 in the semifinals. Meanwhile, Sinner made history as the first Italian to reach the ATP Finals final, triumphing over Daniil Medvedev 6-3, 6-7(4), 6-1.
The 24-time Grand Slam champion and Sinner have so far locked horns in four tour-level encounters. While the Serb dominated their initial three meetings, the Italian emerged victorious in their group-stage clash in Turin earlier this week.
Andy Roddick shared his prediction for the blockbuster title clash, disclosing that he hadn't bet against Djokovic in the last decade. While the former World No. 1 acknowledged Sinner's impressive form, he backed the Serb to clinch his seventh ATP Finals title.
"You can just cut and paste my answer from yesterday where I said that for the last decade I haven't bet against Novak and until further notice I'm not going to. Listen, someone might sneak a win in here and there, Sinner obviously beat him three days ago and this is no disrespect to the way Sinner's been playing this week," he said on the Tennis Channel.
Roddick particularly highlighted the World No. 1's improved serving skills as a crucial factor, praising his serve as one of the best in the sport.
"I couldn't be more impressed with his game but something we don't talk about enough is, I think Novak's serve is better than it's ever been. Early in his career it was a bit of a liability, especially the second serve, you would kind of throw a grenade on the second serve and it would sit up a little bit and you could actually get to it," he said.
"Now he runs it in and out of the corners, hits a slice, mixes in a little kick, its as good as its ever been for Novak and it's one of the best in the game now," he added.
A brief look at Novak Djokovic and Jannik Sinner's ATP Finals 2023 campaigns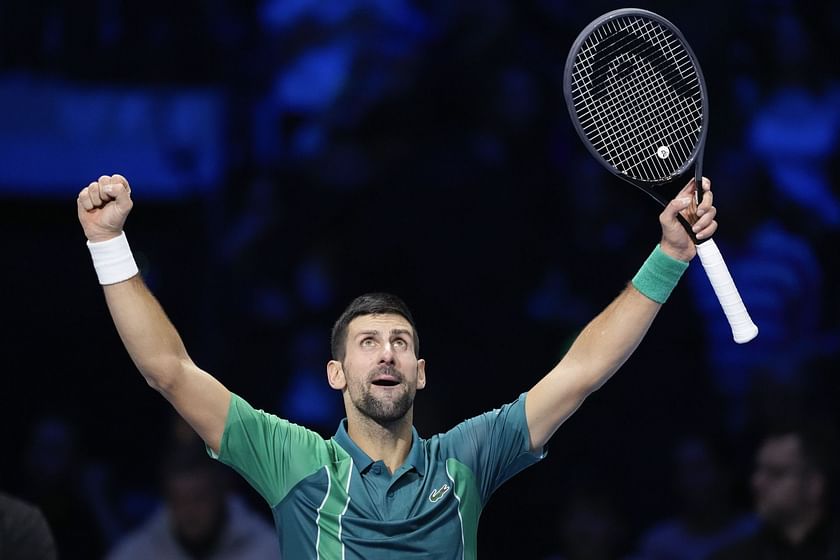 Novak Djokovic took on Holger Rune in his tournament opener at the 2023 ATP Finals. The Serb narrowly edged past the Dane 7-6(4), 6-7(1), 6-3 to secure his record-extending eighth year-end World No. 1 ranking.
Djokovic then suffered his first-ever defeat to Jannik Sinner as the Italian secured a hard-fought 7-5, 6-7(5), 7-6(2) victory. However, he bounced back strongly in his final group-stage match, defeating Hubert Hurkacz 7-6(1), 4-6, 6-1. The 24-time Grand Slam champion then defeated Carlos Alcaraz 6-3, 6-2 to reach the final in Turin.
Sinner, on the other hand, commenced his campaign with a commanding 6-4, 6-4 win over Stefanos Tsitsipas. Following his victory over the Serb, the Italian defeated Rune 6-2, 5-7, 6-4 to finish atop the Green Group standings.
Having reached the final by beating Daniil Medvedev, Sinner will aim to become the first Italian to win the ATP Finals in the history of the tournament. Djokovic, meanwhile, will continue his pursuit of a record seventh title at the year-end championships.